openCI's quest to save students' textbook costs
By Zoe Lance
Ask your nearest college student if they enjoy shopping for textbooks every semester — more than likely, you're going to get an exasperated, frustrated response.
Price tags on course materials are often prohibitive for many students. In a comprehensive survey of more than 700 CSUCI students this past academic year, 89 percent reported that textbooks prices have caused them stress or anxiety, while 65 percent said that they've chosen not to buy a textbook for a class because it was too expensive.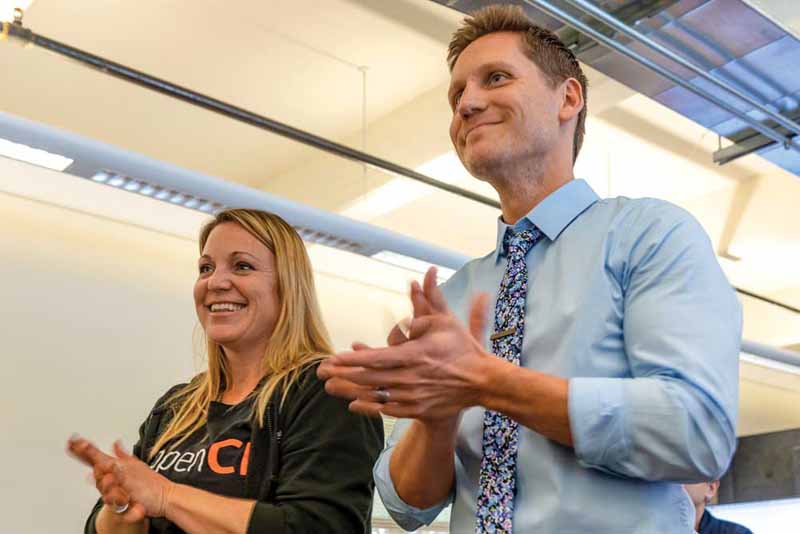 Jaime Hannans, Associate Professor of Nursing, and Jacob Jenkins, Associate Professor of Communication, are working hard to change these statistics through the openCI initiative. Since 2016, the two faculty members have led a cooperative effort to provide quality educational resources to faculty and students while reducing student costs for course materials.
The genesis of their efforts lies in the CSU's Affordable Learning Solutions program, a systemwide effort to provide more access to open educational resources. These are academic resources that reside in the public domain or have been released under a license. They come in many forms, including software, streaming video or a bespoke e-textbook written by faculty.
"We offer faculty a number of ways to think about their courses differently," Hannans said. "They use a combination of resources from multiple places, which helps them design their courses to make the best package of materials possible for their students. The currency in the materials they're using are really effective."
Hannans and Jenkins first learned about ALS in 2015 through CSUCI's Teaching & Learning Innovations program (www.csuci.edu/tli/). They knew their own students struggled with choosing to pay for rent or food over buying textbooks, and they also knew that their colleagues were already trying to provide alternative course materials.
Since launching openCI in 2016, the duo has worked tirelessly to spread the word about these resources. They've created an online toolkit, written editorials, met with student groups and presented research at conferences.
Their hard work has paid off: in the past two years alone, they've saved students nearly $900,000 in recurring costs. In fall 2018, the Communication and Early Childhood Studies programs will offer pathways through their majors where students don't have to buy any textbooks at all — the first two undergraduate "Z-majors" in the CSU system, meaning there is zero cost to students for textbooks.
"The success of openCI really speaks to the spirit of CSUCI, its innovative nature and the thoughtfulness of our faculty," Jenkins said. "More than anything else, we merely raised the awareness for these resources and raised the possibility of doing something different."
Hannans and Jenkins are excited about the progress they've made so far and look forward to the future of openCI. They've found that 100 percent of their colleagues who redesigned their courses with free materials thought that they were equal to or better than traditional textbooks.
"We're really excited about the progress we've made these two years, and we owe it all to the faculty that have been engaged from the very beginning," Hannans said. "It shows the potential it has not just for our campus, but many other campuses and the different approaches you can take."
Shaping lifelong learning
More than 60 CSUCI faculty members in 18 programs have embraced openCI's mission. Some have found that stepping away from a textbook has helped their students understand the importance of being lifelong learners.
'We are all learning together'
In spring 2018, Lauren Fascenda taught two online courses — one on teaching strategies in preschool and early elementary settings, and another on child and adolescent psychological development — using a variety of resources from across the internet, including documents from the California Department of Education and links to TED Talks. Fascenda, a lecturer in Early Childhood Studies, noticed that her students have responded well to assignments outside of a textbook.
"In my ECS/PSY 150 course, I asked my students to find online readings that were of interest to them," she said. "On the discussion board, they gave their thoughts on what they found and then read their peers' work. I found this so interesting because in the past, students' interests about the material wouldn't have shone through in that way."
As she continues to teach these courses, Fascenda hopes to build a library of sources that can help her students refine their information literacy — knowing which sources to trust is a lifelong learning skill.
"The sources we use are convenient and easily accessible — it also means that for faculty we have to be constantly updating our resources and challenging ourselves to find the most up-to-date, relevant and appropriate materials," Fascenda said. "We're not just 'teaching' our students — we are all learning together."
'Explore on their own time'
Nien-Tsu Nancy Chen, an Assistant Professor of Communication, just finished teaching a course on quantitative research methods. Instead of using a textbook that cost $85, she put chapters from five different books on e-reserve at the John Spoor Broome Library, used Lynda.com video tutorials and gave her students a link to a copy of the Literature Review Survival Guide. She quickly found that they appreciated the variety in formats.
"My students embraced the open educational resources, and found them equally as helpful as traditional textbooks," Chen said. "Some students especially enjoyed the video tutorials and found them easier to process than traditional textbooks."
Chen says that the access to open educational resources expands students' understanding on what they take away from their coursework — what they're learning in class can serve them further than graduation.
"By taking college classes using open educational resources, students are made aware of how many free, quality educational resources are out there in our digital world," she said. "This would hopefully encourage them to explore these resources on their own time and become lifelong learners."
Return to the Table of Contents
© Spring 2018 / Volume 22 /Number 01 / Bi-annual