By Kim Lamb Gregory
Class of 2018 History major Samantha Mendoza realized she was a part of history when she received a special assignment during her spring semester internship at the Smithsonian National Portrait Gallery in Washington, D.C.
"When they unveiled the portraits of the Obamas, I transcribed the video," she said. "I was overwhelmed because I was one of the first ones to see the video of the unveiling. I was blushing, it was so cool."
With help from her mentor, Chair and Professor of History Frank Barajas and Professor of Chicana/o Studies Jose Alamillo, Mendoza landed a three-month paid internship with the Smithsonian that began in late January.
The internship was part of the Smithsonian Minority Awards Program, an internship designed to increase participation among groups not well represented in the museum field.
"I loved it. I was busy every day researching portraits, visiting museums, leading tour groups and talking about portraits I had researched," she said.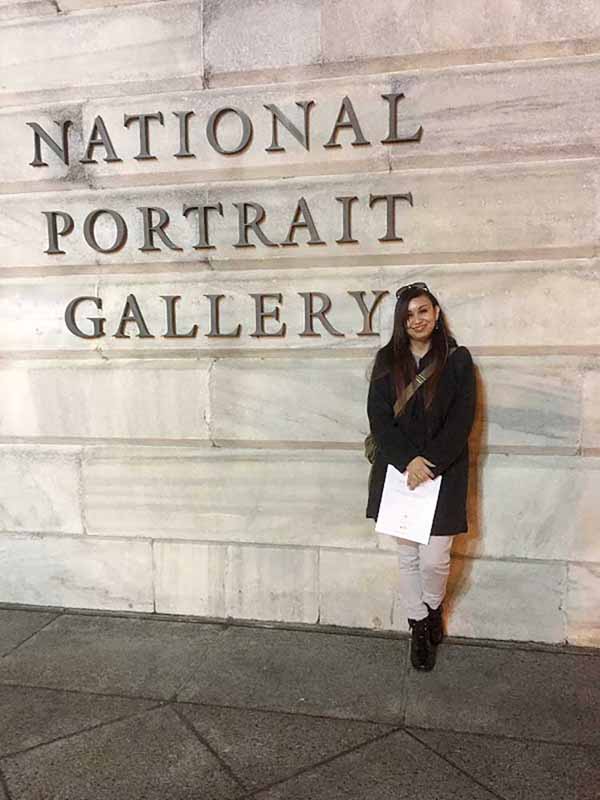 Mendoza has wanted to work as a librarian/researcher for the Smithsonian since she was a teenager, so when Alamillo brought a speaker from the Smithsonian to the CSUCI campus in spring 2017, Alamillo recommended Mendoza speak to her about an internship.
The telephone interview for the internship was scheduled for early December and Mendoza was prepared.
Then, the Thomas Fire broke out.
Mendoza and her sister, Monique, had to evacuate from their Ventura home and when they returned, Samantha got sick.
"There was smoke everywhere, my voice was horrible. I thought I'd never get the job," Samantha said. "I drank as much NyQuil and took as many cough drops as I could."
Her compromised voice didn't keep her from landing the internship and moving to Capitol Hill for the spring.
She often lost track of time as she pored through archives and scoured the internet, exploring the background of dozens of portraits.
One of her assignments was to research the newly unveiled Obama portraits.
"I learned about the flowers behind President Obama and how they represented Hawaii where he was born, Chicago where he lived and Kenya where his dad was born," she said.
Mendoza also spoke to Smithsonian librarians about which step to take next toward her goal of working among them, which will be a master's degree in Library Science.
As her mentor, Barajas has every confidence that she'll achieve her goal.
"She seeks and acts upon direction to achieve her scholastic and career goals," Barajas said. "She will succeed."
Return to the Table of Contents
© Spring 2018 / Volume 22 /Number 01 / Bi-annual