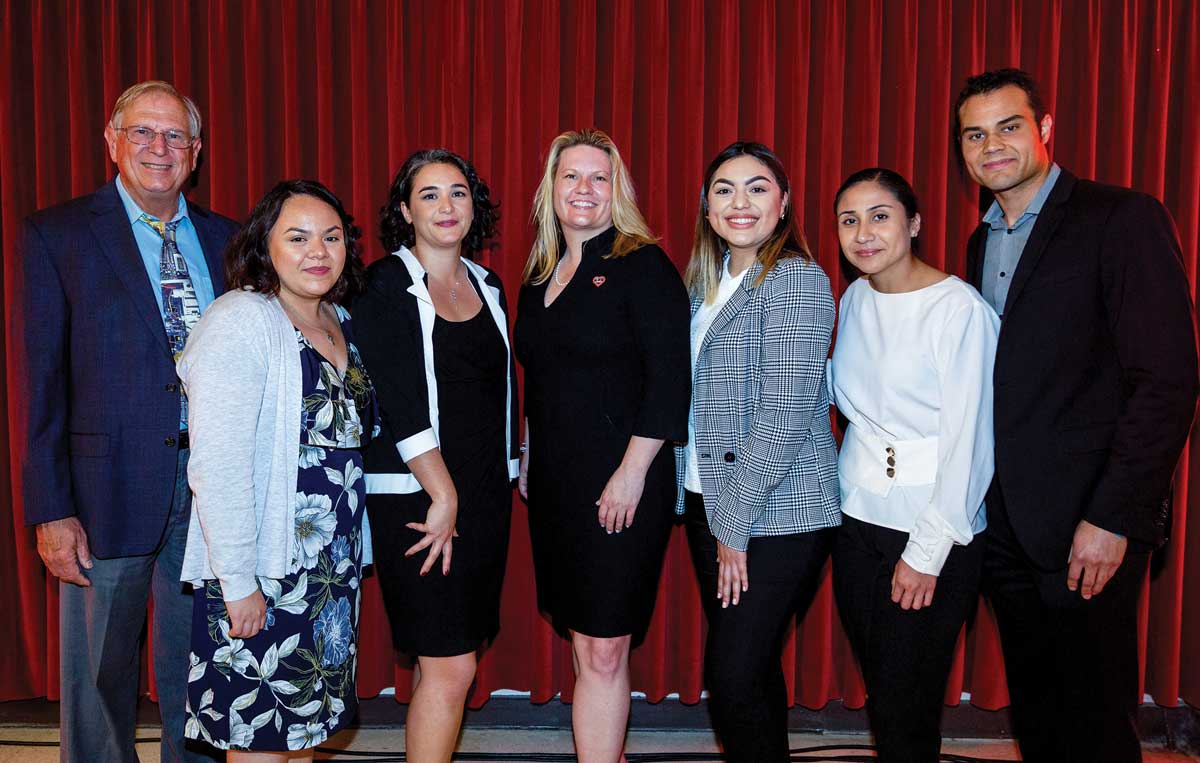 By Kim Lamb Gregory
Three CSUCI students who devoted themselves to mentoring fellow undergraduates were recognized for their efforts by the Business & Technology Partnership (B&TP) at their 15th Annual B&TP Leadership Dinner. A faculty member and two professionals from the community were also honored. A sold-out audience of 250 gathered at CSUCI's Grand Salon for the April 11 event, which was hosted by President Erika Beck.
"Our peer mentors provide peer-to-peer support to their fellow students who need help in navigating college life, and most of it is not academic," Beck said. "It's what we call 'non-cognitive' skills. It's much more social and emotional — a sense of belonging, developing a sense of grit and perseverance, and building a social network."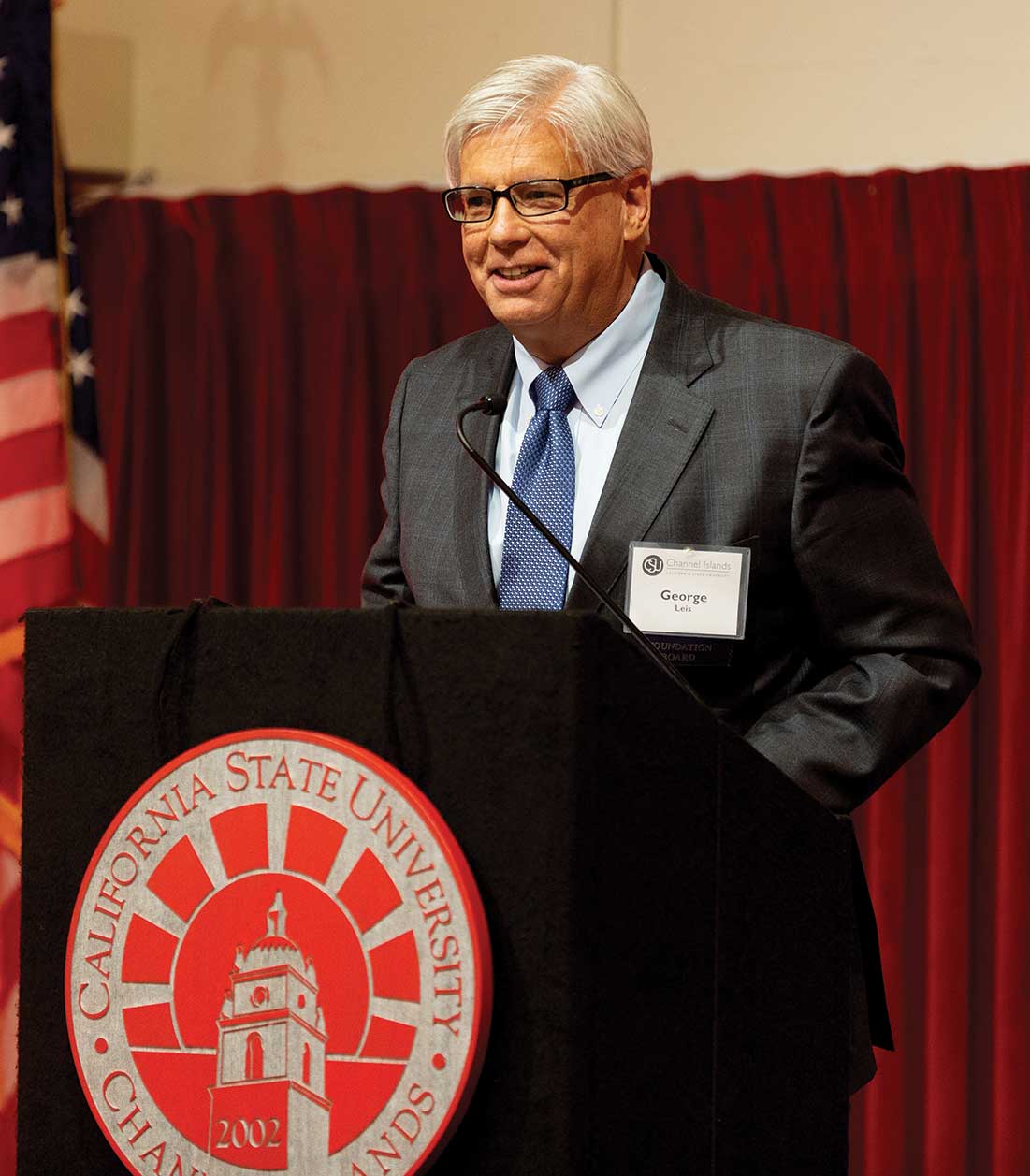 Thanks to an endowment from former U.S. Second Lady Tipper Gore, CSUCI was able to start a Peer Mentor Ambassador program. The Tipper Gore Award for Excellence in Peer Mentorship enables peer mentors the opportunity to earn an additional $3,500 per semester (or $7,000 annually) in return for taking on extra responsibilities designed to advocate for the program.
The first group to be named Peer Mentor Ambassadors were Biology major Amparo Valdovinos, Business major Vanessa Meraz and Nursing and Health Science double major Robin Mathis.
Valdovinos, of Santa Paula, was the first in her family to go to college. Her peer mentor helped her navigate the complexities of university life. "If it weren't for my peer mentor, I would have been lost and maybe even dropped out," Valdovinos said.
As a transfer student from Santa Maria, Meraz was confronted with similar unknowns, which she was able to conquer with the aid of a mentor who helped her choose classes, prepare for exams and manage her time.
Mathis, who was raised in Oxnard, was helped by a mentor with a similar background to hers. "I had so many questions about my classes, about financial aid, and there was even a time where I wasn't even sure what questions to ask," she said.
The 2019 Business Leader of the Year award was presented to Brett Howroyd who is president of Glendale-based AppleOne — one of the largest privately-held staffing companies in North America.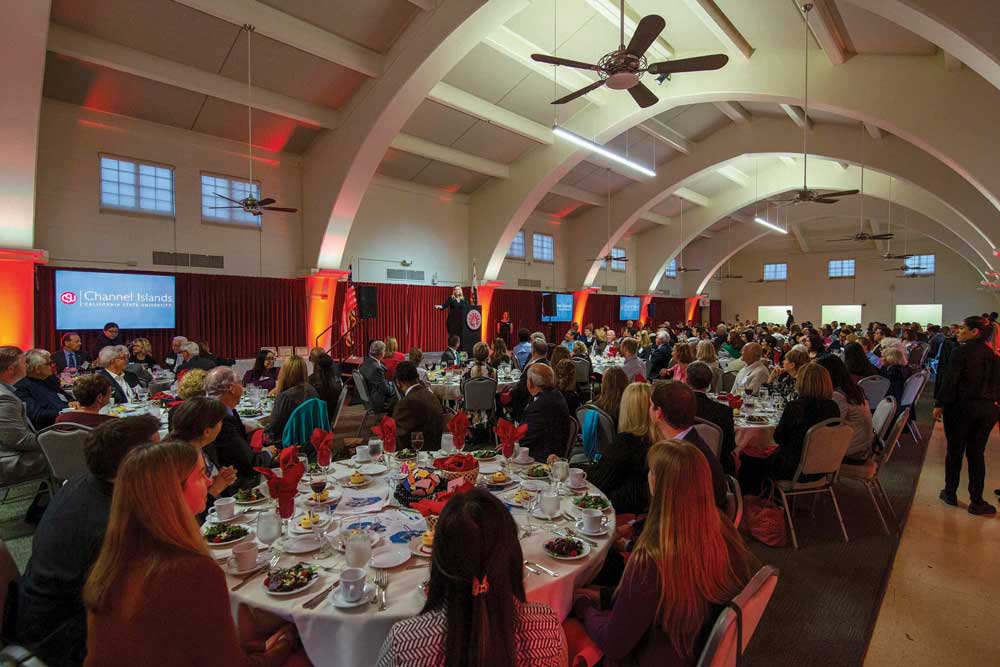 Accepting the award for Technology Leader of the Year for Haas Automation was company vice president of electrical engineering Kurt Zierhut. The Oxnard-based company designs and builds computerized machine tools.
Assistant Professor of Marketing Ekin Pehlivan was named Faculty Leader of the Year in part because of her creative spin on class. Pehlivan encourages students' critical thinking skills by having them collaborate to come up with solutions for local nonprofits, social enterprises and small businesses. 
To learn more about the Peer Mentorship Ambassador program and students, visit:         go.csuci.edu/pmap19
Return to the Table of Contents
© Spring 2019 / Volume 23 /Number 01 / Bi-annual