By Zoe Lance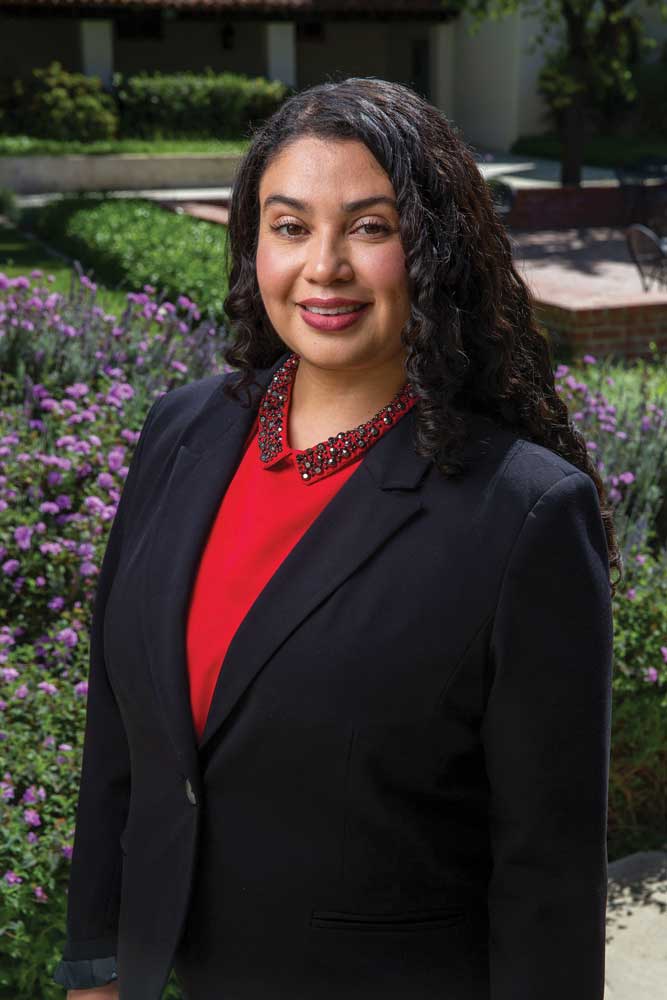 In a classroom at California State University, Northridge (CSUN), Cynthia Flores found herself in a predicament.
She was sitting in an informational session about a math scholarship program funded by the National Science Foundation (NSF). Flores was told that in order to participate, she would need to find a faculty research mentor.
Flores was a sophomore, still acclimating to campus as a first-generation college student. She was unsure of how to find a professor, let alone ask one to be her mentor.
But after the meeting, Flores was approached by Professor Maria Helena Noronha, who urged her to apply and volunteered to help her.
"To this day, she is still my mentor," said Flores, who is now an Assistant Professor of Mathematics at CSUCI. "She taught me that I should always maintain high expectations of my students. Whenever I look at a student, I close my eyes and envision the highest potential for them."
Mentorship is a significant aspect of Flores's professional life. She is devoted to helping her students achieve their academic goals, while advocating for better representation of women and minorities in STEM (science, technology, engineering, mathematics) fields.
"This is a great time in academia to reshape our educational system — we are lifting up all of our students while closing the equity gaps," she said. "I'm passionate about that."
Flores has always been interested in math. As a young woman, she'd work with her family at Los Angeles swap meets.
"Having my dad hand me stacks of dollar bills and tell me that I was going to be the cashier was his own way of validating that I was good at math, which was crucial for me at a young age," she said. "I never questioned my ability and kept learning as much as I could." 
After earning bachelor's and master's degrees at CSUN, Flores completed her doctorate at University of California, Santa Barbara (UCSB). Her research interests lie in mathematical physics.
This is a great time in academia to reshape our educational system — we are lifting up all of our students while closing the equity gaps.

Cynthia Flores

One of her students, Ivan Toledo '18 M.S. Mathematics, met her through a mentoring program between undergraduate and graduate students at UCSB. When he came to CSUCI as a master's student, Flores helped him through his thesis and challenged him to write about a new idea. At one point, Toledo only had inklings of a topic.
"She told me to go up to her whiteboard and write what I was talking about," he said, "Once I wrote what I had worked on, Dr. Flores pointed out that I had something. She asked me a question, and suddenly I saw it through my scribbles. She didn't tell me that I had failed. She recognized the work I had put in and guided me toward my understanding. I wouldn't have applied for a Ph.D. program if it hadn't been for Dr. Flores — she believed that I was capable before I did."
Her experience at CSUN in the NSF program has recently come full circle. She is the co-principal investigator of a $2 million NSF grant, which brings UCSB and University of California, Merced doctoral candidates of underrepresented backgrounds into teaching at federally-designated Hispanic-Serving Institutions. Mentorship is a large component of the pipeline.
Earlier this year, Flores was also named one of 15 Emerging Scholars across the nation by Diverse Education.
"This recognition gives me a stronger voice in advocating for girls, women and those who are historically underrepresented in mathematics, STEM and academia," she said. "It means a lot to me."
Nathalie Huerta '19 B.A. Liberal Studies and B.S. Mathematics, credits Flores for encouraging her to add Math as a second major. Huerta appreciates how Flores has helped her through tough problems, both in math and in her personal life.
"She believed in me, even when I didn't believe in myself," Huerta said. "When you go to office hours for help, you work on the answers together. If you don't understand something, she explains until you grasp it. I know that her door is always open."
Return to the Table of Contents
© Spring 2019 / Volume 23 /Number 01 / Bi-annual