By Zoe Lance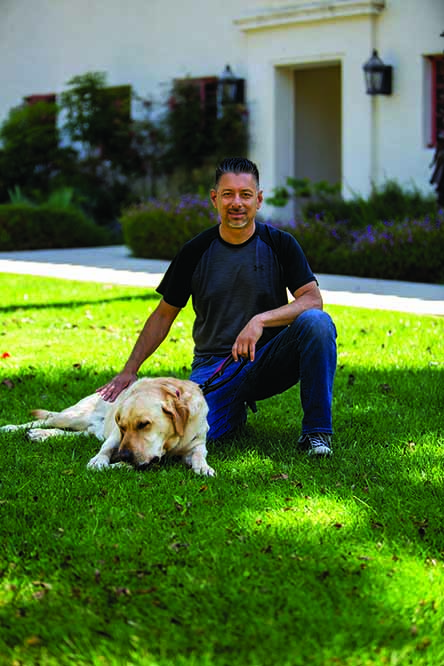 No two days at CSUCI are the same for Jerry Garcia.
One day, he'll help Division of Student Affairs staff configure their file sharing accounts, while the next he'll deploy campus-wide software or meet with students about accessibility needs. Some weeks, he heads off campus as a volunteer first responder for the Ventura County Sheriff's Office.
Garcia is an Information Technology Consultant within the University's Information Technology (IT) Services. He is one of the IT technicians supporting Student Affairs, as well as the Disability Accommodations & Support Services' (DASS) Assistive Technology Specialist. He oversees some aspects of the campus's Alternative Media Program, which serves students who qualify for disability accommodations.
Over the past 10 years, he has helped with training and configuring assistive technology for DASS students and supporting various Student Affairs programs, such as Counseling & Psychological Services, the Multicultural Dream Center, Educational Opportunity Program, Student Support Services, Veterans Affairs, and the Office of the Vice President for Student Affairs.
Helping members and programs of the CSUCI community is a vocation that's near and dear to his heart.
"I meet with DASS staff to assess, strategize and provide DASS students with accommodations so that they can succeed in their classes," he said. "It feels good to help students, and it's important to me that all of our students have equal access to a college education."
He says that making accommodations for students can range from low-tech adjustments, like lighting for better visibility, to more high-tech modifications like new computer software.
I feel like I need to give back to the community and help in any possible way I can.

Jerry Garcia

"Technology is everywhere and we can use it to help others in many different ways," Garcia said. "The work we do in IT empowers our students to be able to obtain the information they need in a more effective and accessible way."
Off campus, he also makes time for community service. When he isn't spending time with his family and fulfilling his role as handler for Doc, CSUCI's campus therapy dog, he is a member of Ventura County's Search and Rescue team.
About five years ago, Garcia joined the team of community members that are on call 24/7 and skilled in search management, emergency medical care and evacuation techniques. They've responded to fires and mudslides, looking for people that may need help evacuating or getting out of dangerous situations. Using his free time to help Ventura County is especially gratifying to him.
"I feel like I need to give back to the community, and help in any possible way I can," Garcia said. "It feels good to be part of both CSUCI and Ventura County Search and Rescue."
Return to the Table of Contents
© Spring 2019 / Volume 23 /Number 01 / Bi-annual