Noelle Boudro, '12 B.S. Biology
By Marya Jones Barlow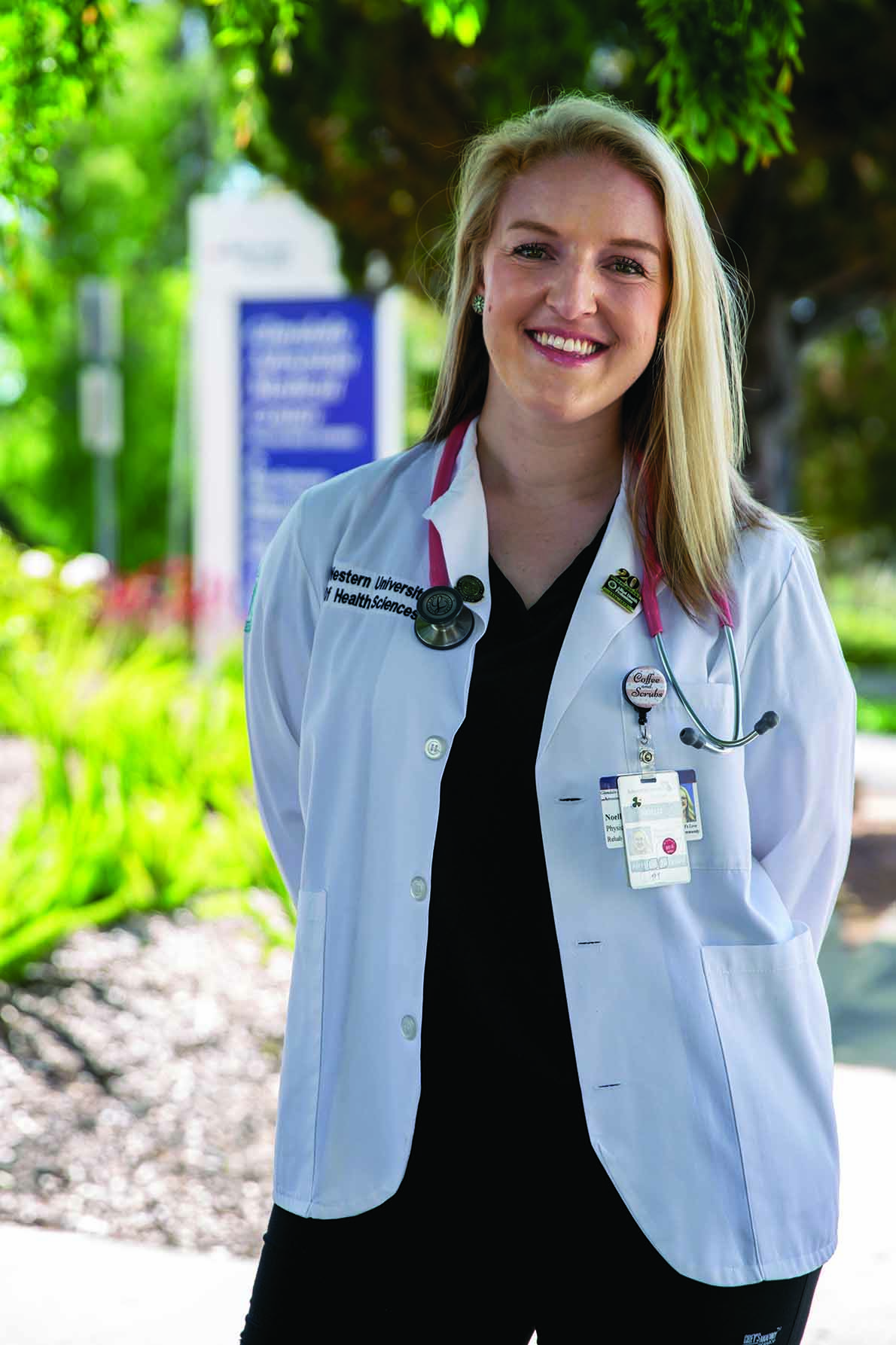 While volunteering at a hospital as a CSUCI student, Noelle Boudro stumbled onto a life-affirming career. Today, she's a Doctor of Physical Therapy (DPT) at Glendale Adventist Medical Center in its neurological rehabilitation center, where she helps patients who have suffered strokes and neurological injuries recover their mobility and lives.
"The emotional and physical connection that I receive working with my patients means everything to me," she said. "When I see my patients progress and eventually leave the hospital, nothing can be more motivating."
During her undergraduate studies in Biology at CSUCI, Boudro spent hundreds of hours working at St. John's Regional Medical Center in its student volunteer program. After three years helping in the emergency room, she knew she wanted a career in medicine.
"Although I was passionate about working in the fast-paced ER, I was always left with this empty feeling when the patient was moved to a floor. What happened to them? What was their outcome? Did they heal physically, emotionally and spiritually?" she said. "One day I happened to meet this DPT and he suggested that I rotate into his unit. I did, and the rest is history because that day I realized that physical therapy was the field of medicine for me."
Her CSUCI professors and science courses also provided inspiration. Boudro praises Chemistry Professor Ahmed Mohamed Awad for putting in countless hours outside of class to help her grasp difficult material.
The most life-changing experience came in a UNIV 392 International Experience course in Japan led by Chemistry Professor Simone Aloisio. Boudro traveled with fellow students to the Fukushima Daiichi Nuclear Power Plant to learn about impacts of the nuclear disaster and assist with restoration after the 2011 earthquake and tsunami.
"I will never forget that once-in-a-lifetime experience," she said.
After discovering her passion for physical therapy, Boudro spent a fifth year at CSUCI completing her pre-med requirements. She graduated in 2012 and was accepted to Western University of Health Sciences in Pomona, where she earned her DPT in 2016. She says her experiences at CSUCI gave her a distinct advantage during the medical school application and interview process.
"I truly believe the experiences I had at CSUCI set me apart from the other applicants," she said. "From traveling to Japan to do tsunami restoration at the Fukushima Daiichi Nuclear Power Plant, to the many philanthropy projects I was a part of as President of the Zeta Pi Omega (philanthropic) sorority, I had many things to make me stand out. CSUCI helped set me up for the career of my dreams."
Return to the Table of Contents
© Spring 2019 / Volume 23 /Number 01 / Bi-annual