By Kim Lamb Gregory
President Erika Beck traveled to Sacramento this spring for a ceremony honoring her as Senate District 19 Woman of the Year. State Senator Hannah-Beth Jackson (D-Santa Barbara) selected Beck because of her dedication to seeing that all students have a chance for a quality education, and because Jackson believes Beck is an inspiring role model. The Woman of the Year celebration in Sacramento has been happening since 1987.
"Erika Beck is a committed advocate for quality education and a dedicated community volunteer," Jackson said. "Her academic credentials, experience and contributions to our community make her an inspiration to young women and girls everywhere. I am proud to honor CSUCI President Erika Beck as the Senate District 19 Woman of the Year."
In honor of Women's History Month, each of the 121 state senators choose an outstanding woman from their district for the annual event. The Senate and Assembly-wide ceremony took place March 4 during the regular floor session.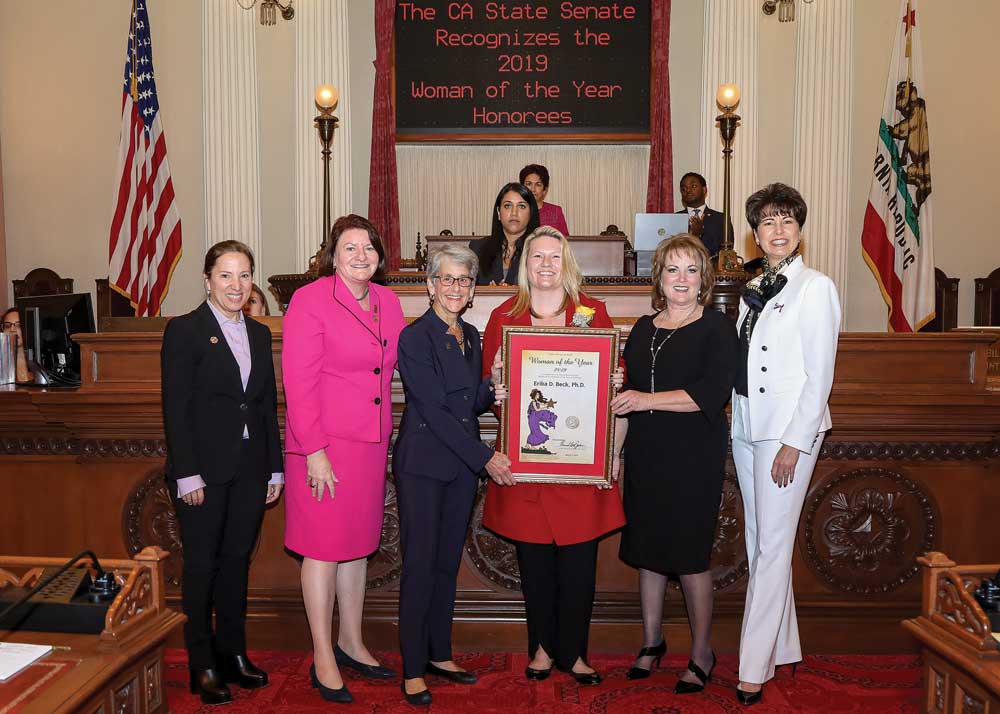 When their names were announced, each senator and his or her choice for Woman of the Year walked together to the podium to accept a large, framed certificate.
Beck said she is proud to be President of a university that has achieved so much since she took the reins in 2016, including being ranked 23rd in the nation for improving the social and economic mobility of its students and experiencing record numbers of graduates each year, making CSUCI the fastest-growing campus in the California State University system.
The release of an economic impact study also found that CSUCI generated $517 million in economic output in California in 2016 alone.
"As President of CSU Channel Islands, I am deeply honored to receive this award, which truly is a reflection of the tremendous work our entire University is doing to transform the lives of our students and our community," Beck said.
Jackson's district encompasses all of Santa Barbara County and western Ventura County, part of the broad region served by CSUCI.
Closer to home, Beck enjoyed local honors with celebrations in Ventura and Santa Barbara counties. The Santa Barbara "Women of the Year" event took place in late March followed by a celebration in Ventura the next day. In addition to Beck, Senator Jackson and Assembly member Monique Limon recognized three other exceptional women from Ventura County.
Return to the Table of Contents
© Spring 2019 / Volume 23 /Number 01 / Bi-annual