By Marya Barlow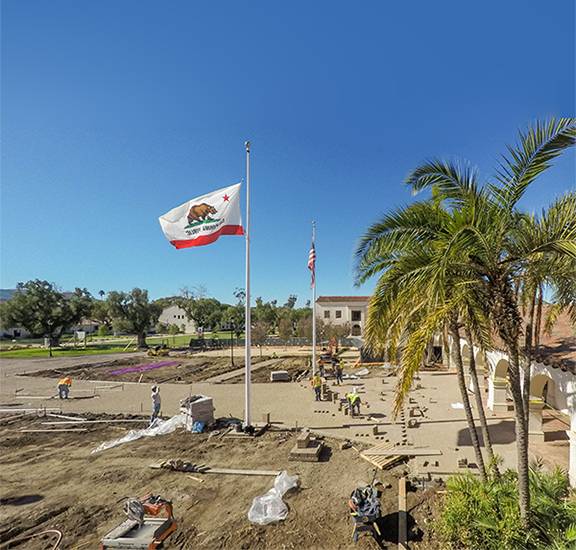 A campus transformation eight years in the making wasn't stopped by the world-wide pandemic. By the end of summer, CSUCI construction crews will have completed the most recent phase of Central Mall renovation. The 60,000-square-foot open space is a scenic landmark and vibrant event venue in the heart of campus that will serve students and the community for generations.
Launched in 2012, the renovation includes several phases. The first phase focused on converting the pre-existing roadway into a park-like pedestrian plaza with new gardens and decompressed granite pathways. The second phase added a beautiful fountain in the middle of the mall. The third and most recent phase includes the installation of permeable pavers in front of University Hall and the Bell Tower building to increase accessibility for the growing number of students and guests to participate in large outdoor events, such as Commencement. In spring 2019, more than 21,000 family members and friends convened on the Central Mall to celebrate a record class of 2,760 graduates.
Supporters and volunteers have been critical to the Central Mall project, with philanthropic gifts comprising $1.1 million of phase three's $1.37 million total cost.
"The Central Mall stands as a magnificent tribute to the power and generosity of our supporters," said President Erika Beck. "Thanks to everyone who stepped forward to donate money, materials, time and services, we were able to take a major step in transforming the University while preserving its open space, history, character, and beauty."
With 360-degree views of the surrounding mountains and Spanish Mission-style architecture, the Central Mall also offers a picturesque setting for weddings, concerts, luncheons, and other outdoor events. Future phases include extending pavers to the ends of the Central Mall and adding a sculpture garden.
To learn how you can help support this ongoing project, contact richard.leroy@csuci.edu or call 805-437-1662.
Return to the Table of Contents
© Spring 2020 / Volume 25 / Number 1 / Biannual