By Zoe Lance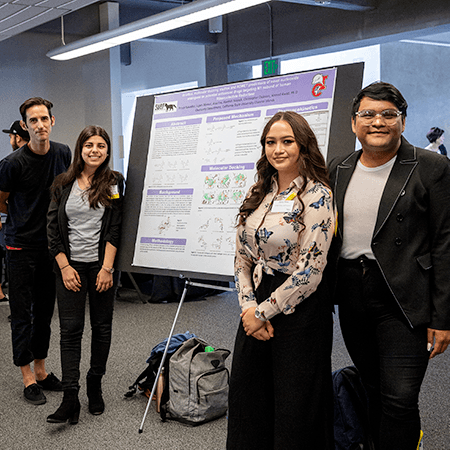 A team of CSUCI students is getting an academic experience that most students would dream of: researching life-saving anticancer drugs.
Under the guidance of Associate Professor of Chemistry Ahmed Awad, since summer 2019, a group of five students — Prince Salvador, Lujain Alnouri, Asia Fee, Hannah Krajeck and Christopher Dicksion — have been working on a biochemistry project on enzymes linked to cancer.
Enzymes, or proteins that speed up chemical reactions, work throughout our bodies to help us breathe, digest food and build muscle. They also help make DNA. The team was tasked with figuring out potential chemical compounds that could inhibit a specific enzyme, slowing cancer cells in making new DNA.
They used computer simulations to test their hypotheses, finding that three of six potential compounds had promising results. These three drug candidates' molecules bonded to the enzyme, or what's called "docking" in biochemistry.
"If you can stop the cancer cell from making new DNA, you can slow its growth," Christopher Dicksion said. "We were trying to come up with a drug that would stop the enzyme from doing its job."
While some of the student team has moved onto other projects, the research is ongoing. The next step is to test the chemical compounds with actual enzymes.
While working in the lab, the team also sharpened their professional skills. They learned how to use sophisticated software, designed research protocol, created posters and wrote scientific reports. They have also been able to share their research with other students, faculty and scientists: they've presented at the CSU's annual biotechnology conference and other campus research showcases.
Salvador, Fee and Dicksion all joined the project after taking Awad's courses and learning how they could apply what they were learning in the classroom. All three say it was instrumental in their educational pathways, solidifying their interests in teaching and research careers.
Dicksion earned an anthropology degree from UC Santa Cruz, but has been taking Chemistry courses at CSUCI to apply for a doctorate in chemistry. He will join UC Irvine's program in the fall, and said the knowledge and skills he learned at CSUCI helped him get there.
"It's cool to be a part of a bigger scientific community. It's about sharing knowledge freely and openly, seeing what other people are doing and bringing that back to campus," Dicksion said. "It makes what we're doing that much more robust."
The chance to meet other researchers and share the team's work has also meant a lot to Fee ('20, Chemistry). At her community college, there were few STEM research opportunities. Through this project and the Student Undergraduate Research Fellows program, she gained valuable experience — she is considering applying to programs in medicinal and organic chemistry, specifically on Chinese holistic medicine.
"This team represents CSUCI very well — in our STEM programs, it's very diverse," Fee said. "I learned so much from this project, and we really enjoyed getting to know each other. I can really see myself pursuing grad school."
Salvador ('20, Chemistry/Biochemistry) said that Awad's mentorship was critical in helping him think about his career. During his time at CSUCI, Salvador also worked on another biochemistry project with Awad on Alzheimer's. Salvador is also between several Ph.D. program offers.
"This project solidified my post-graduation plans and helped me research programs — it was a simulation of what my grad school experience could be," Salvador said. "Having the experience, and being able to share my research, helped me spread the word to my peers about going to grad school. I feel like I should be giving back and letting other students know about the opportunities."
Return to the Table of Contents
© Spring 2020 / Volume 25 / Number 1 / Biannual