by Pamela Dean
Dallas Lawry, '14 B.S. Nursing
As an oncology nurse at UCLA Medical Center's Santa Monica Hospital, Dallas Lawry, B.S. Nursing, does her best to dodge the coronavirus (COVID-19) every day.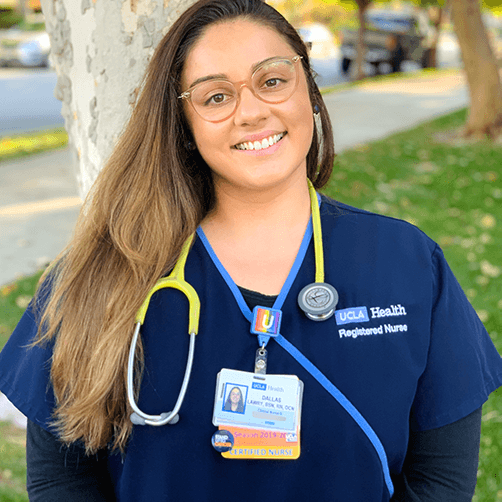 "I work on the oncology floor where a majority of the patients are very immunocompromised. I am impressed with the emergency preparedness actions UCLA is taking, and I feel safe to work there during such an uncertain and truly scary time," Lawry explained. "The hospital is taking extra precautions to prevent the possibility of any COVID-19 patients from coming into contact with UCLA's cancer population."
Although she continues to work with hospitalized cancer patients, administering chemotherapy and managing oncologic emergencies, she knows as the crisis continues or ramps up, she can be reassigned to another unit at any time.
"UCLA is equipped to accept and manage COVID-19 patients. Soon, it is quite possible that all medical-surgical nurses will be caring for these patients regardless of specialty," she said.
In addition to her nursing job, Lawry is a part-time "open sim lab" instructor at CSUCI.
"I work with students in the nursing simulation lab, answering questions and working on clinical skills such as physical assessment and inserting IVs," Lawry said. "I also help with the simulations, acting as the voice of the patient simulator (mannequin), and change 'his' vital signs according to how the nursing students care for 'him.' These simulations are created to 'simulate' a patient in the hospital setting and CSUCI has the exceptional lab and technology to do so."
If that wasn't enough to keep her occupied, Lawry is also pursuing dual graduate degrees — Doctorate of Nursing Practice and Family Nurse Practitioner — through Loyola University New Orleans.
"My life has always been busy," she added. "I balance a hospital nursing job with the nursing simulation lab at CSUCI with a full-time doctoral degree program."
Because she is at a higher risk of contracting COVID-19, Lawry is taking many precautions to prevent bringing the disease home with her.
"I have not seen anyone in my immediate family for three weeks. I live with my significant other who is also an essential worker. For this reason, we have strictly followed the social distancing guidelines and rarely go to the grocery store. I change my shoes before getting into my car after work, and immediately shower when I get home. I wash my hands diligently, and try to leave anything from work in my car (stethoscope, backpack, shoes, etc.). We disinfect the high-touch areas in our home such as door knobs, faucets, cabinet handles, etc. A few weeks ago, I would have felt overly paranoid to report that I was taking these precautions. Today, I feel like I will soon be doing even more than I am doing now."
Lawry has some words of advice for the general public.
"It is absolutely crucial that the public continues to follow the guidelines of social distancing – we are seeing that it is working and we must not become complacent. You should not leave the house if it is not necessary. 'Necessary' is not running out of an ingredient for a specific recipe, and needing to go to the store. 'Necessary' is being out of enough food to last a few days. If you are still meeting friends or family that you do not live with, unless it is an absolute emergency, please stop. I personally believe it is a moral and ethical decision at this point to protect ourselves and others, we should all stay home."
"In addition to this, I am a strong proponent of mental health services and know this time in particular may be difficult for anyone struggling with anxiety, depression, or PTSD. It is very important to take the time you need to be mentally healthy: meditate, journal, call or Zoom with friends and family, tele-therapy with your counselor, exercise and get some sunshine. I am journaling my experiences every day and trying to make sure I get outside every day."
Return to the Table of Contents
© Spring 2020 / Volume 25 / Number 1 / Biannual