by Marya Barlow
Distinguished Alumnus Channing Lenert, '11 Political Science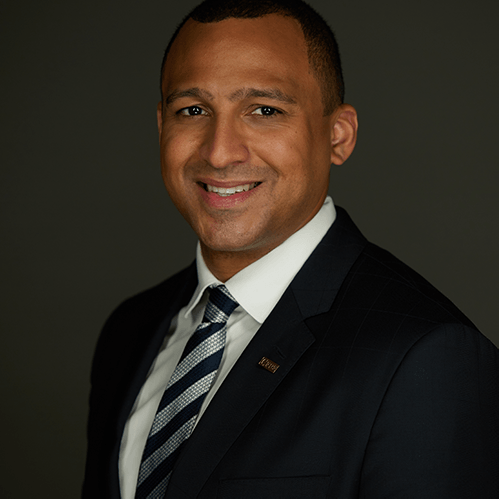 On the first day of classes in 2011, first-generation student Caitlin Cordova, '13 B.A. Psychology, stood in front of the Bell Tower feeling lost and overwhelmed.
A kind voice asked if she needed help. It was Channing Lenert, '11 B.A. Political Science, then a CSUCI senior, just doing what he does: noticing, caring and helping.
Nine years later, Lenert and Cordova are still friends, and he's impacted countless others with his steadfast devotion to public service, philanthropy and volunteerism. That's what prompted Cordova to nominate him for CSUCI's 2020 Distinguished Alumni Award.
"Channing's North Star is the notion of 'service to a cause greater than self,'" Cordova said. "He will always make CSUCI proud with his accomplishments. It has been such an inspiration to watch his career flourish. I have no doubt he will be the mayor of Chicago one day, or possibly even a senator."
Upon learning he'd been named Distinguished Alumnus, Lenert said, "As a proud Dolphin, it's incredibly humbling and exciting to be receiving such a prestigious award from my alma mater. My education at CSUCI has played a key role in shaping me, both personally and professionally. The CSUCI mission tenets of multiculturalism and service learning, in particular, have had deep resonance with me, both while I was a student, and as I've pursued my career in public service and grantmaking in Chicago."
At the age of 32, Lenert has already led a noteworthy life of service. After graduating from CSUCI in 2011, he returned to his hometown of Chicago to mentor middle school students as an AmeriCorps member with City Year Chicago, the largest AmeriCorps program in Illinois.
At Working in the Schools, a nonprofit that works with Chicago Public Schools to boost student literacy, Lenert served as development and operations manager and helped secure and renew the largest contribution in the organization's history. While there, he earned an M.S. in Nonprofit Management from Chicago's Spertus Institute.
As a development manager for Chicago's Navy Pier, Lenert secured the organization's first federal grant, increased grant support by 300%, and worked with the city's political and philanthropic leaders to enhance public programming and security infrastructure.
Today, he's a program officer at Polk Bros. Foundation, a private independent foundation dedicated to building and strengthening Chicago families and communities affected by poverty and inequity. With an endowment of over $400 million, the foundation awards annual grants totaling more than $20 million to nonprofits that focus on building strong communities and providing access to education, healthcare, and the arts.
"I can truly say that working at Polk Bros. Foundation continues to be a dream job," Lenert said. "I'm engaged in this sort of work because I believe that private philanthropy, at its best, informs public policy, and therefore is one of the few sectors that has the potential to really influence structural change."
Lenert actively volunteers and serves in leadership roles for numerous nonprofit and professional organizations, including City Year Chicago, the Chicago Urban League, LIFT Inc., Chicago African Americans in Philanthropy, the Association of Fundraising Professionals, Emerging Practitioners in Philanthropy, and Chicago's 46th Ward Democratic Organization. An IMPACT fellow of the Chicago Urban League and University of Chicago Booth School of Business, he was recently named "Outstanding Young Professional" by the Association of Fundraising Professionals and one of "35 Under 35 Young Leaders Making an Impact" by Chicago Scholars.
As a member of CSUCI's President's Circle, Lenert supports the University's students and mission with personal contributions and matching grants through Polk Bros. Foundation. He directs much of his support to the University's Men of Color Success Initiative, which aims to attract and assist African American and Latino males on campus.
"It's no surprise that in recent years, CSUCI has been named in the top five nationally for both transfer student success and social mobility," Lenert said. "As a man of color myself and having been a transfer student that succeeded at CSUCI, I feel absolutely compelled to continue to support such a culturally-competent university."
Presented annually, the Alumni & Friends Association's Distinguished Alumni Award recognizes alumni who have made significant contributions to society, and whose accomplishments, affiliations, and career have honored the legacy of excellence at CSUCI.
Return to the Table of Contents
© Spring 2020 / Volume 25 / Number1 / Biannual