With Her Legacy Gift, Jeanne Adams Cements a Lifetime of Impact on the Region's Students
by Marya Barlow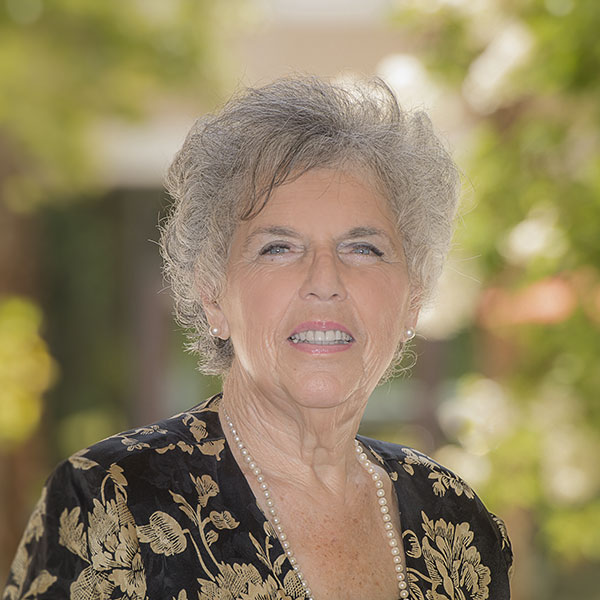 Jeanne Adams lost track long ago of the number of students she has helped guide in her 58-year career as an educator. But it's easy to measure her profound influence in the multitudes of former students who approach her with smiles, hugs and gratitude as she goes about her daily life in the community.
Adams has been a fixture in the education of students, teachers and administrators in the region for six decades. With her recent decision to leave a portion of her estate to CSUCI, she amplifies a legacy of providing support for generations of students to come. For Adams, the gift is the joyful progression of her life's work.
"It was very natural to me. My genuine wish is to make things better for those who need the help and support," she said. "My heart is with CSUCI and I know the University will put the gift to good use. You step on that campus and immediately feel it's a welcoming environment that's positive, open, productive, and providing a marvelous experience for students."
Adams showed an early aptitude for teaching and leadership. Growing up in a small town in New York, she assembled the neighborhood kids to play school and wrote and directed plays. As a middle schooler, she successfully lobbied the town council for a bicycle safety rodeo and helped create a library for a nearby school.
"Teaching and learning was at the heart of everything I did," she said. "I think it was in my subconscious from the time I was three. Right from first grade, I had one wonderful teacher after another who influenced my decision to go into education."
At 15, Adams moved with her family to Oxnard, where she joined the Future Teachers of America at Oxnard High School and met the love of her life, Ronald (Ron) Adams. He was the club's president; she the vice president. The couple married after graduating in 1960 and spent the next 25 years supporting one another through degrees and credentials.
Just as Adams prepared to transfer from Ventura College to the University of California, Santa Barbara (UCSB) in 1962, she was unexpectedly drafted into the profession. Ventura County's Pleasant Valley School District, in the midst of a teacher shortage, offered her the chance to teach second grade while pursuing her bachelor's degree and teaching certificate. When UCSB balked at overseeing the unusual arrangement, CSU Northridge (CSUN) eagerly partnered with the school district to make it happen.
"I will be eternally grateful for the opportunity CSUN gave me," Adams said. "They said, 'We'll work hand-in-hand with your teaching program.' With my limited teaching experience, I was concerned about ruining all those little minds, but as it turns out, I did have a sense of what I was doing."
Over the next three decades, Adams moved into roles as a principal and district administrator in the Oxnard School District. Along the way, she earned four college degrees ('66 B.A. CSUN, '74 M.A. CSUN, '85 M.A. UCSB, '87 Ph.D. UCSB), four credentials, numerous awards, and began working as an adjunct lecturer at CSUN's College of Education.
"I discovered another whole world," Adams said. "I love working with teachers and administrators as they work toward graduate degrees, credentials and field projects."
Adams spent the following two decades as a CSUN professor, preparing principals, directors, and superintendents. She served as chair the College of Education's Educational Leadership and Policy Department, director of CSUN's Center for Partnerships for Education Reform, a founder of the educational doctoral program, and forged alliances with school systems worldwide.
Early on, Jeanne and Ron emerged as leading advocates for a four-year public university in Ventura County. When the CSU Board of Trustees adopted the site of the former state hospital in Camarillo as the CSU's 23rd campus in 1997, "We all just burst into cheers, jumping up and down," Adams said. "Finally, here was an actual structure we could turn into a university."
That evening, Adams started designing what would become her proudest undertaking yet: A groundbreaking professional development charter school that would provide dual-language, blended-age instruction to children, while serving as a working laboratory for teachers and administrators in training. With the support of CSUCI and all 21 Ventura County school districts, Adams founded The University Preparation Charter School at CSU Channel Islands in 2002. Nearly two decades later, the school has trained more than 700 student teachers and provided a high-quality education for thousands of college-bound Ventura County pre-kindergarten through eighth-grade students.
At 80, Adams is still going strong as an educator, mentor, and champion of learning. She's affiliated faculty at CSUN and sponsors CSUCI students training to become teachers through the Ronald Mack Adams Scholarship, named for her late husband, who passed away in 2010. With the bequest of the couple's estate, Adams hopes to provide an ongoing source of support for CSUCI's School of Education, while also contributing to a new performing arts center on campus.
"I'm an educator right down to my toes," she said. "I enjoy what I'm doing. And if I'm being productive and making a contribution, I'm just going to keep going."
To learn more about how you can make a planned gift to CSUCI, visit https://csucilegacy.org or contact Eva Gomez at 805-437-3271 or eva.gomez@csuci.edu.
Return to the Table of Contents
© Spring 2020 / Volume 25 / Number 1 / Biannual