by Marya Barlow
When CSUCI alums Lauren Gih, '14 B.A. Psychology and B.A. Communication, and Ryan Stokes, '14 B.A. Psychology and B.S. Computer Science, started planning their wedding, there was never a question as to where it would be held.
"We wanted to get married somewhere that was equally meaningful to us and CSUCI came to mind immediately," said Gih.
On November 23, 2019, the couple returned to the place where their romance sp­arked six years earlier to begin their lives as husband and wife. They exchanged vows in front of 120 guests at the John Spoor Broome Library, with their cherished former Psychology Professor Kimmy Kee-Rose, serving as one of the wedding officiants.
"We both described the feeling as making a full circle of where our love started and continues to grow," Gih said. "We loved the idea of having our ceremony in front of the Broome Library because it's one of the most beautiful buildings we have ever seen and we knew it would be gorgeous for wedding photos. We are also very proud of our institution and wanted our friends and family to visit the campus that brought us together."
The couple met in the fall of 2013 in Kee-Rose's Psychology research course. Though Gih was "immediately smitten," Stokes initially dismissed her as a beauty who probably lacked substance. Over lunches in the campus cafeteria, study sessions in the library, and long conversations in the research lab, Stokes realized Gih was "the total package." At a Halloween party that fall, they confessed their love for each other and have been inseparable ever since.
Over the past six years, Gih and Stokes have earned six combined college degrees, endured three moves, made countless trips to Disneyland, and adopted a beloved rescue dog named Daisy.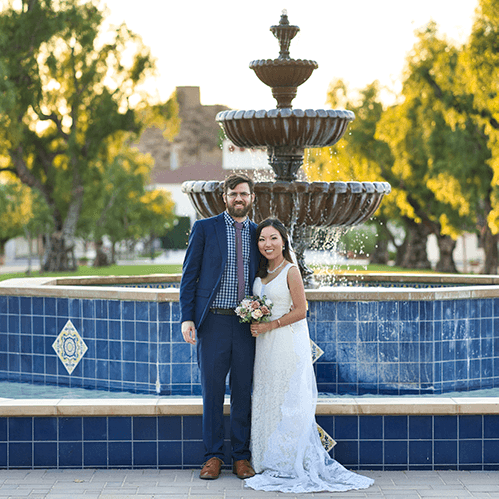 Gih earned a Master of Science degree in Applied Psychology from the University of Southern California and a Doctorate in Education from Concordia University, Irvine at age 25–making her the youngest and fastest doctoral graduate in the history of the university. She also completed coursework for a single-subject teaching credential at CSU Long Beach. Gih is currently an adjunct professor in the College of Natural Sciences and Mathematics at CSU Long Beach and holds a senior administrative role in the UC Irvine School of Medicine. In addition to teaching, she has worked on programs at CSU Long Beach aimed at transitioning and retaining historically underrepresented students.
"As a higher education professional, CSUCI is where I truly saw examples of the educator I aspired to become," Gih said. "Dr. Kee-Rose selflessly mentored me into the person I am today. She is the first person who highlighted strengths I did not even see in myself and, with her high expectations, she never let me settle on a dream. These are tenets I carry into my own classroom, as I seek to mentor students who simply need someone to acknowledge their potential and help bring their talents to fruition."
Stokes received a full scholarship to UC Irvine, where he earned his Master of Science and Ph.D. in Cognitive Neuroscience. He's currently completing his second Master of Science degree at UC Irvine, in Statistics, and is making the transition from graduate school to a career in data science.
"Summer 2020 will be the first time we will not be college students in nearly a decade," Gih said. "We are most excited to finally have time for the things we want to do, such as traveling, purchasing our first home together, and starting a family."
Return to the Table of Contents
© Spring 2020 / Volume 25 / Number 1 / Biannual