by Marya Barlow
When the COVID-19 pandemic hit, CSUCI's Academic Advising office redoubled its efforts to ensure that stay-at-home orders wouldn't deter students from earning their degrees.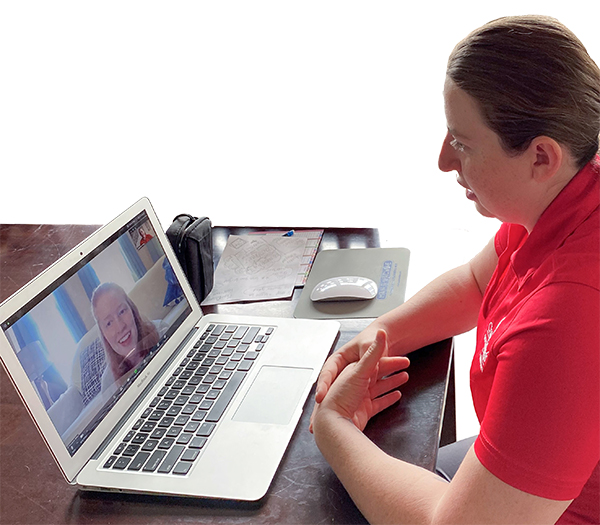 "Not only did we want to recreate all the availability we previously had, we also viewed this as an opportunity to make lemonade out of lemons," said Ernesto Guerrero, Director of Academic Advising. "A lot of students are going to have difficulty continuing. We're trying to be on the cutting edge of mitigating that to the extent that we can. If we can make completing your college degree easier so that you can help your family out, we're going to do that."
Over spring break and while virtual classes ramped up, Guerrero and his team initiated a highly proactive approach to academic advising. They reviewed the records of every freshman, as well as every senior applying to graduate, notified them of missing or additional requirements they needed to fulfill, and offered course recommendations and online advising appointments to help students stay on track.
Guerrero says this elevated standard of degree auditing and outreach would never have been possible without the help from their peer advisors. Paid peer advisors normally work 15-20 hours a week and help advise first-year students, conduct workshops, answer emails, assist with resource tours, and schedule appointments.
When the campus shifted to virtual instruction in March, the student employees' income was still guaranteed – whether or not they were able to work in a crisis. All 10 of them eagerly stepped up to continue their jobs remotely.
"We're here to help and we want to," said Aubrianna Cooper, a third-year student from Bakersfield majoring in Health Science. "When I started this job, I signed up to work. I respect the Academic Advising staff so much and I didn't want to abandon them or the students in a time of need. It's extremely important that freshmen get the help they need. I don't want them to feel neglected or not enroll."
"For us this is more than just a job," said Gabrielle Pittle, a fourth-year Business major from Simi Valley. "We take a lot of satisfaction in making a difference in students' lives. It's important that we remain a support system for them during an especially stressful time. Students only tend to come to us when there's a problem. The fact that we're reaching out to them is going to help both the students and the University in the future."
Many of Advising's services were already offered online to support the needs of working and commuter students. The 2017 Thomas Fire and 2018 Woolsey Fire also gave the staff the opportunity to practice and perfect virtual advising during emergency campus closures.
As demand for academic advising peaked in April when fall 2020 registration opened, staff was well-prepared to handle virtual one-on-one appointments, group workshops, and dozens of Express Advising sessions a week, using Zoom online conferencing.
Guerrero says the proactive advising approach adopted during the COVID-19 pandemic is a "gold standard" that he hopes to continue, thanks to the talent of a dedicated team of professional and student peer advisors.
Return to the Table of Contents
© Spring 2020 / Volume 25 / Number 1 / Biannual