Santi Visalli Self Portrait, 1968

Martin Luther King Jr., 1963

Santi Visalli Self Portrait, 1957
Santi Visalli - A Photojournalist's Tribute to 60 Years of World History
by Marya Barlow
Santi Visalli arrived in the United States from Italy in 1959 with a camera, $60 in his pocket, and the ambition to "make an impression."
Today, he's the embodiment of the American Dream, with a celebrated career as a photojournalist known for capturing the newsmakers and zeitgeist of six decades. His photographs of some of the world's most iconic people, places, and events–The Beatles, Martin Luther King Jr., Sophia Loren, Andy Warhol, civil rights marchers, Vietnam protestors, and five sitting U.S. presidents, to name just a few–have graced the covers of newspapers and magazines worldwide.
When seeking to share his life's work with the public, Visalli found the perfect place just down the road from his home in Santa Barbara, at CSU Channel Islands.
"All 106,964 pictures I donated to the University are my babies," he said. "They describe 60 years of world history. What good is it to anyone if they are in a drawer where no one can see them? By keeping them together, they have an impact."
Inside CSUCI's John Spoor Broome Library administration wing, you'll find 15 large prints of Visalli's most beloved and well-known images, including the gleaming towers of the World Trade Center, and portraits of Martin Luther King Jr., John Wayne and Robert DeNiro. Throughout the year, various Visalli prints are displayed in the Library exhibition hall to commemorate holidays and historic events. At any time, the public is welcome to browse his collection. And soon, CSUCI hopes to share all of Visalli's negatives, which are being digitized into a vast online archive.
"To receive an editorial photographer's collection is a rare thing, but Santi's donation is remarkable for many reasons," said librarian Matthew Cook, Head of Unique Collections and Scholarly Communications. "Not only did he work as a freelance editorial photographer for more than 40 years, he held on to ownership of his work and meticulously maintained his collection. When he donated it to us, he also forwarded copyright, allowing us to generate reproductions and use the fees licensed to offset storage and production/digitization costs. In essence, he gave us not only the collection, but a revenue stream to help preserve it. What a remarkable man­­."
Visalli says he chose CSUCI to receive his collection because he wants it to be part of a growing institution where it can inspire generations to come.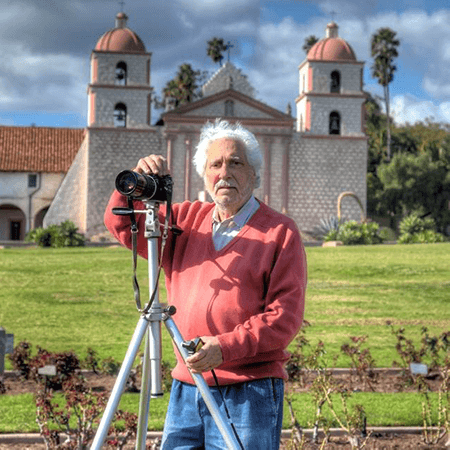 "I wanted to evoke in people the same emotions I felt when I took the pictures," he said. "I wanted to provide a historical record of what life was like for scholars. And I wanted people to get educated about good photography."
Born in Sicily in 1932, Visalli left Italy in 1956 on a three-year trip around the world with friends seeking to become journalists. After landing in New York City, he began his career as a freelance photojournalist, covering many of the defining celebrities, politicians, and events of the '60s and '70s for the New York Times, Life, Newsweek, and other high-profile American and European publications. He also published 14 coffee-table books depicting iconic cityscapes and worked on films with such directors as Federico Fellini, Lina Wertmuller, and Peter Yates. His photographs are in many private collections, and five are in the permanent collection of the Santa Barbara Museum of Art.
An active and "well-preserved" 88 year old, Visalli works out at the gym each morning, still takes pictures, sells photos, and rubs elbows with celebrities.
He was recently featured in "Mentors–Tony & Santi," the acclaimed documentary by Academy Award-winning director Andrew Davis that made its world premiere in January at the Santa Barbara International Film Festival. The film touchingly documents the lifelong friendship between two renowned, world-class photographers, Visalli and his early mentor, Tony Vaccaro.
"Usually they do those things after you're dead," Visalli quipped. "I was so honored to have a documentary made by Andy Davis, who directed 'The Fugitive,' and to have it premiere in my hometown."
Among the other unique honors his career has afforded, Visalli was made a Knight in the Order of Merit of the Republic of Italy in 1996 and presented with a medal for life achievements by Italy's president in 2011.
Without hesitation, Visalli says the greatest honor of his life is his family: wife, Gayla, and sons, Ivon and Anthony.
"I came to America with $60 in my pocket," he said. "I'm most proud that I was able to make a nice family. A beautiful wife and two kids."
Return to the Table of Contents
© Spring 2020 / Volume 25 / Number 1 / Biannual