Campus bids a fond goodbye to Police Chief Michael Morris
By Pamela Dean

CSUCI's Chief of Police Michael Morris retired in May after 29 years as a police officer.

Morris has been a fixture of the CSUCI Police Department since 2006, when he joined as a Lieutenant. A law enforcement officer since 1992, Morris served in the police departments of both CSU Bakersfield and the City of Lemoore before coming to CSUCI. 

In 2017, he was appointed Chief of Police at CSUCI, a position which includes oversight of not only the University Police Department, but also the Transportation & Parking, Environmental Health & Safety, and Emergency Management programs. 

Morris' ties to the CSU system and CSUCI in particular run deeper than his role as Chief of Police. He is a CSU graduate himself, having attended CSU Bakersfield, and his daughter is a recent graduate of CSUCI. 

"Mike's strong connection and his unfailingly positive, collaborative approach has helped this campus through some of its greatest challenges, including multiple wildfire evacuations and, most recently, our response to COVID-19," said Interim President Richard Yao. 

Indeed, Morris recalls the 2013 Springs Fire as one of the most noteworthy events he helped lead the campus through. Although he was a Lieutenant at the time, former Chief John Reid was at an off campus meeting when the fire broke out. As second in command, Morris found himself suddenly in charge of the Police Department's response to what turned out to be the most significant crisis the campus had ever faced. 

"The entire campus community including University Glen, had to be immediately evacuated," Morris recalled. "The fire came directly to the campus and burned completely around the University's property down to the sidewalks, all the way out to the Pacific Ocean and halfway to Malibu. Fortunately, nobody on campus was injured and there was minimal property damage." 

During his tenure as Chief, Morris began the process of implementing the recommendations from the President's Task Force on 21st Century Policing, revamped the Police Department's training program and ensured every CSUCI police officer received training on principled policing with a heavy focus on implicit bias and procedural justice.

Morris is especially proud of a comprehensive campus security assessment that resulted in a number of major enhancements, including the installation of inside locks on classroom doors and more security cameras placed around campus. 

He is also proud of the positive relationship the Police Department has built with the campus community.

"Working at CSUCI has been incredibly meaningful for me," Morris said. "The police department here has a different relationship with the campus community than any other place I have worked and any other place I know of. It's based on relationships and trust. It is very special and very unique and I'm very proud to have been a part of that."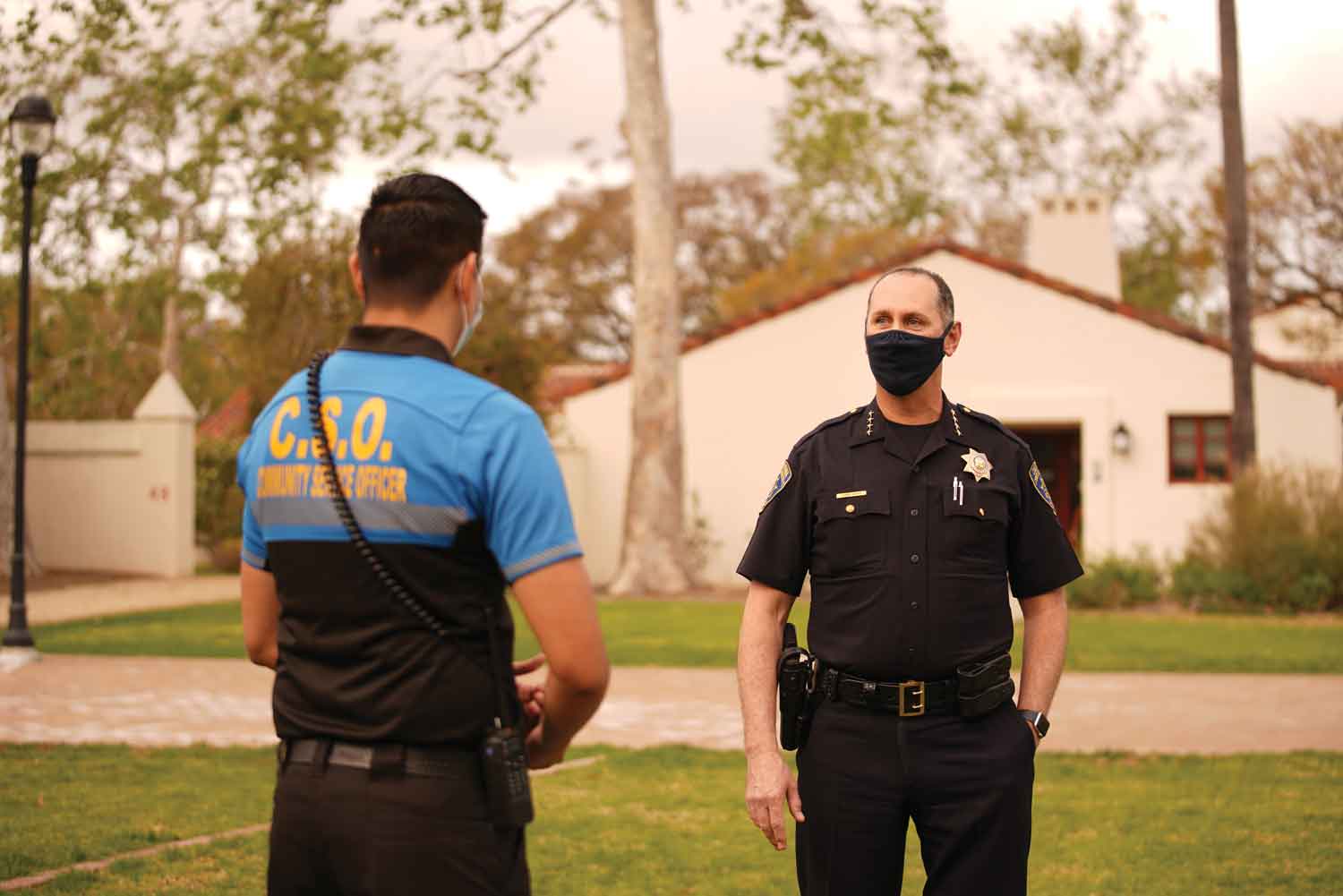 Morris will keep busy in this next chapter of life. He and his wife plan on camping in their recently purchased fifth-wheel trailer. And at only 52, he may even launch into another career although he is uncertain what that will look like.   
"I have a lot of work life left in me," he said. "I'm going to stay active, I'm not done working, but I don't know what that next chapter looks like yet. But I'm excited about the journey."
One thing he is sure of, he is leaving his team on solid footing. His former Lieutenant, Drake Massey, is serving as Interim Chief until a permanent replacement is found. 
"We have the building blocks in place for students and staff to return to campus in the Fall," he said. "The Police Department is in good shape and will be able to move full speed ahead."
Return to the Table of Contents
© Spring 2021 / Volume 26 / Number 1 / Biannual