by Kim Lamb Gregory

Everyone deserves the opportunity to get a quality education. Once on campus, everyone deserves to thrive and feel as if they belong. 

This is the basic concept behind what CSUCI leaders call the "inclusive excellence" initiative, which is now turning into an action plan.

"The inclusive excellence action plan doesn't introduce new content," explained Interim Chief of Staff Kaia Tollefson, Ph.D. "It synthesizes and organizes existing commitments, focusing the actions needed to realize racial and social justice."

Tollefson and Associate Professor of Nursing LaSonya Davis, D.N.P, N.P., are working together to develop an Inclusive Excellence Action Plan framework. Davis is working in her capacity as the President's inaugural Faculty Fellow for Inclusive Excellence.

"We're going to do an assessment of all our department programs and determine where equity and inclusivity are already on campus," Davis said. "As we move forward, we will develop a plan to address any gaps and create transformative change."

As a first step, Tollefson collected the ideas and actions faculty, staff, students and members of the administration have brainstormed since 2018 when the University included inclusive excellence as one of four strategic initiatives. The other three are educational excellence, student success, and capacity and sustainability.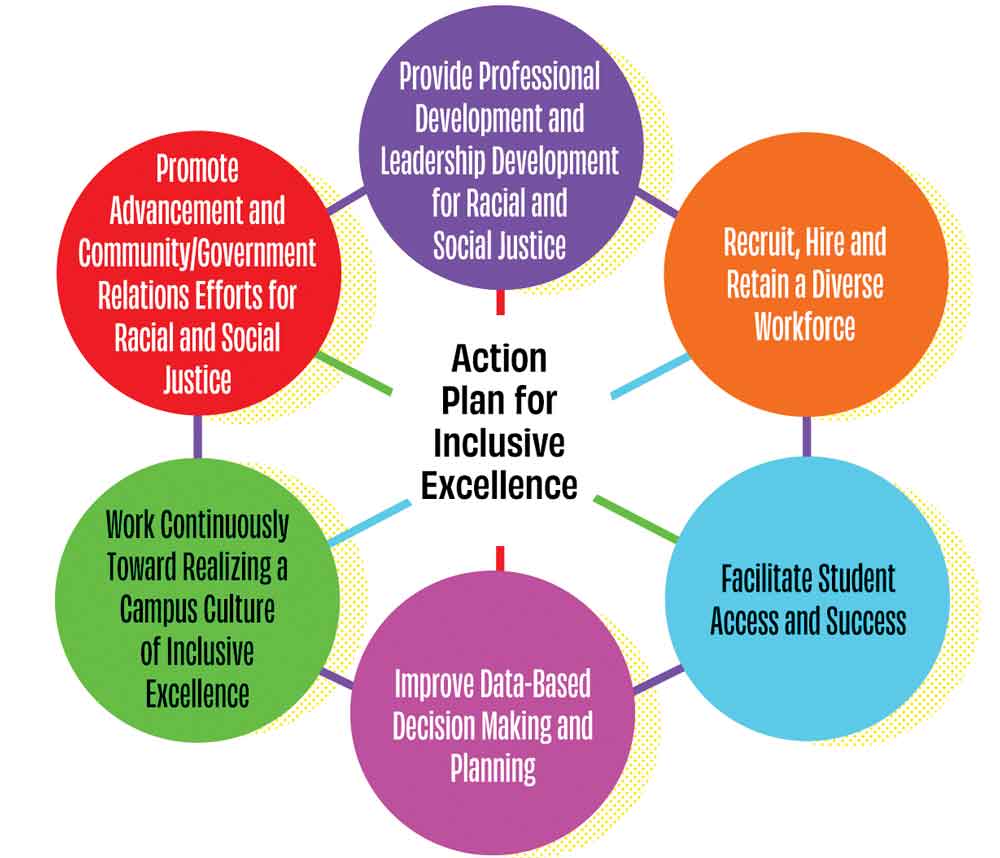 Tollefson pulled all the ideas and recommendations into an elaborate, color-coded plan that is now streamlined and ready for the next step: action. 
Six action teams have been formed to assess what's working and what needs improvement. 
"We're trying to be as aggressive as we can be," Tollefson said. "Once these teams are formulated, they will create their individual action plans and come up with their deliverables, priorities, timelines, and evaluation strategies. What they develop will be incorporated in the campus-wide Fall budget planning process, which is so important. Aligning inclusive excellence action planning into campus policies and procedures is how we can make sure diversity, equity, and inclusion are embedded in all we do."
Some of the suggestions put forth included providing the campus community with learning opportunities and leadership development on dismantling racism and developing a hiring strategy to ensure diversity in the faculty—to name just a few examples.
"This is a process of working together and using our minds and hearts at the same time," Tollefson said. "This is academic work but it's also heart work."
The action plan will include faculty, staff, administrators and students, and when the students graduate, both Tollefson and Davis hope they will take these values with them. 
"I hope, when students graduate, they will not only have a degree that will take them to their highest level of achievement. I also want them to leave CSUCI with a sense of what inclusive excellence is," Davis said. "And to translate that into everyday life."
Return to the Table of Contents
© Spring 2021 / Volume 26 / Number 1 / Biannual