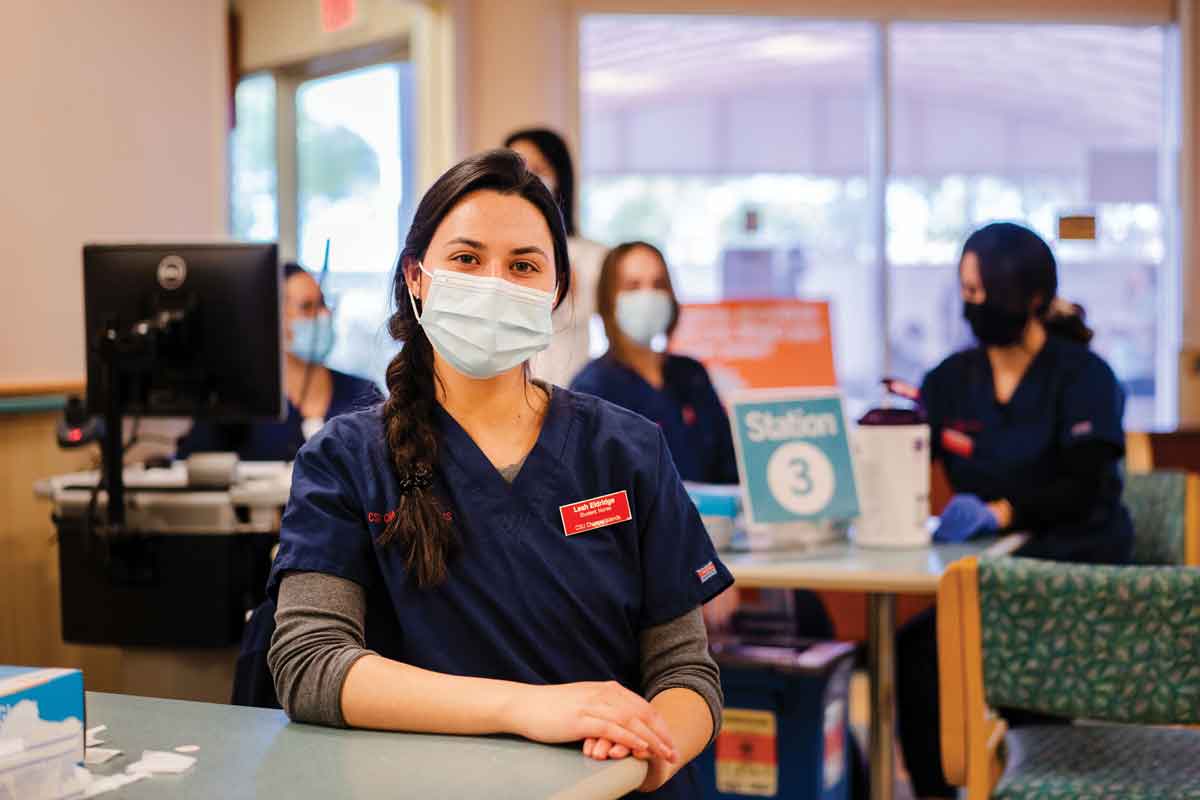 Leah Eldridge helps at a vaccine clinic.

By Kim Lamb Gregory

Tears welled up in the patient's eyes as CSUCI Nursing senior Carina Fasano swabbed the older woman's arm and injected her with a vaccine—and hope.

"I saw the smile in her eyes and she thanked me and then teared up," Fasano said. "She said 'I'm so excited to see my family again!' And I couldn't help but tear up too."

Fasano is one of about 250 Nursing students in their second, third or senior year who vaccinated thousands of people against COVID-19 after this winter's massive vaccine rollout.

Some gave injections during public vaccine clinics, while other students took health histories, made calls or did anything else they could to assist the health care workers in Santa Barbara and Ventura counties and the City of Los Angeles.

"CSUCI Nursing students have been an integral part of the County of Ventura's response to vaccinating our public," said Ventura County Public Health Officer Robert Levin, M.D. "Plenty of people say they are interested in helping to vaccinate but these students show up. We are grateful for their partnership."

"They amaze me," said Program Chair and Professor of Nursing Lynette Landry, Ph.D., R.N. "They're willing to jump right into the fire—they want to contribute. When most of us are afraid to go to the supermarket, there they are, right out on the front lines. I am so proud of them."

Ashley Hayes, who finishes CSUCI's R.N. to B.S.N. (Bachelor of Science in Nursing) program in December of 2021, is fully aware of what it means to be on the front lines of a pandemic.

"It feels hopeful, it feels stressful," Hayes said. "It feels like we are making history and that we are having our community involved in this history. It's a great feeling."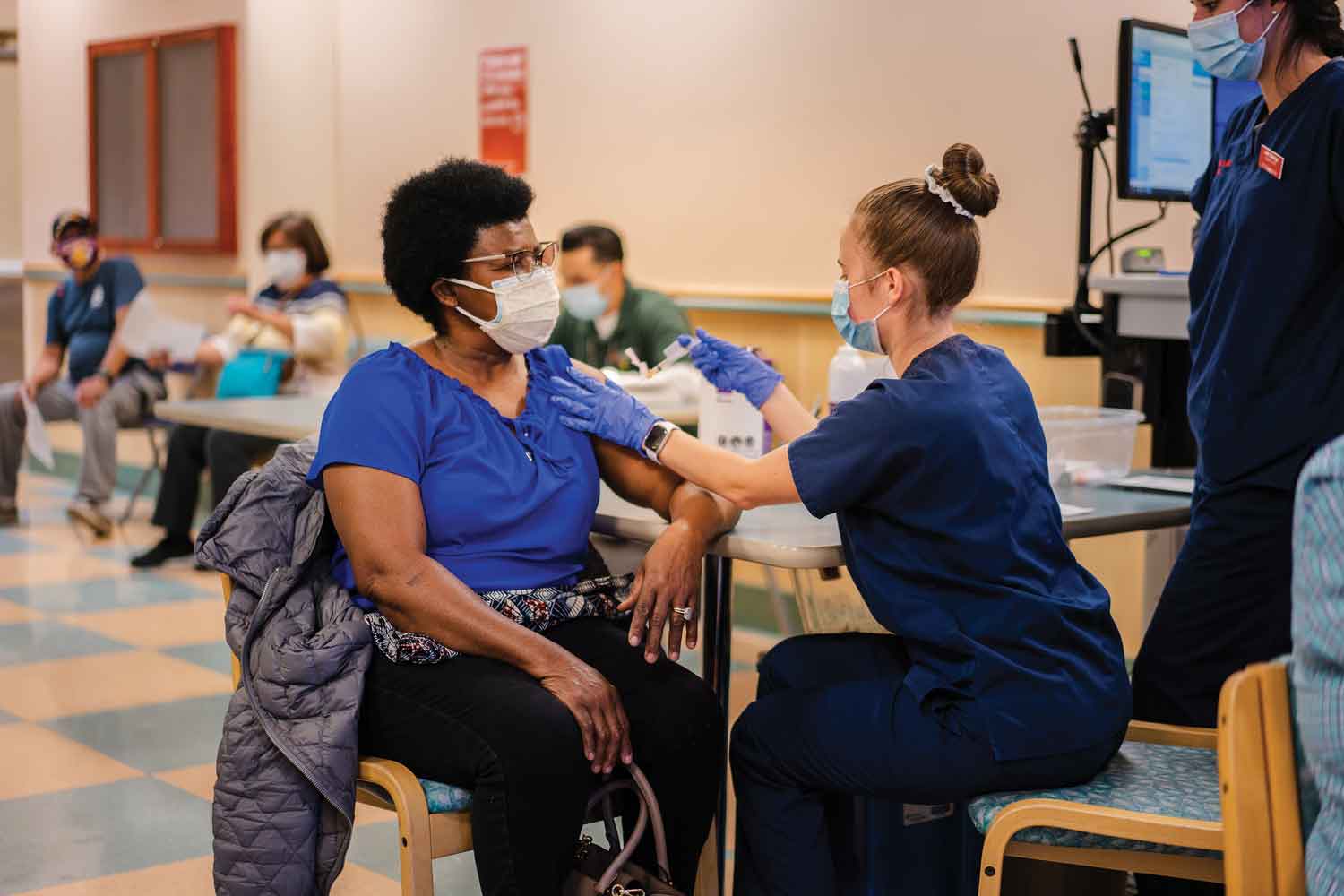 Nursing student Sarah Wilson gives Marie Terzll a vaccine
Training to be a nurse during a pandemic has its pros and cons, according to Landry.
"They will come out with a unique set of skills other students haven't gotten because they are being trained during a worldwide pandemic," Landry said. "In another sense, they've been deprived of the clinical time and time in the lab that they need to graduate."
Working in the simulation lab on the Goleta campus helped students log clinical hours, and when area health care facilities called for volunteers to help out during the pandemic, it created a perfect opportunity for students to get in-person experience with patients.
"The practice is great not only for their nursing skills, but for their personal interaction skills—being able to talk to patients, maybe put them at ease if they're nervous about getting a shot," said Nursing Lecturer Nancy Mitchell, R.N.
Before volunteering, Nursing students were trained at either the Ventura County Public Health Department, Cottage Health, St. John's Regional Medical Center, St. John's Pleasant Valley Hospital, Kaiser Permanente, the City of Los Angeles or the Los Angeles City Fire Department.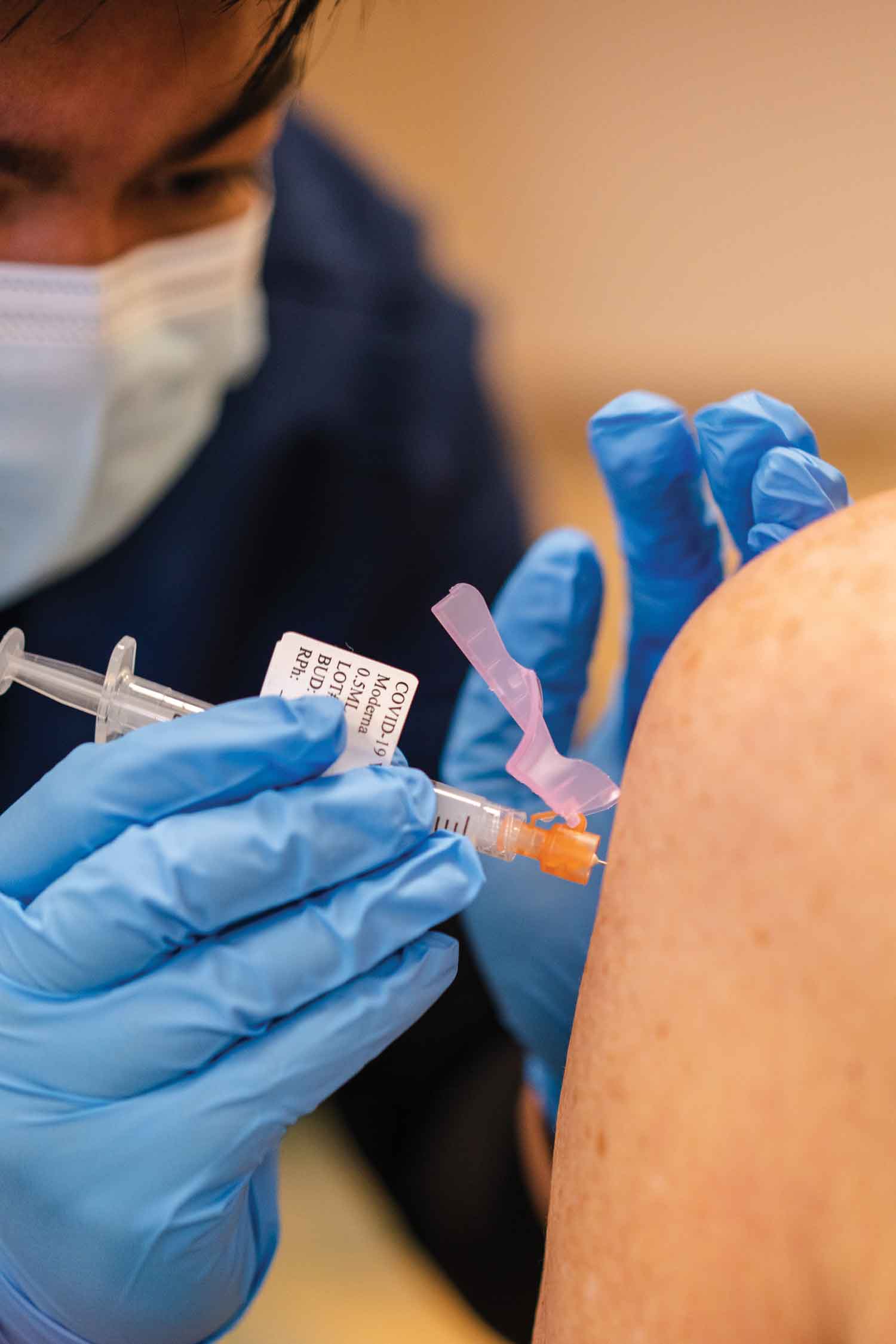 Nursing student Joshua Gonzalez administers a vaccine
"Cottage is very appreciative of the CSU Channel Islands Nursing students who have helped staff our vaccination clinics," said Laura Canfield, Patient Care Services and Chief Nursing Officer for Cottage Health.
"This is a talented group making a significant contribution to protecting our community." 
Class of 2021 Nursing student Aimee Proffitt was one of the students who participated in a drive-up vaccination clinic offered through Cottage Health in Goleta.
Proffitt even vaccinated her grandparents and her mom through an open car window.
"I was so excited, I could barely stay professional," Proffitt said. "Not only were they isolated because of COVID and their age, my grandma is partially deaf and blind. A year ago, I never imagined I'd be giving my own grandparents (and mom) a shot to prevent this bizarre virus that came through the world."
The experience of volunteering during a pandemic reminded Nursing student Rebecca Warden why she chose to become a nurse.
"It feels huge — it does! It doesn't seem like it in the moment and then you take a look back and it's like, we're doing so much for everyone," Warden said. "I'm excited. Everyone's excited."
Return to the Table of Contents
© Spring 2021 / Volume 26 / Number 1 / Biannual