By Kim Lamb Gregory
CSUCI junior Lisa Marie Ruiz laid her hand on her chest as she looked down at a table filled with rusted chains, shackles, and yokes.
"My heart is pounding," said the Chicana/o Studies and Psychology double major. "Imagine people…humans… having to endure this."
The chains once used by enslavers to enforce bondage were part of the "Forgotten Images" exhibit displayed March 24-26 at CSUCI's Grand Salon.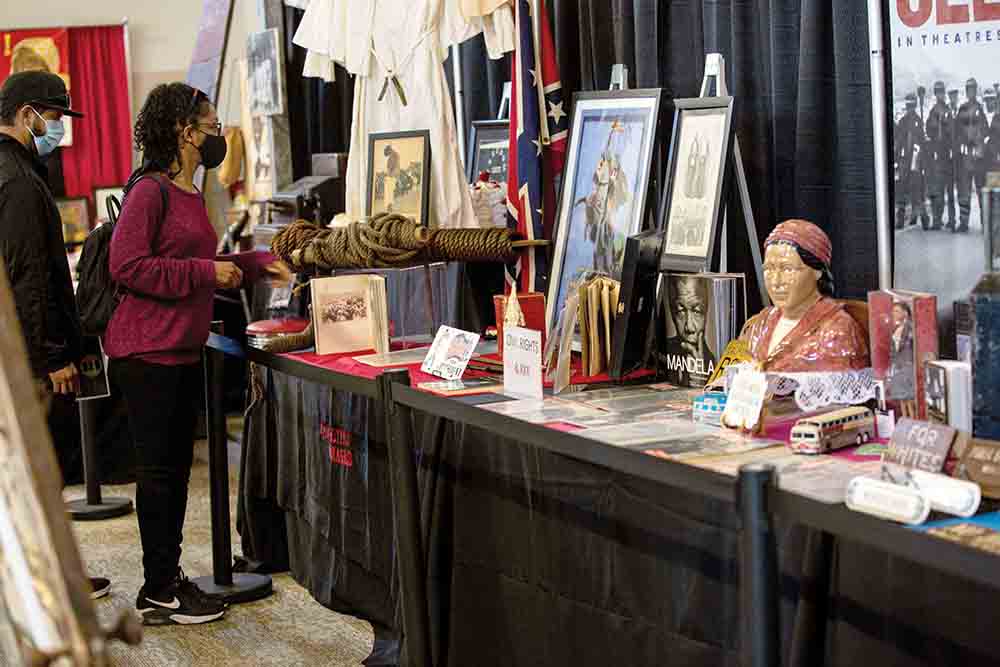 Exhibit guests view artifacts in the exhibit "Forgotten Images" in
CSUCI's Grand Salon.
The traveling exhibit was part of "An American Journey," an unflinching look at United States history seen through artifacts, experiences, and accomplishments of Black and African American people from the 1600s through present-day. Viewers of the exhibit had opportunities to view and reflect upon the impact and relevance of historical artifacts in the context of the ongoing struggle for racial justice in the U.S. and around the world. 
Sponsored by an Oxnard-based organization called the Juneteenth Celebration of Ventura County (JCVC), the exhibit came to campus thanks to the efforts of CSUCI's Major Gifts Officer Carrick DeHart, JCVC co-chair Angela Landers and her husband, Brian Landers, and the John Spoor Broome Library.
The Landers couple felt it was important to expose the public to the exhibit because, in Brian's words, "There are a lot of things that are relevant today that stem from this systemic racism."
The artifacts were collected by Oxnard natives David and Sharon McLucas, who spent more than 25 years attending estate sales and auctions collecting more than 20,000 pieces of African American history, spending more than $500,000.
"I had a collection of Aunt Jemima salt and pepper shakers, and my husband had a collection of music. From there, we just combined it with the history, and our passion — and our paychecks," said Sharon.
Outreach and Engagement Librarian Lydia Collins was responsible for highlighting parts of the exhibit for the campus.
"Some of the items really stuck out to me, like the 'For colored only' signs," Collins said. "As a black woman, I feel like it's still there. There are places where I don't feel I belong — we are in 2022 and sometimes I still feel that way."
High school students from around the county toured the exhibit with David McLucas as their guide.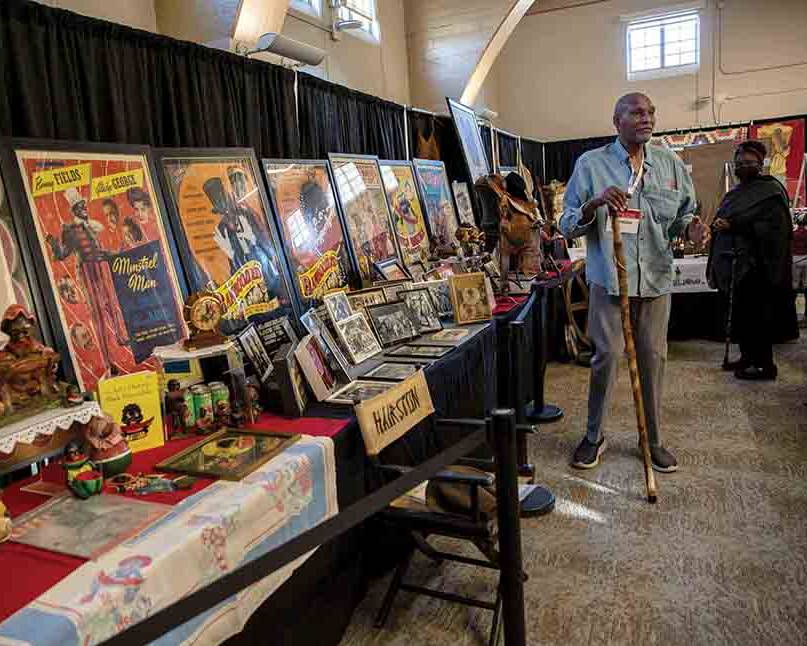 David McLucas discusses artifacts with guests viewing the exhibit.

"The Ku Klux Klan struck me the most because they would hang Black men for no reason," said high school student Isaiah Compton. "It made me mad and sad."

David McLucas was hands-on with his narration, inviting students to feel the length of a whip or the weight of a 40-pound ball and chain.

"If you go to museums you aren't going to hear the things I talk about," he said. "We want to be right in your face with this. We want you to feel the burden and the weight and anguish that went along with these devices I'm showing today."

As she toured the exhibit, CSUCI Black Student Union President, Corrin Thomas, was moved to tears.

"It really got me. I never knew. I was never taught a lot of this," Thomas said. "Everything got me."

Return to the Table of Contents
© Spring 2022 / Volume 27 / Number 1 / Biannual