By Michele Willer-Allred
The Black Alumni Chapter (BAC) is the first officially recognized chapter of the Alumni & Friends Association (A&FA), setting the stage for future chapters to engage at CSUCI.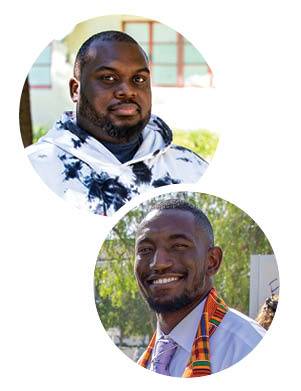 The BAC came about when '09 B.A. Communication alum Jeffery Alexander wanted to re-connect and help Black students and alumni in particular. Alexander, who is Associate Dean of Student Services at Pasadena City College, said he had seen similar Black alumni chapters at other schools and wanted to bring one to CSUCI.
Alexander serves as the BAC president. He recruited '10 B.A. Communication alum Jeremy Booker, and they both started working directly with Associate Vice President for Student Affairs — Retention, Outreach, and Inclusive Student Services, Charles Osiris, Ph.D., who sponsored the effort and supported their work. 
Top left Alumnus Jeffery Alexander, '09 B.A. Communication. Left Alumnus Jeremy Booker, '10 B.A. Communication.
Director of Career Development & Alumni Engagement Amanda Carpenter, Ed.D., said the A&FA started meeting with the committed group over the Summer and Fall of 2021 on developing the fundamental structures they would need for the group to be officially recognized as the inaugural BAC chapter at CSUCI. 
"We're hoping to grow that and establish additional chapters particularly when we think about our alumni base growing at a critical time for our campus," Carpenter said. "We're celebrating our 20th anniversary coming up in Fall 2022. We have 24,000+ Dolphins as of 2022 and our alumni represent our largest constituency group as an institution." 
The goal of the BAC is to "create and promote opportunities for students and alumni to connect, thus building a greater sense of community on campus and beyond." 
"Helping to start the BAC is just one way I can give back to the University that gave so much to me."
—Jeffery Alexander
The BAC supports current Black students and alumni through mentorship, career development, and networking opportunities; supports CSUCI's efforts to recruit and retain Black students, faculty and staff; promotes and encourages a campus climate conducive to student success; and guides students as they navigate and overcome challenges through their collegiate experience and beyond.  
"We're excited, but there's still a lot more work ahead," said Alexander, who received CSUCI's 2022 Distinguished Alumni Award (see article on previous page). "Helping to start the BAC is just one way I can give back to the University that gave so much to me." 
Alexander said the focus right now is to grow the BAC chapter. The best way to reach BAC is through their social media channels, including Instagram @BlackAlumniCSUCI and on Facebook @CIBlackAlumniChapter. 
Return to the Table of Contents
© Spring 2022 / Volume 27 / Number 1 / Biannual