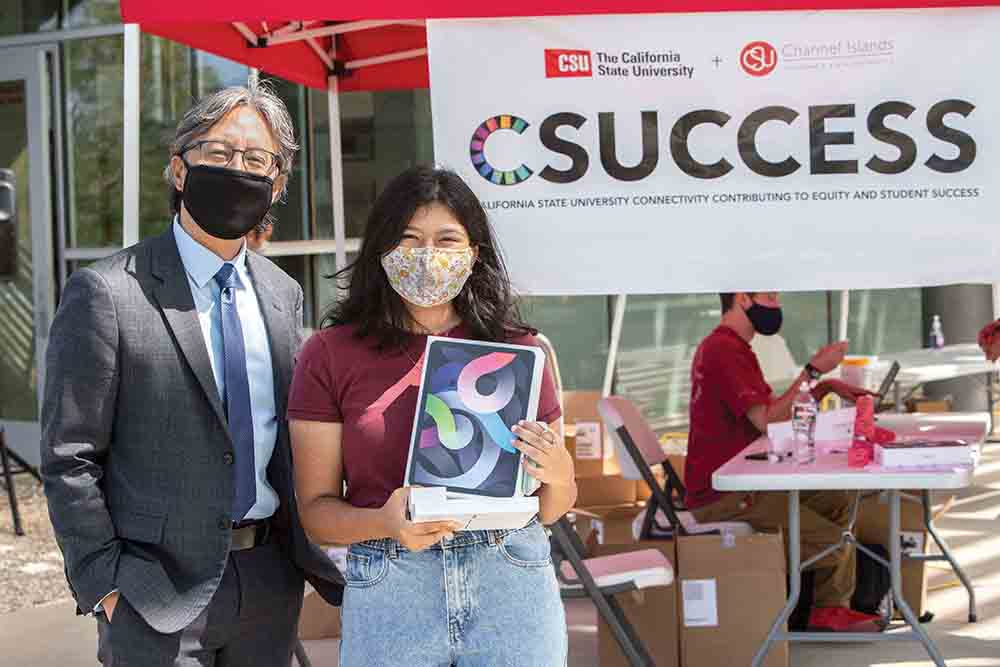 President Richard Yao presents iPad bundles to students.
By Michele Willer-Allred
How do you spell success?
It is CSUCCESS for the team that launched the pilot program and, more importantly, for the students who benefited from the CSU community wanting to close equity gaps and enhance student achievement through this initiative. 
CSUCCESS (California State University Connectivity Contributing to Equity and Student Success) is an initiative launched on 14 CSU campuses to create more equitable opportunities by providing industry-leading technology for incoming freshman and transfer students to use through completion of their degrees.
Throughout the COVID-19 pandemic, many CSU students indicated a lack of access to a computer or mobile device as an obstacle in the way of their achievement. In response, more than $18 million was used to purchase more than 21,000 laptops and tablets, along with 10,000 mobile Wi-Fi hotspots for students across the CSU system.
Associate Professor of Communication J. Jacob Jenkins, Ph.D., led a CSUCI research team to collect data for the campus' CSUCCESS program. 
"I think the real success of CSUCCESS is its ability to break down those barriers of inequality, especially considering the student population of the CSU, including here at CSUCI, with a large percentage of first-generation and low-income students," said Jenkins, who is also a campus coordinator of Affordable Learning Solutions and founding director of California Alliance for Open Education.
"We're living in a digital world, and the COVID-19 pandemic hastened that transition more, while at the same time exposing certain inequalities even more," Jenkins said. "Our educational resources are more virtual and online but then you have to have technology and computers to access those things."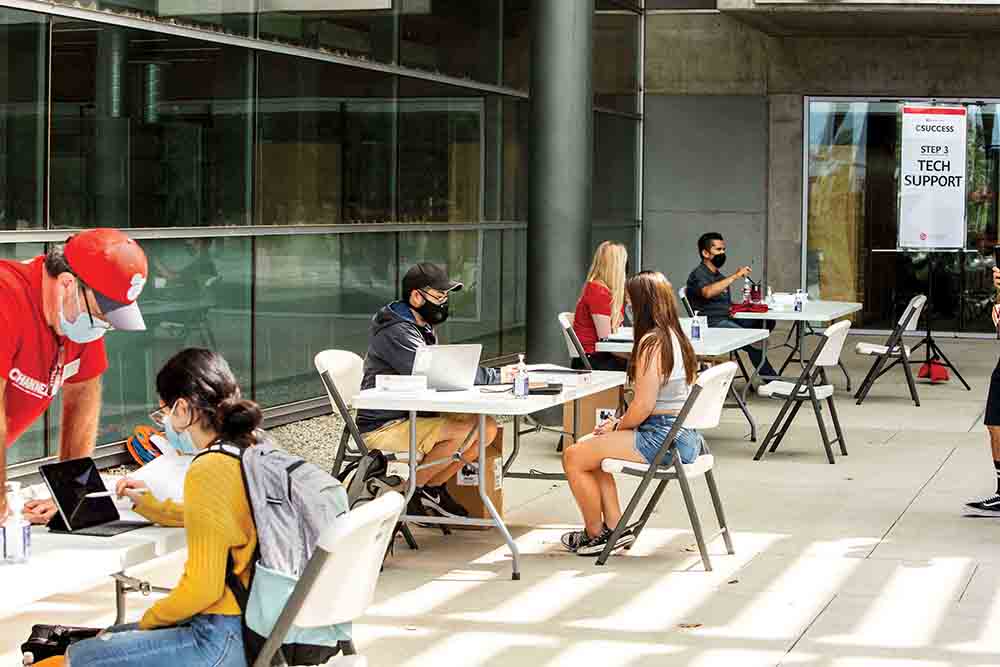 CSUCI's Information Technology Services helps set up the iPads with the students.
The research team received 124 survey responses from CSUCI students who participated in the CSUCCESS program this past year and found the program successful with limiting or reducing barriers for students.
Before receiving the iPad bundle through CSUCCESS, only 51% of students felt they had a reliable computing device, and only 75% felt they had reliable internet service for completing required coursework.
After students received CSUCCESS iPad bundles, these numbers jumped to 97% and 92% respectively, and 97% of students felt the iPad bundle helped with their coursework.
Assistant Professor of Education Talya Drescher, Ph.D., a committee member, said the CSUCCESS program was extremely beneficial to her students, one of whom is Rylan Bemis. 
"Coming from a low socioeconomic background, I was really nervous about being able to keep up with my schoolwork since I came to CSUCI with just a five-year-old Chrome book," Bemis said. "Receiving the free iPad for use throughout my time at CSUCI has made it easier on me to keep up with online assignments and to make all my Zoom classes without worrying if my computer will work that day or not."
Return to the Table of Contents
© Spring 2022 / Volume 27 / Number 1 / Biannual