By Abigail Napp
When The Trade Desk Chairman, CEO and Founder Jeffrey T. Green discovered he would receive an Honorary Doctorate of Humane Letters from CSUCI, he was thrilled and surprised.
"I was floored. I work with CSU Channel Islands because I believe the University is doing important work that is making a difference in the lives of many students," he said. "It's incredibly humbling to understand that the University believes this collaboration to be worthy of this kind of recognition, and it only emboldens me to want to do more."
Since co-founding The Trade Desk in 2009, the 45-year-old billionaire has built one of the most leading-edge advertising technology companies in the world. With its corporate headquarters in Ventura, the company has also become a top recruiter for CSUCI alums.
"What strikes me about these talented graduates is not only the core skills they develop in the classroom, but also their highly developed sense of curiosity," said Green. "I believe this is key to success in technology and probably in most fields. It's so important to be curious about how things work and why things are organized the way they are."
Green's influence has impacted various initiatives across campus. His company employees participate in curriculum development and instruction for the digital advertising classes offered through CSUCI's Martin V. Smith School of Business & Economics. Over the years, the Trade Desk has developed a talent pipeline and has hired 27 alumni. 
Green said CSUCI alumni have a strong work ethic and appreciation for success.
"That sense of grit and drive is something I admire a great deal in people that we look to recruit," he said. "It's forged early in life, and CSU Channel Islands does a great job of helping [them] leverage it to be successful. We could not be more thrilled to bring that spirit into our company."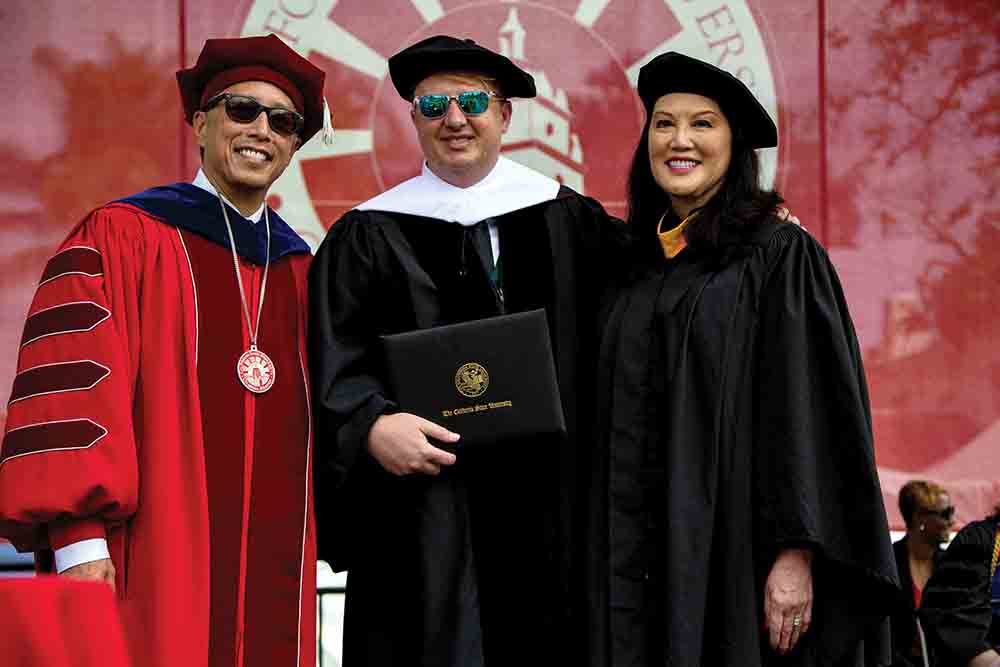 From left to right, President Richard Yao, Jeff Green, and CSU Trustee Wenda Fong at the May 21 ceremony.
Green has also contributed to the CSUCI community through his family foundation. Since it launched in 2020, the foundation has made significant gifts and pledges exceeding $3 million in support of peer mentorship programs and scholarships. 
Green said he's been impressed by the impact of these programs on CSUCI students, as well as the University's leadership for developing these programs. With years of experience running successful data-driven organizations, he has applied similar standards for measuring the progress of his philanthropic efforts at CSUCI. He plans to scale his efforts to other campuses in the California State University system.
"Not only have we seen significant improvements in terms of lowering drop-out rates, but we also get really positive feedback from embedded student peer mentors on what it means to them to play that role and how it is helping them in ways they had not anticipated," he said. "It's this kind of success that allows us to grow these programs and think about how we can apply the same thinking in other areas."
Return to the Table of Contents
© Spring 2022 / Volume 27 / Number 1 / Biannual