By

Abigail Napp

When Indy Valencia heard the shouts, he ran towards the commotion. In the neighbor's apartment above, a recently adopted pitbull dog was attacking a four-year old girl while her mother tried to intervene.

"It was the kind of scream where something was very wrong, and I heard rustling on the floor," said Valencia. "I got up and went straight upstairs through the door. I saw them on the floor – the little girl, the mom and the dog. The little girl's face was in the dog's mouth."

Valencia wrestled the dog and pulled the animal off the child, saving her life. Emergency responders arrived soon after.

Valencia has worked at CSUCI for 16 years as a Lead Information Technology Consultant. Thankfully, he had been working from home that day.

"I was happy to be able to help and be at the right place at the right time," he said.
Word spread of Valencia's courageous act on campus.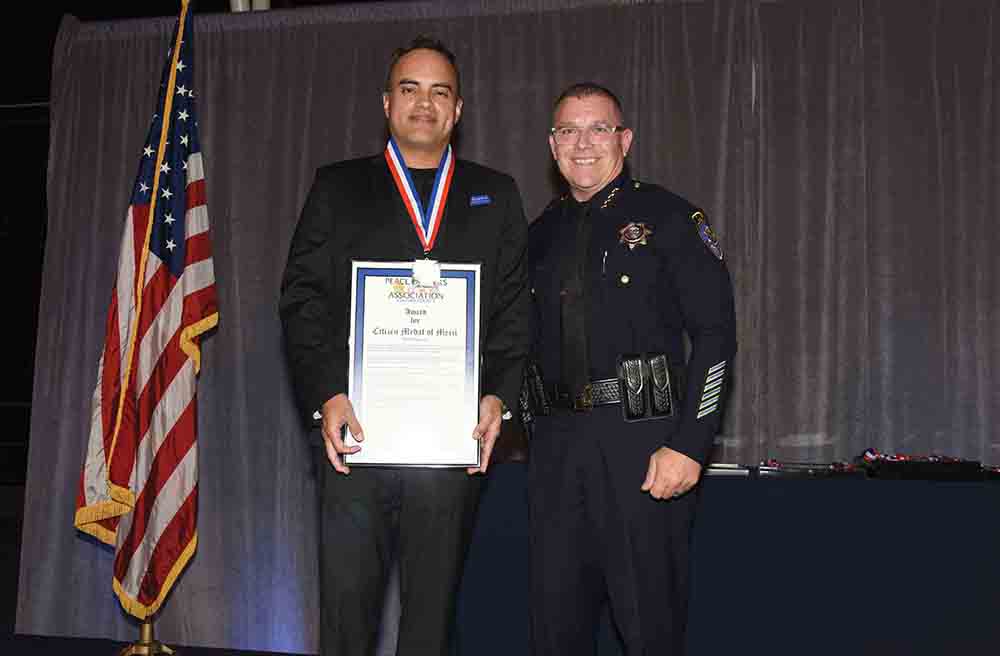 Indy Valencia and CSUCI Interim Chief of Police Drake Massey.
When Lieutenant Christopher Jetton from the University's Police Department heard of Valencia's heroism, he gave him a coin to recognize his bravery.
"Because Valencia intervened — and he had no obligation to — the young girl didn't die," said Jetton. "He placed himself in harm's way to save someone else's life."
Since then, the little girl has recovered. She often plays with Valencia's young daughter.
Jetton nominated Valencia for an important award in Ventura County, the Citizen's Medal of Merit, given by the Peace Officers Association of Ventura County (POAVC). The awards began in 1974 and are typically given out every two years.
On March 19, 2022, 500 people attended the POAVC ceremony in the Air Force One Pavilion at the Ronald Reagan Library in Simi Valley. For the special occasion, Valencia brought his son with him to receive the Citizen's Medal of Merit.
"It was nice to be thought of," said Valencia. "The night was very fun and energetic with lots of people celebrating the acts of helping others."
Return to the Table of Contents
© Spring 2022 / Volume 27 / Number 1 / Biannual