New Vice Provost plans to "pay it forward" for students
Jessica Lavariega Monforti, Ph.D., joins CSUCI
By Kim Lamb Gregory
Whether it's in school or in life, new CSUCI Vice Provost Jessica Lavariega Monforti, Ph.D., sees individual success as a team effort.
"I was always raised to work hard, but not alone," Lavariega Monforti said.
Growing up in a Latino household, a sense of family, neighborhood, and community are at the root of her achievements, which is why Lavariega Monforti wants to create a similar environment for CSUCI students — especially for those who, like her, are the first in their family to attend college.
"When I was in K-12, I was surrounded by a lot of naysayers," Lavariega Monforti said. "My best friend was pregnant at 15, and statistics were not in my favor. But between my parents and a handful of faculty members, somehow I stumbled onto a career I didn't know existed when I was 18. I really look forward to the opportunity to pay it forward here at CSUCI."
Lavariega Monforti grew up in Long Island, New York in a neighborhood where big family Sunday dinners were the norm.
"My dad was a mechanic, and my mom was a hairdresser. My mom was the one who said, 'You're going to college,'" Lavariega Monforti said. "She wanted me to not depend on other people for my survival."
Lavariega Monforti earned a bachelor's degree in political science and women's studies from Florida State University, then moved north to attend Ohio State University where she earned a bachelor's, a master's, and a Ph.D. in political science.  Her career took her to Texas, rural Georgia, and eventually California where she became Dean of the College of Arts and Sciences at California Lutheran University (CLU) before joining CSUCI in January of 2022.
Her experiences in these different demographic cultures reinforced her belief that a strong social foundation of friends, family, and professional colleagues is critical to success, especially for students of color.
Lavariega Monforti said students and faculty alike mocked her Latina/o heritage.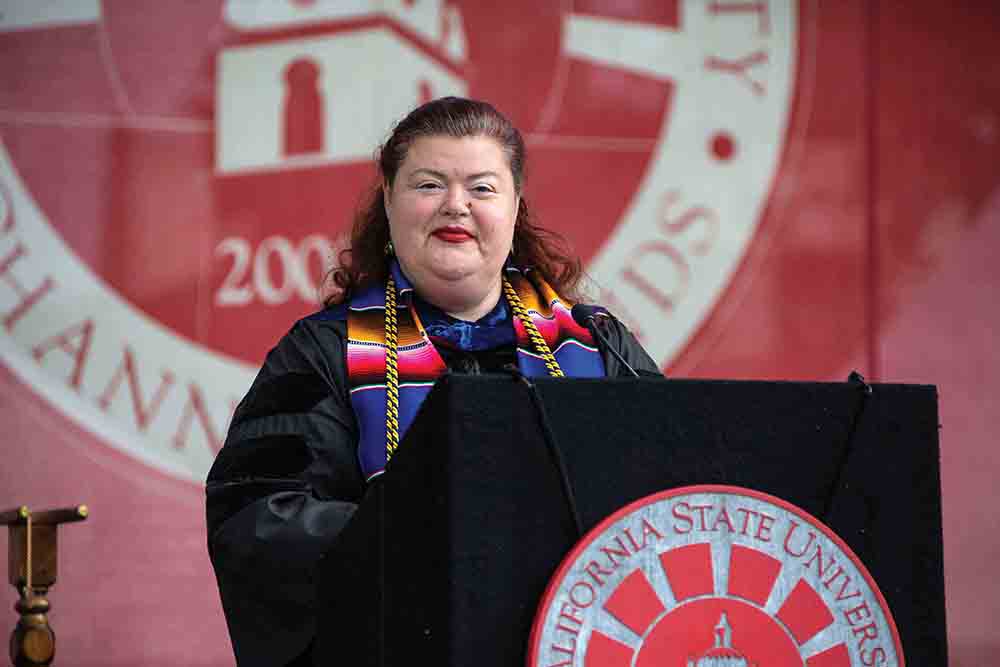 "I remember kids in my graduate cohort ended every single word with an 'o,'" she said. "Once, a very famous political science faculty member said 'What did you get on your GRE? I want to know if you're smart enough to be here.'"
Among the initiatives Lavariega Monforti is excited about is "block scheduling" for first year students beginning with the Fall 2022 semester. Basically, a cohort of students will have blocks with 12 units of foundational courses, which they will take together as a group. The group will serve as a "village" for the students to help them develop a sense of togetherness and belonging.
"When students first come to college, they are often less worried about academics than they are about fitting in," Lavariega Monforti said. "That tends to be why we can lose students, because 70% of a student's college experience is spent outside the classroom."
Provost Mitch Avila, Ph.D., is confident Lavariega Monforti's experience and vision will benefit CSUCI.
"Dr. Lavariega Monforti is motivated by the belief that education can empower students and help them and our communities achieve their potential," Avila said. "Her background and experience will be a critical asset for CSUCI in the coming years as we pursue our graduation and retention goals and advance the mission of the campus to serve the region."
"I just want to remove the barriers for students so they can go out and do amazing things," Lavariega Monforti said.
Return to the Table of Contents
© Spring 2022 / Volume 27 / Number 1 / Biannual