By Kim Lamb Gregory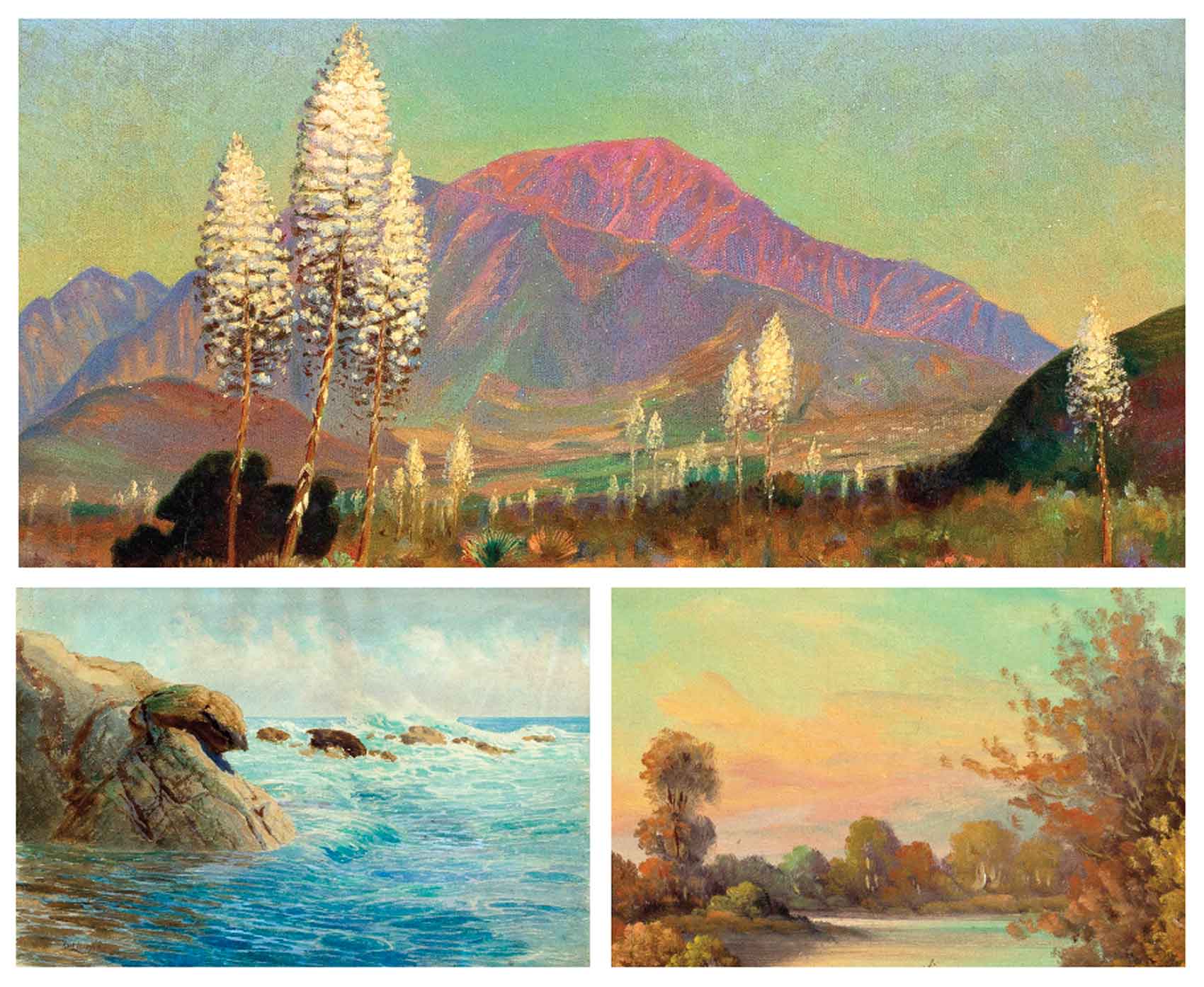 The Neddermans' collection of plein air California paintings.
When beloved sister and devoted nurse Cherie Nedderman died unexpectedly in January of 2019, she left her vast collection of California artwork with no home.
Her heartbroken brother, Ted Nedderman, and his wife, Nancy, were left to decide on the best place for Cherie's 58 "plein air" or "outdoor" paintings of California that covered the walls of her Camarillo hilltop home.
"She would sit outside and gaze at the hills. That was the view from her backyard," said CSUCI Art Program Chair and Professor of Art Liz King. "Inside her home, her art was in every room, every corner."
The Neddermans decided CSUCI was a perfect new home for the collection and Art Program faculty members were delighted.
"I think it's so valuable to our students because, in Art History, you study all types of art," King said. "But to study art of the California region where you live and travel becomes undeniably meaningful — it literally hits home."
Working together with Art faculty, students developed two projects related to the Nedderman collection: a 120-page catalog entitled "Personal Visions, Shared Passions: The Cherie Nedderman Collection of California Art at CSUCI" and the web-based exhibition "The Nedderman Collection of California Art in Dialogues with CSUCI Students."
A show of selected works from the collection is scheduled for Fall of 2022 in the John Spoor Broome Library gallery.
These projects were initiated and coordinated by Art History professor Irina D. Costache, Ph.D. She worked closely with Art history students September Cirri, Rebecca Ferrera, and Alexandra Infeld, who curated the art in the catalog and the web-based exhibition and wrote introductory texts.
The students on the graphic design team — Kimberly Anderson, Ashlee Nogy, and Karla White — developed the layout of the catalog and cover. Art professor Luke Matjas, who coordinated and guided their efforts, called it an "epic undertaking."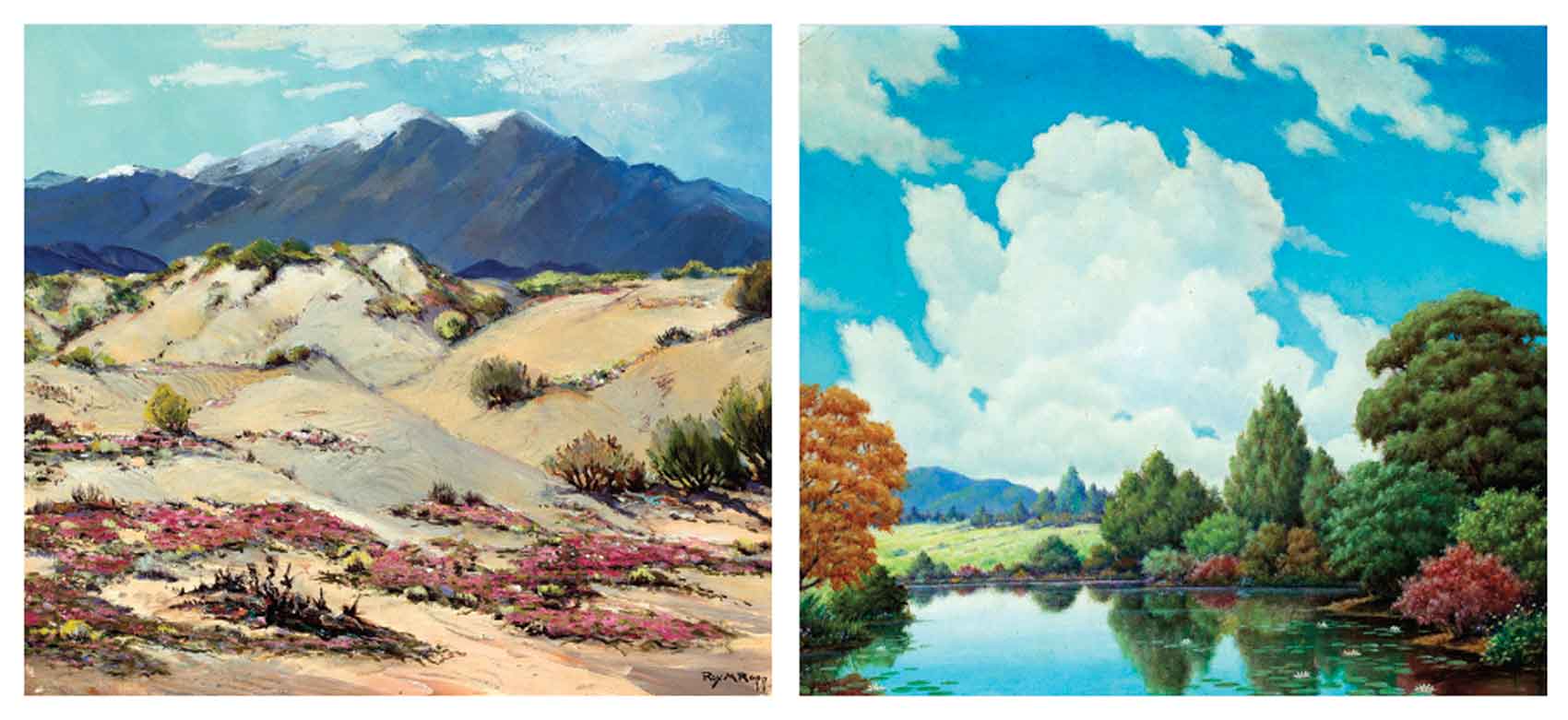 The Neddermans' collection of plein air California paintings.
The project was integrated into an advanced Art class taught by Professor of Art Matt Furmanski.
"The donation of the collection artwork by the Nedderman family presented not just an amazing gift of California landscape painting, but a great opportunity for our students to create a catalog, website, exhibition, and other associated elements," Furmanski said.
The catalog includes quotes by students from different majors who wrote about their impressions of the paintings as part of assignments in several Art History classes.
"These paintings give me a sense of calm and peace, as if I am reliving my life in them, in these settings," wrote '21 Health Science alum Luisedmundo Vicente.
"These paintings can simply be thought of as a love poem to California," wrote '21 Psychology alumna Lizbeth Galeno.
In an advanced art class taught by King, six web design students worked with faculty members to create a dynamic exhibition for the web in which art from the Nedderman collection was paired with CSUCI students' landscape artwork.
Art Lecturer Christophe Bourély paired student artwork that reflected the themes, colors, and styles of the art in the Nedderman collection.
"This professional-level project," which went live at the end of the Spring semester, "is a unique opportunity for students to participate in a real-life work experience" King said.
"We have moments during our class sessions where two or three members start bringing ideas together, and when we get to see the end result of the design/idea, it's amazing," said Art student web designer, Dulce Yanzon. "Seeing multiple diverse minds come together to create such a brilliant design is astounding!"
The collection was photographed by Art/Photography Lecturer Larry Lytle which made it possible for student teams to see the paintings remotely during the pandemic.
"This project is a perfect example of the rich dialogues and dynamic learning environment of our University" said Costache.
Cherie passed away too soon at age 71, but the art collection that she loved will endure and be appreciated by generations to come.
"Nancy and I are thrilled that the collection will be showcased soon," Ted Nedderman said. "We know Cherie would have been so happy that there will be many who will enjoy the art she so lovingly and carefully selected."
Return to the Table of Contents
© Spring 2022 / Volume 27 / Number 1 / Biannual