Jana Plat,  '13 B.A. Political Science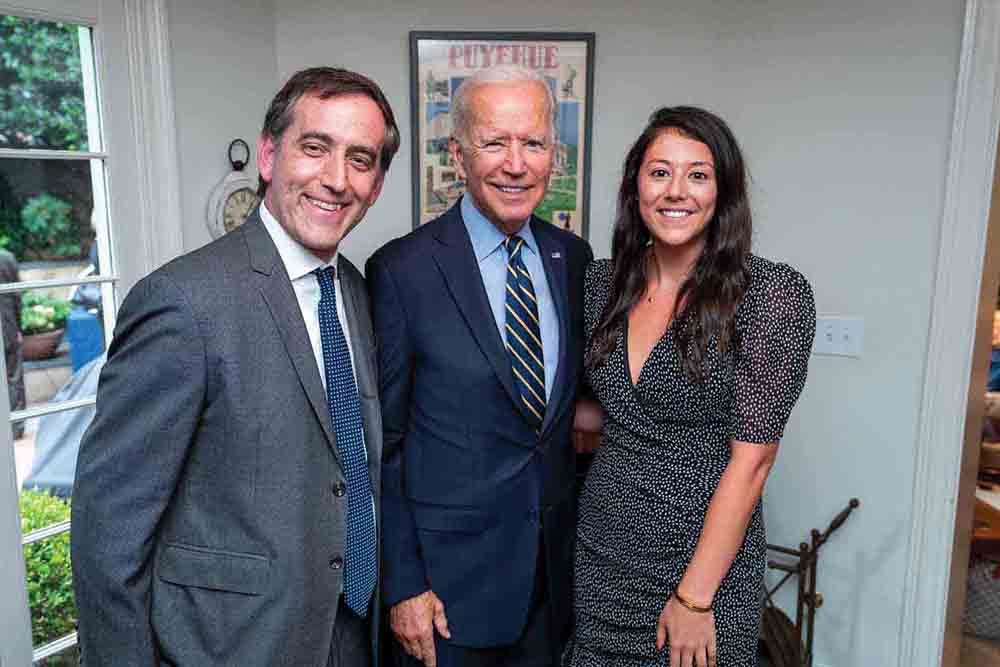 From left to right, Aspen Institute Fellow Al Fitzpayne, President Joe Biden,
and CSUCI alumna Jana Plat at the White House.
By Kim Lamb Gregory
Washington D.C. always beckoned Political Science alumna Jana Plat, but she never imagined she would one day have a desk in the White House.
"My mom worked for Joe Biden's first senatorial campaign in '72, so I heard all of these stories about it," Plat said. "For me, it's a full circle moment that I'm here."
Plat works in the Office of Public Engagement for the Biden administration, and is finding the nation's capital just as exhilarating as she imagined. 
"There are endless possibilities here," Plat said. "There is such a large international component I wasn't prepared for in D.C."
Plat grew up in Ventura where her parents ran a window and door company while Plat held court with her two older brothers.
"I was always Judge Jana instead of Judge Judy," she said. 
Plat's penchant for public service began at her politically active mother's elbow. 
"I have been involved in campaigns since I was eight," Plat said. "I loved PTA meetings. I loved city council."
After Plat enrolled at CSUCI, she served as a senator in student government and took every opportunity to get involved in public service.
"I got to know Jana when she was a member of our Model United nations team," said Professor of Political Science Andrea Grove, Ph.D. "It's great to see that she's in public service, which was always her goal when she was at CSUCI."
Plat worked on California Senator Hannah Beth Jackson's campaign during her senior year and accepted a job with Jackson as one of her district representatives. Then, Plat moved to DC in 2014, determined to succeed there. 
"I came here with one suitcase, one pillow and haven't looked back," Plat said.
Plat landed a job at the Progressive Policy Institute and then Business Forward, which led to her current job in the White House. 
Among her favorite stories about President Joe Biden was when he stuck his head out of a meeting in the Roosevelt Room one day and asked about retrieving a guest's cell phone in the Eisenhower Executive Office Building (EEOB).
"I said, 'Mr. President, I will go get it,'" Plat said. 
She kicked off her heels, sprinted through the West Wing, across campus and up two flights of stairs to get the phone, then raced back, the phone in one hand, her stilettos in the other. 
"I ran into a U.S. Marine and had to hang onto him, drenched in sweat, while I put my shoes back on," she said.
Plat delivered the cell phone to President Biden, who thanked her and proceeded to make a surprise call to the guest's mother.
Plat credits CSUCI with a career that allows her memorable moments like this, and a promising career in a city she loves. 
"I wouldn't have the support system I have without CSUCI," she said. "There were so many facets of the University that gave me the confidence to support my dream."
Return to the Table of Contents
© Spring 2022 / Volume 27 / Number 1 / Biannual