Patricio Ruano '21 B.S. Biology & B.A. Global Studies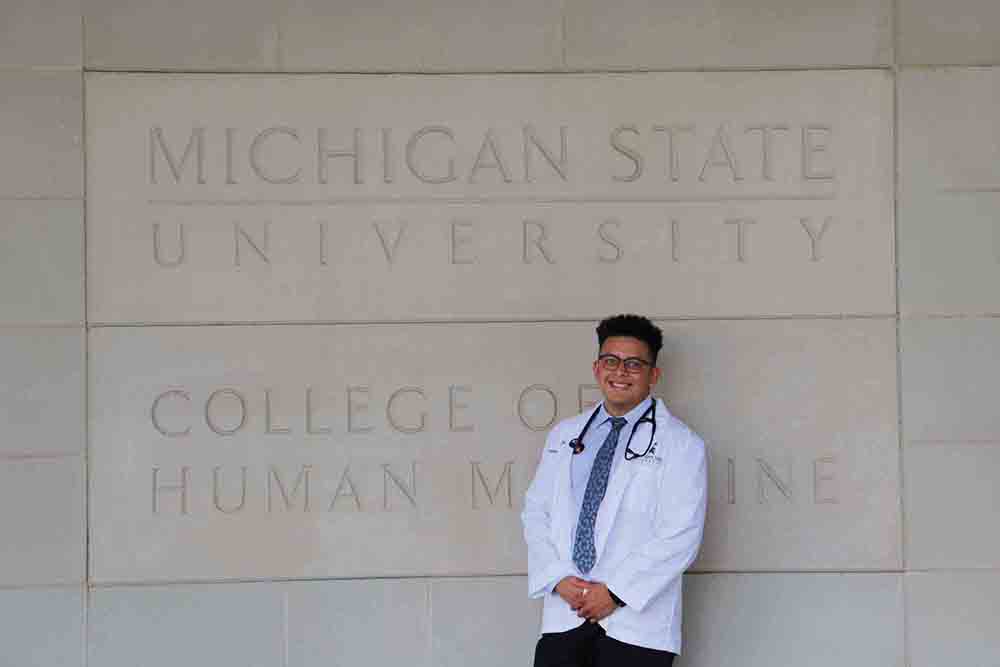 By Abigail Napp
Patricio Ruano knew he wanted to be a doctor from the moment a cardiologist saved his father from a near-fatal heart attack in rural Guatemala. But he doubted his academic potential. 
At CSUCI, everything changed. His vocational wish became an attainable goal.
"I feel almost indebted," said Ruano. "CSUCI turned me into the person who could get into medical school."
In college, Ruano spent many enriching years filled with meaningful mentorships, professional experiences, and rewarding community service activities. In 2021, he graduated with not one degree, but two, a B.S. in Biology and a B.A. in Global Studies.
Now, two years into medical school at Michigan State University, he understands why the values, skills, and nurturing relationships he developed at CSUCI remain vivid and inspiring.
"Every professor I had at CSUCI was a dream professor," he said. "In medical school, I talk to classmates who tell me how their universities were more of an academic institution that didn't prioritize teaching. At CSUCI, they're there to teach and mentor." 
Ruano grew up in Los Angeles and was the first in his family to graduate from a four-year university. At CSUCI, he completed the summer bridge experience and was part of the Educational Opportunity Program (EOP) for first generation students. 
His interactions with faculty and staff were personable, memorable, and validating from the start. The genuine warmth and encouragement of one particular staff member, Kari Moss, who was excited by his desire to become a doctor, stayed with him years after orientation.
"Hearing those words — so sincere — from professional staff was a big deal," he said. 
Ruano soon overcame his academic doubts and excelled. He pursued scientific research, clinical experiences in regional hospitals, and an impactful study abroad trip to India. 
As a freshman and sophomore, he completed an undergraduate research fellowship, surveying a bat species on Santa Rosa Island. Then he worked in a laboratory with Professor of Biology Nikita Parmar, Ph.D., analyzing the interaction between cancer cells and artificial sweeteners, like Sweet'N Low®. 
"It was crazy stuff working with cancer cells at 19 and 20 years old," he said. "That was a huge privilege and honor."
During his junior year, he participated in a trip to India also led by Parmar. While touring an eco-village just a half-hour east of Mumbai, he met with Hindu leaders who talked about spirituality and healthcare. There, Ruano learned how treatment included not only the diagnosis and eradication of disease, but also the connection and care for the patient's wellbeing.
"Now in medical school, I've seen how it can become algorithmic as you look for the diagnosis, but I still hear the words of the Swami we met in rural India," he said. "His ideas really gave me a purpose. He said, 'Wherever you are, whatever you do, you need to have compassion and empathy.'"
Another extremely foundational experience at CSUCI was becoming a COPE Health Scholar. For two years, Ruano gained on-the-ground clinical medical experience at the local St. John's Hospitals.
One day, when his studies are complete, he hopes to return to Ventura County as Dr. Patricio Ruano.
Return to the Table of Contents
© Spring 2022 / Volume 27 / Number 1 / Biannual