By Abigail Napp
When Peter J. Taylor first visited the CSUCI campus, something positive happened.
"I fell in love," he said. "It's a great spot with a fascinating location and a small-town college feel, which you don't often get in public universities."
During the May 22 commencement ceremony, Taylor received an Honorary Doctorate of Humane Letters from CSUCI for his efforts to help underserved students access and attain an education at four-year universities, like CSUCI, and technical colleges across the country.
A lifelong champion of higher education for all, Taylor has held an influential role in shaping California's public universities, having served as the University of California's first CFO and as a trustee of the California State University system.
After a successful career in several fields, including the California State legislature, investment banking, higher education management, and now philanthropy, Taylor's energy and optimism gives the impression he's just getting started. In fact, he's an expert.
Over the years, he's come to understand what works and what needs to change in universities so students can succeed.
"It's critical to make our democracy sustainable and uplift people from less fortunate circumstances, so they have a shot at earning a sustainable wage," he said.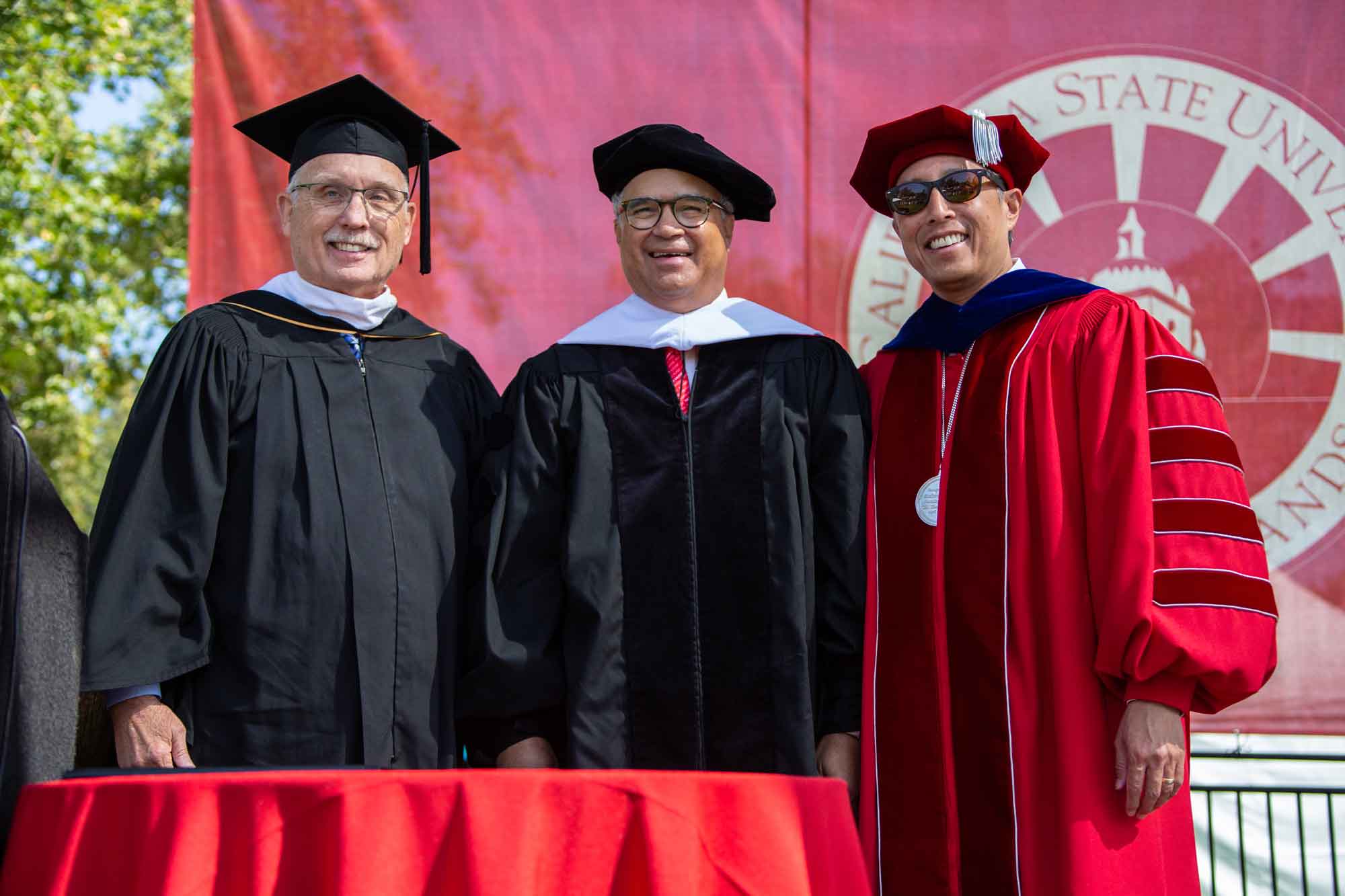 CSU Alumni Trustee Larry Adamson, Peter Taylor, and President Yao at the May 23 ceremony.
Taylor's first involvement with the workings of higher education began in college when he served on a scholarship committee named after a family member who attended UCLA in 1927. After graduating with a B.A. in political science and history, Taylor continued to volunteer on committees years later, including a diversity committee and a task force on African American admissions.
Taylor's professional life took him to the California State legislature and then to finance, where he worked for 16 years. After retiring from investment banking, Taylor returned to his early love.
"We have a higher education system where you can look a young person in the eye and tell them that if they do the right things, they will have a great shot in life," he said. "They'll be exposed to ideas, people, and opportunities that will help them move toward circumstances they may have never believed were possible."
Taylor spent the next several years involved in the administration of public universities. He became the first Chief Financial Officer of the University of California, directing the financial management of 10 campuses, five academic medical centers, and the Lawrence Berkeley National Laboratory. Later, he served as a trustee of the California State University system for seven years.
That said, Taylor knows today's students face unique challenges. 
As the current President of the Educational Credit Management Corporation Foundation (ECMC), in Los Angeles, Taylor has led several initiatives to close achievement gaps by focusing on transfer students, single mothers, and individuals interested in pursuing a technical education. During his tenure, more than $250 million in grants and investments have been awarded. 
At CSUCI, Taylor's efforts have been integral to students' success. He has supported the University with a significant grant from the ECMC Foundation to support a summer bridge program designed to enhance transfer success for students in the Martin V. Smith School of Business & Economics through providing academic and financial support. The interventions provide opportunities for students to engage with faculty mentors, connect with campus support services, and engage with clubs and other opportunities. He also supported the campus' Basic Needs food pantry through a grant to the Cal State system. Taylor has also been involved with the CSUCI Foundation Board and served on the presidential search committee for former President Erika Beck.
"Our education system is the cornerstone for sustaining the opportunities that we have. It's a pathway forward," said Taylor.
The ECMC Foundation continues to provide help for students dealing with hunger and housing, two needs that have become of increasing concern for universities. 
Moving forward, Taylor said ECMC will concentrate on education outcomes for men, and in particular, men of color.
Return to the Table of Contents
© Spring 2022 / Volume 27 / Number 1 / Biannual