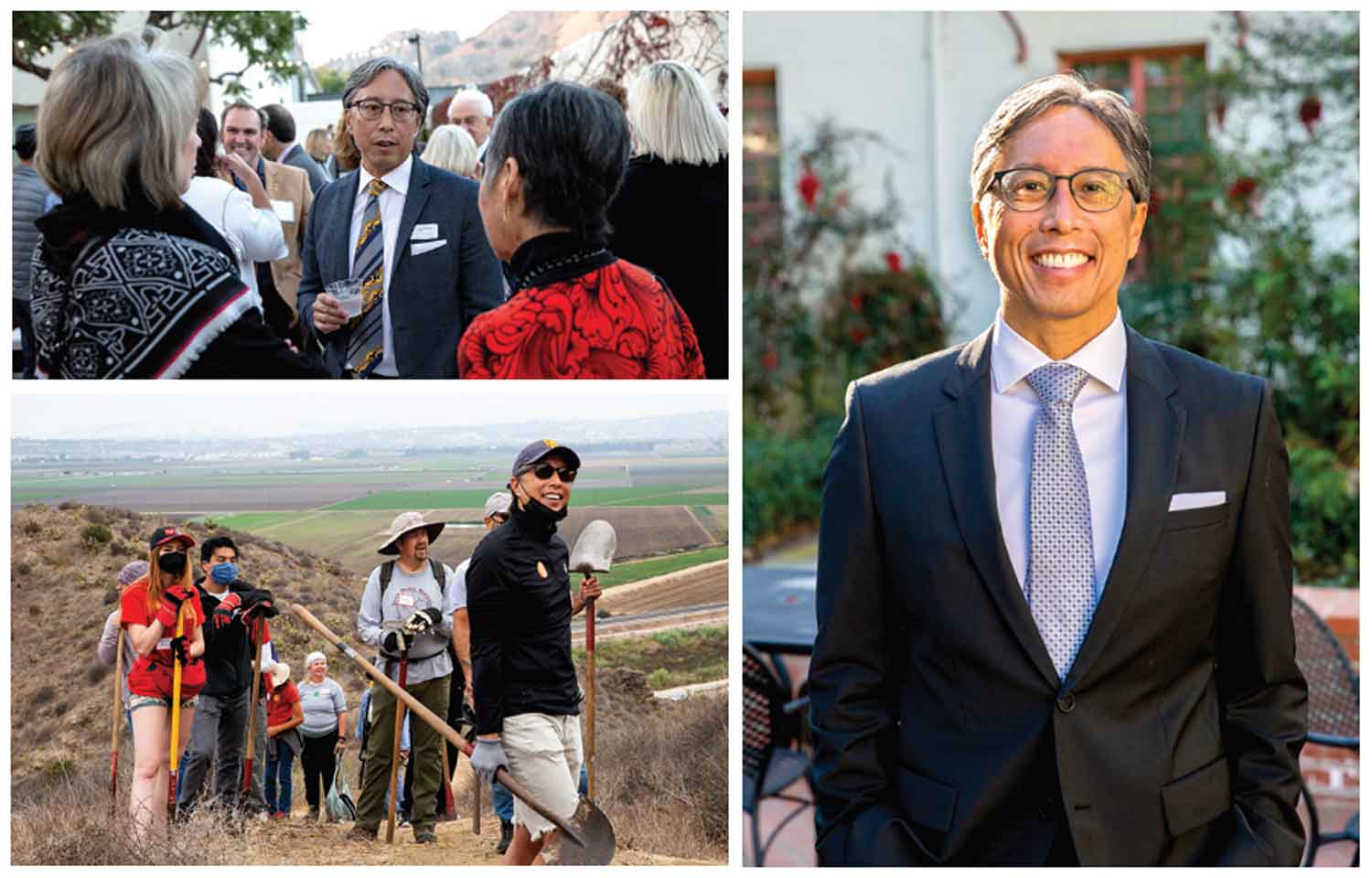 New President takes unexpected, challenging path to lead university
By Michele Willer-Allred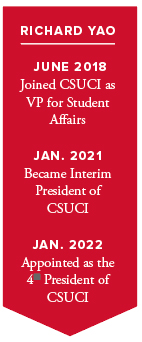 Richard Yao, Ph.D., seems a natural at his role as the new CSUCI President with his many years of educational experience, but he is the first to acknowledge that serendipity played a part in where he is today.
Yao recalled when he was just 24 years old, single, and struggling financially when he moved to Las Vegas back in the 1990s. He had no plans to pursue a career in higher education but was making a small wage at a non-profit and was having a hard time getting by. One of his colleagues who was also a part-time faculty member asked if he was interested in filling in for her to teach an introductory psychology class at a community college. 
"I was so broke and needed extra work," said Yao, who accepted the job and at the same time his destiny. "I absolutely loved teaching, especially with the highly diverse population of students at the community college, and that was when I knew I was going to be in higher ed for the rest of my career," he said.
But Yao's journey of self-discovery started well before that chance of fate that led him to where he is today. 
Yao was born in Brooklyn to parents of Chinese and Filipino descent who immigrated to New York from the Philippines.
Yao said his parents had very little when they arrived in the United States, but they had their education. They were both physicians, and they provided a stable and loving family life for him and his siblings.
"Higher education in my family was the expectation from the very beginning," he said. "The long-running joke in my family is that I'm not a 'real' doctor. Yes, I have my Ph.D. and am a clinical psychologist, but you know how siblings are, especially ones with medical doctorates. They keep me humble, for which I'm grateful. Of course, as a younger sibling I'm also happy to return the favor by teasing them about the pitfalls and delusions of superiority!"
As a Chinese Filipino American, Yao is the first person of color to lead the campus. "When I arrived at CSUCI in 2018, I thought I was well on my path in terms of understanding diversity, equity, inclusion, and understanding the theoretical and epistemological foundations of this work," said Yao. But he shared that even at the age of 50, he's learned more about himself in the last four years at CSUCI than ever before, especially as it relates to his own racial identity and development.
Yao said his parents were very traditional in the way they raised him, but they never had explicit or direct discussions about race and racial identity, even while he was growing up in places with very little diversity.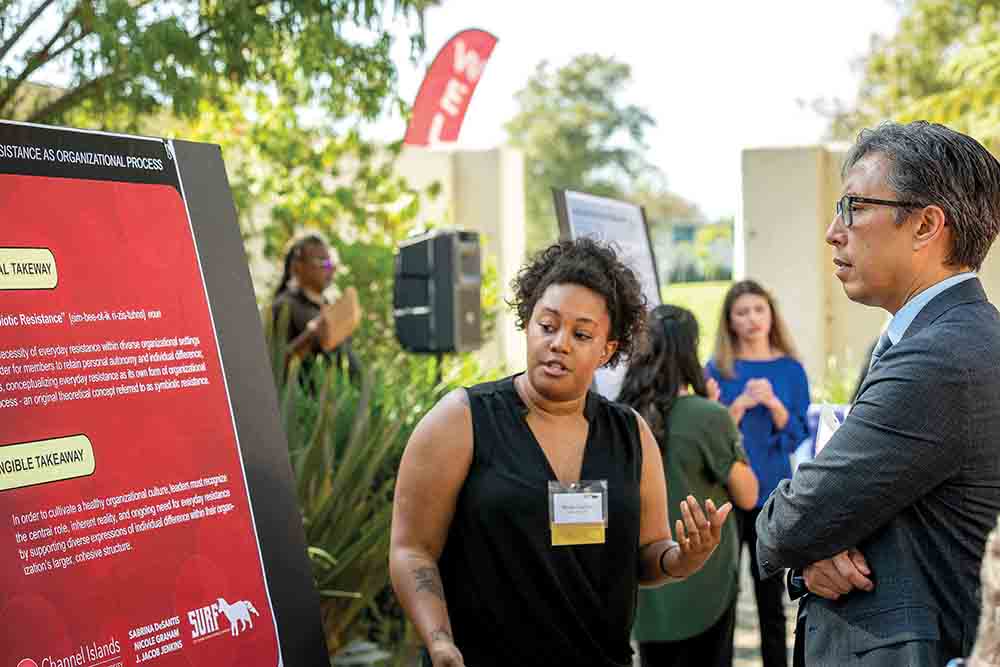 President Yao engages with a student about her research project.
"Looking back throughout my childhood and adolescence, and really most of my adult life, I now understand that many of the struggles I experienced were attributable to the vagueness and ambiguity associated with my racial identity development," Yao said. "This is especially important to me now, having realized later in life what little attention was given in my youth to such an obvious element of my identity, and knowing how helpful that explicit support would have been to me in my childhood, adolescence, and young adult years. I have shared this story frequently with colleagues and students at Channel Islands, and I carry it with me every day in the work of realizing our student-centered mission — realizing how essential it is to know who we are and who we are serving, and how equally important it is for our students to know and bring who they are into each and every one of their learning experiences here."
Yao said his experiences growing up made him curious about human development and behavior, leading him to study clinical psychology. He earned a bachelor of arts in psychology and a master's in clinical psychology from Eastern Illinois University, and a Ph.D. in clinical psychology from Fielding Graduate University in Santa Barbara.
Throughout a good portion of his career, Yao balanced his clinical work in the community with his part-time teaching responsibilities at the community college. He eventually became a full-time lecturer at Nevada State College (NSC) and also specialized in forensic psychological assessments for the juvenile and family courts. During this time, he shared a private practice with his wife, C.J., who is a clinical social worker.
However, navigating his teaching and service responsibilities with Nevada State while balancing his private practice became too consuming, and he had to make a decision — either go all-in on higher education or invest fully in his private practice.
He chose higher education, eventually becoming the founding Dean of Students at NSC and Chief Student Affairs Officer.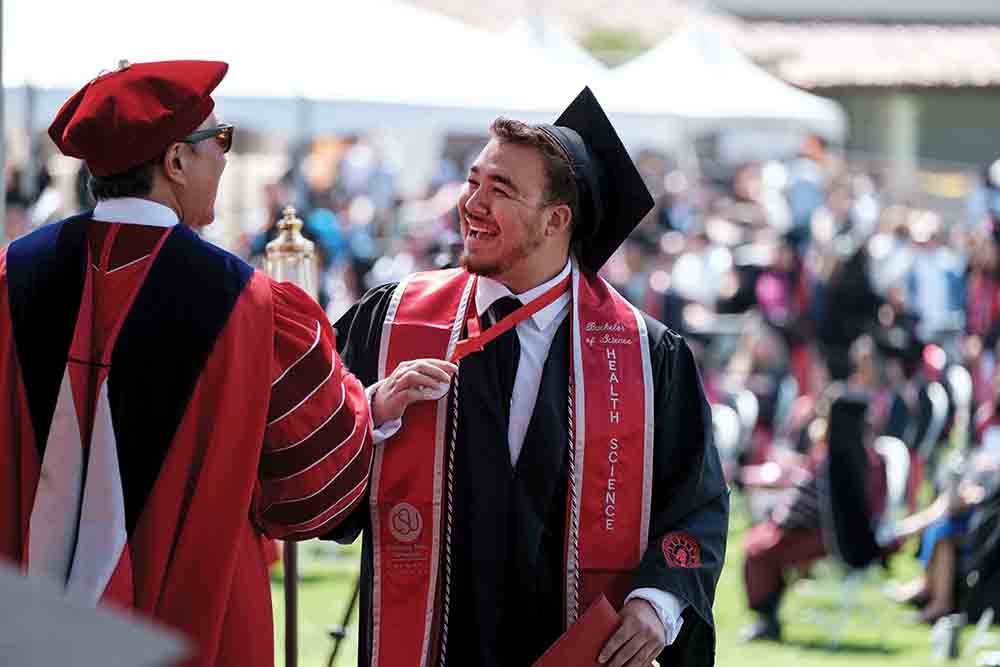 President Yao congratulates a graduating student.
While at NSC, he worked with Erika Beck, who after becoming CSUCI's President in 2016, encouraged Yao to throw his hat in the ring for CSUCI's Vice President for Student Affairs. He did so successfully and served in that role from 2018-2021.
From his earliest time at CSUCI, Yao has helped lead the campus through some of the most challenging realities imaginable. Just a few months into his leadership of the Division of Student Affairs, he was responsible for helping to support students and employees in navigating the aftermath of a mass shooting that occurred at the nearby Borderline Bar & Grill in Thousand Oaks, and the very next day through the evacuation of campus caused by the Hill Fire. About two years later, the COVID-19 pandemic made it necessary to move classes and co-curricular activities online.
It was during the COVID-19 pandemic when Yao stepped into the role of Interim President for CSUCI in January 2021, and he credits getting through those trying times to the dedication, commitment, and support of the entire campus community — the faculty, the Environmental Health & Safety team, facilities workers, Student Affairs staff, Human Resources staff, and student leaders.
"One of the things I love most about the members of our campus community is that they will push you to expand your insight and awareness — and challenge you to develop your understanding of diversity, equity, inclusion, and accessibility — all of which is especially important when considering our student population and region," he said.
"To be the first person of color to lead CSUCI is an incredible honor, and I fully recognize the magnitude and responsibility that comes along with it, particularly within the Asian Pacific Islander community. I understand that I'm standing on the shoulders of those who continue to lift me up and make it possible," he said. "I'm just very, very honored to serve in this role."
Yao lives in Camarillo with his wife, C.J. They have three children and two grandchildren.
While he spent many formative years in Las Vegas, he enjoys being here, especially with how welcoming the community has been.
"I have fallen in love with California and Ventura County," he said. 
Return to the Table of Contents
© Spring 2022 / Volume 27 / Number 1 / Biannual