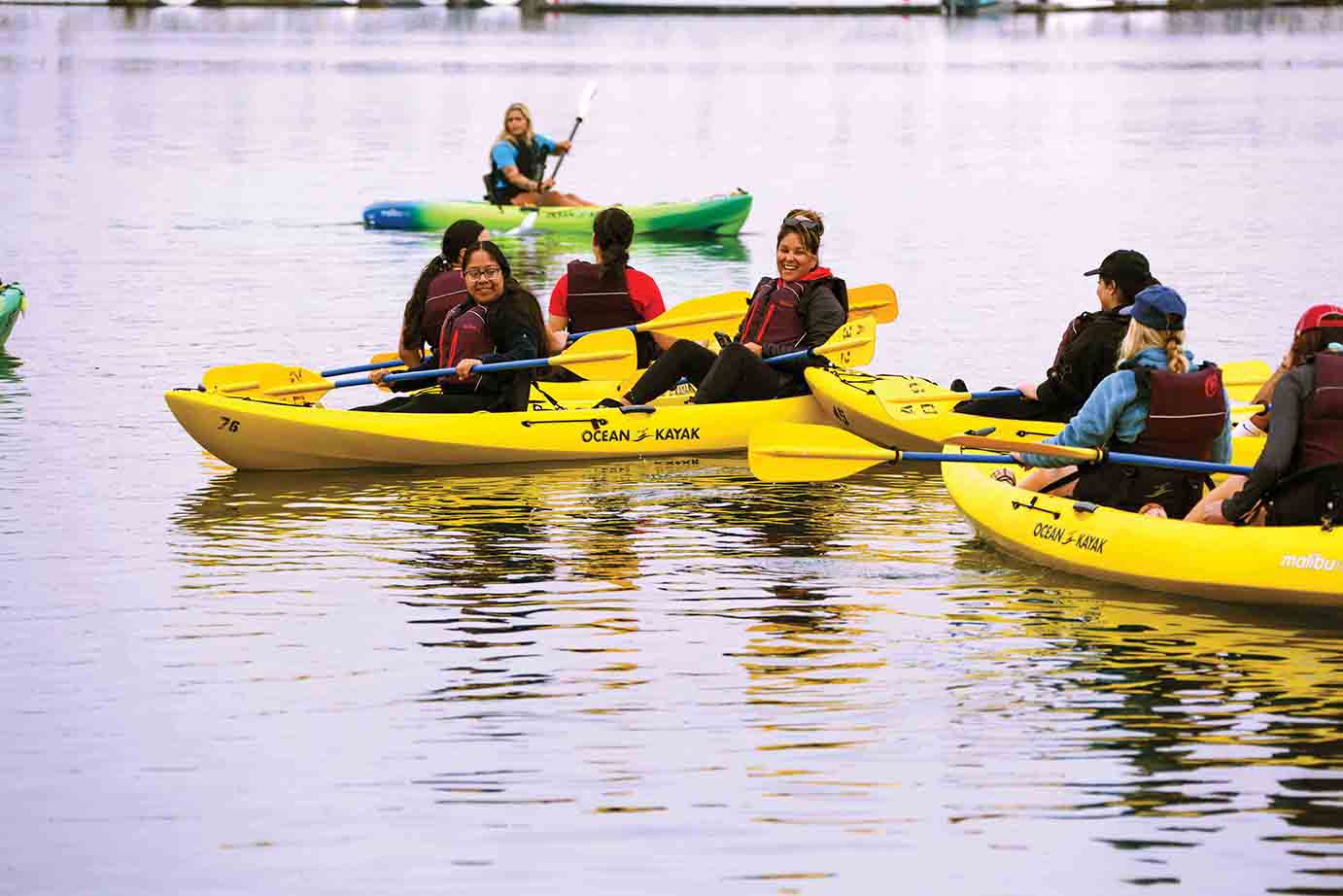 Students learn kayaking strategies at CIBC.

By Marya Barlow

If there's one thing that Kinsey Cohen loves most about her college experience at CSUCI, it's the Channel Islands Boating Center (CIBC).

"The CIBC meant so much to me while I was a student," said Cohen, who graduated in 2019 with a B.A. in Psychology. "It's a community treasure. Where else can you get free sailing lessons or go for a moonlight kayaking excursion? I encourage every single CSUCI student to take advantage of all the amazing things it has to offer."

The Boating Center is where Cohen first joined the Sailing Club, made "a ton" of friends, and fell in love with sailing. She went on to be the Sailing Club's president, captain of the competitive sailing team, and a student employee at the CIBC. 

"I got to spend my days on the water teaching other CSUCI students, kids and community members how to sail and learned how to be a good leader," she said. "It honestly didn't feel like work most of the time."

This year, the CIBC celebrates 10 years as a community gem that's introduced more than 15,000 children and adults to water sports, worked with area schools and the University on educational programs, and served as a model for community engagement.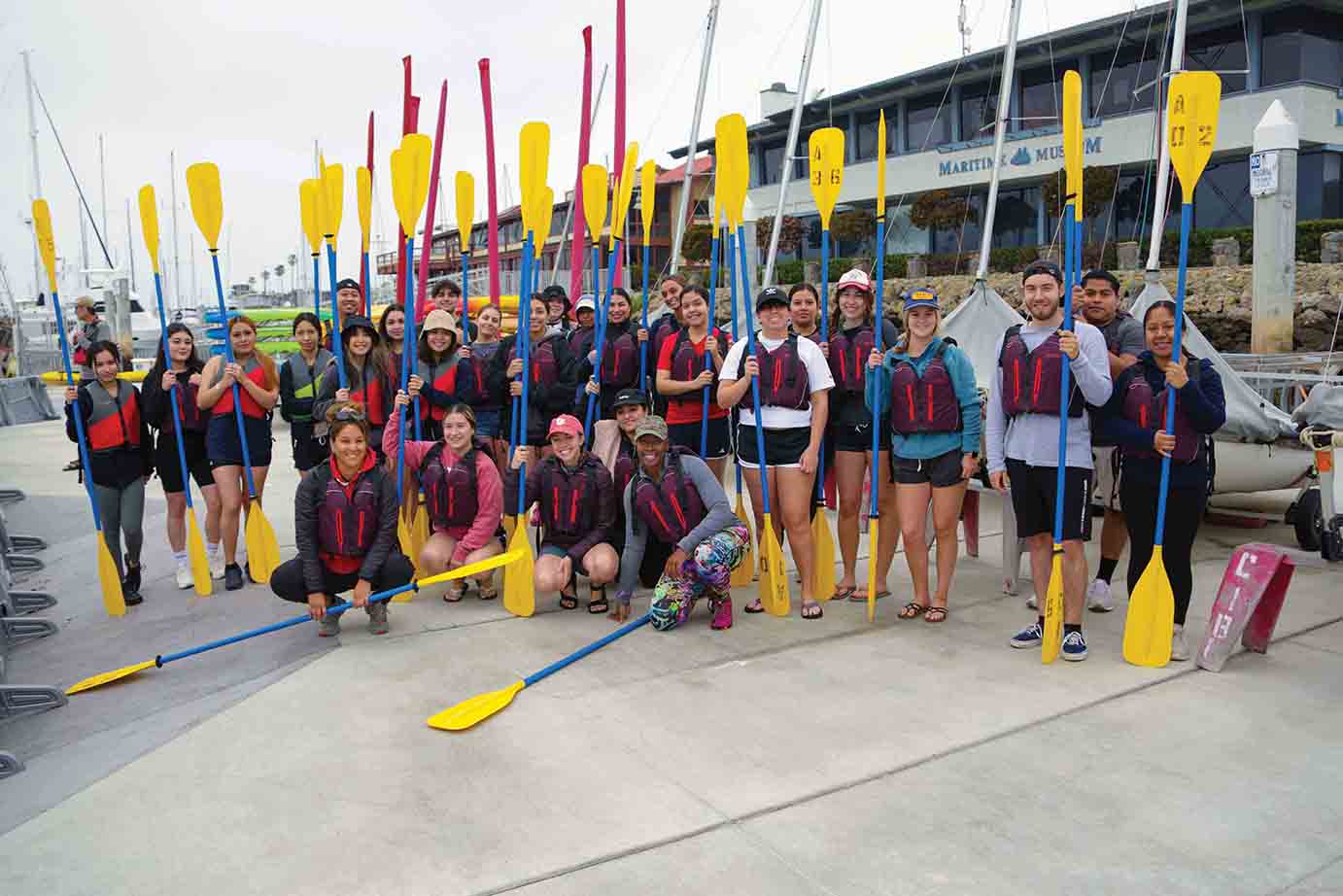 CSUCI students finish a sea kayak training class at CIBC in 2023.
The center opened in 2013 as the result of a joint effort among CSUCI, Ventura County, the Channel Islands Harbor Department, the Channel Islands Marine Sanctuary, the California Department of Boating and Waterways, and the Channel Islands Harbor Foundation. The center is operated by CSUCI's Campus Recreation within the Division of Student Affairs.
Located in the Channel Islands Harbor in Oxnard and open six days a week, the Boating Center is free to all CSUCI students and offers classes and meeting spaces to the public for a small fee. Participants of all skill levels can enjoy individual or group instruction in kayaking, sailing, and stand-up paddleboarding (SUP).
Anyone can join in a relaxing sunset kayak or a SUP harbor cleanup. CIBC's popular summer water sports camp offers weeklong programs in kayaking, sailing, SUP and marine science for children ages 8-15. 
The Boating Center staff also work with CSUCI professors, classes and school groups to bring marine-based and environmental learning to life.
"Our goal is to remove the barriers to being on the water and show people you don't need a lot of resources to participate in our programs," said Josh Wade, Assistant Director of Campus Recreation – Outdoor Adventures and Waterfront. "We love showcasing the benefits of being on the water and seeing how people's confidence builds as they get to enjoy a water sport." 
CSUCI is one of only five CSUs to operate a boating and aquatic center. The center employs up to 18 CSUCI students each year and has a fleet of 50 kayaks, 22 SUPS, 21 sailboats and four safety boats.
Cohen says her job as a CIBC instructor is what influenced her to pursue a career on the water. She got her captain's license and is now working as a development assistant and program instructor with Central Coast Ocean Adventures, a nonprofit organization in the Channel Islands Harbor which owns the tall ship Mystic Whaler and provides experiential learning opportunities for children in Ventura and Santa Barbara County.
"Being part of the CIBC family has changed my life, and I'm so grateful for my time there," Cohen said. "Happy 10th birthday, CIBC!"
The CIBC is looking to partner with schools, non-profits, and other organizations throughout the community to collaborate on safe boating education. For more information, contact cibc@csuci.edu or 805-437-2081, or visit www.ciboating.org.