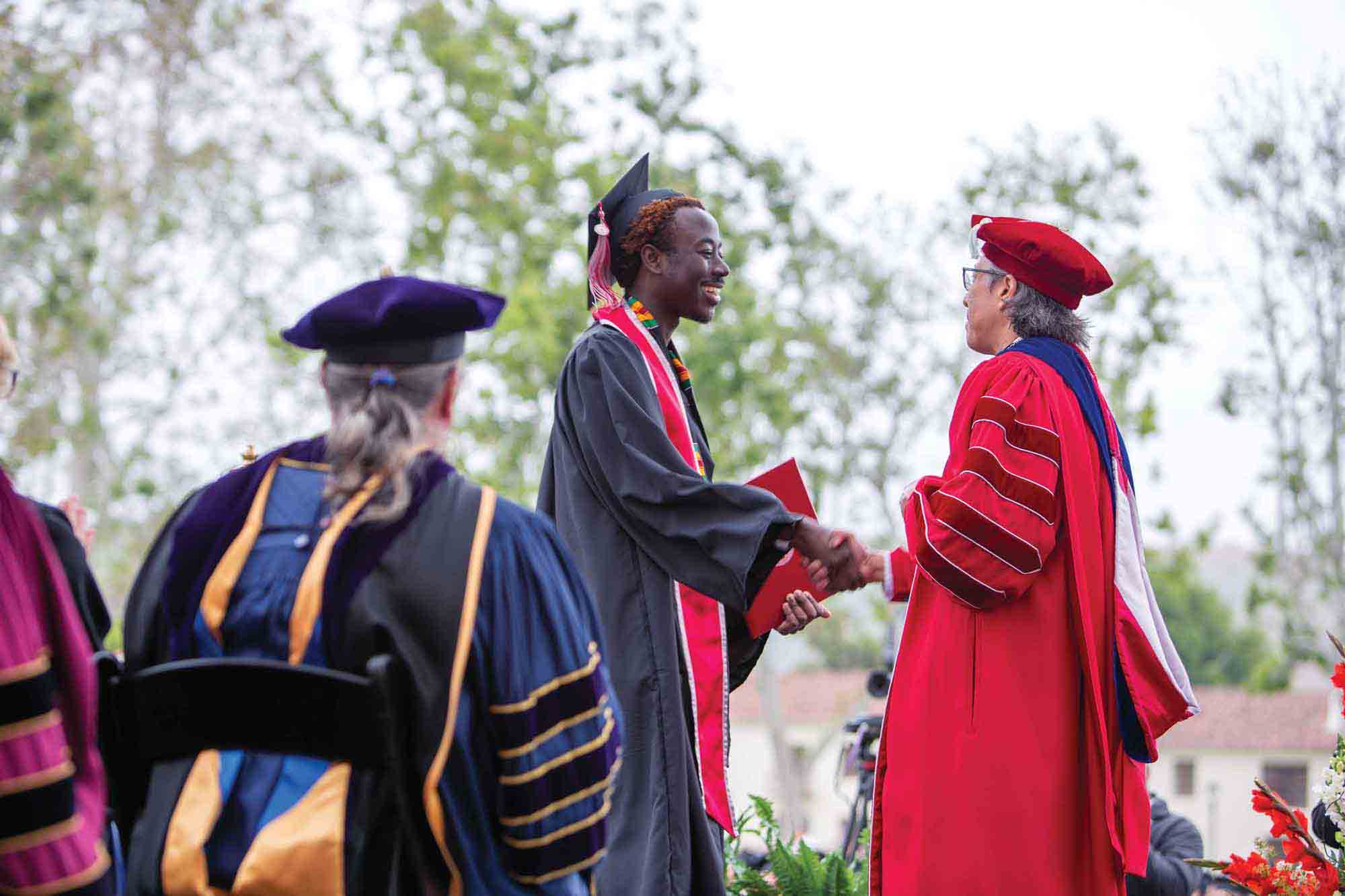 Justin Wiredu-Agyepong receives his diploma from President Yao.
CSUCI celebrated commencement with four in-person ceremonies held over two days on Saturday, May 20, and Sunday, May 21, at the South Quad of the campus. Thousands of parents, families, and friends cheered for more than 2,600 graduating students who received bachelor's or master's degrees, and credentials, during the morning and afternoon ceremonies.
During the Saturday morning ceremony, an Honorary Doctorate of Humane Letters was awarded to Hannah-Beth Jackson, a former state senator who co-authored the 2001 bill that provided CSUCI with the land where the main entrance was built. At the Saturday afternoon ceremony, an Honorary Doctorate of Humane Letters was posthumously awarded to Carmen Ramirez, who passed away in August 2022. Ramirez advocated at the state level for the creation and funding of CSUCI. Her husband, Roy Prince, accepted the degree on behalf of her family. To read more about the honorary doctorate recipients visit: go.csuci.edu/HD2023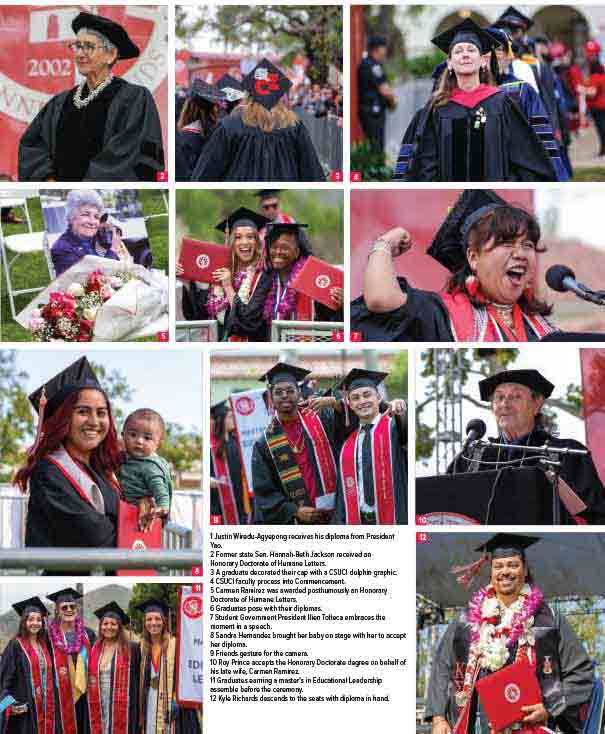 Student speakers selected to provide remarks during the ceremonies were Spooner Greenbird, Psychology; Alegra Grace, Business; Maria Arenas, Biotechnology & Bioinformatics; and Ilien Tolteca, Chicana/o Studies and Art. Alumni Joanne Vo, '14 Biology, and Gabby Vignone, '16 English, also provided remarks. 
Students who sang the national anthem were Justin Wiredu-Agyepong, Psychology; Nelisha Louise Cobarrubias, Psychology; Jasmine Mearns, Liberal Studies; and Vivica Perez, Liberal Studies. Students who offered a welcome in Spanish were Stephanie Reyes Cervantes and Michelle Landeros.
The striking of a Navy ship bell is bestowed upon an honored staff member of the campus community and symbolizes the official opening of each commencement ceremony. This year's honorees included: Wendy Olson, Learning & Development Specialist; Andrea Coppinger, Presidential Aide; Beatriz Reuttgers, Sponsored Programs Grants Analyst Lead; and Diana Enos, Associate Director of Human Resources. This year's ceremonies also included for the first-time a staff welcome greeting from the CI Staff Council Chairperson, Annie Block-Weiss.
The Light of Learning symbolizes the University's commitment to the life of the mind and the central role played by outstanding faculty. The Honorary Marshal who carries the Light of Learning is selected by the President as an administrator or faculty member who has demonstrated and extraordinary commitment to students and the University. Andrew Morris, Professor of Management, was selected to carry the Light of Learning for the weekend ceremonies.
The CSUCI Mace represents the authority of the University at official and ceremonial functions for the lifetime of the institution and is carried by the Chief University Marshal and Academic Senate Chair. This year the Mace was carried by Professor of Mathematics Jason Miller.