By Karin Grennan

CSUCI has been providing learning experiences for students that benefit the community as a core part of its mission since its founding in 2002, and the number of participants and projects and the organization behind them have increased dramatically over the last two decades.

"It has grown from the early days of 200 students a year to 2,000 students a year," said Center for Community Engagement Director Pilar Pacheco, who joined its staff in 2005.

The annual number of hours students spend on service-learning projects each year has increased from about 400 to 40,000. Today, the annual value of the volunteer time is about $1.7 million. And that doesn't even count students who are engaged in volunteering, student teaching, or Nursing clinical hours.

CSUCI's impact extends beyond state boundaries, said Environmental Science & Resource Management Chair Sean Anderson. His "Service Learning in New Orleans" course alone has contributed more than $600,000 worth of restoration and conservation work to that region since Hurricane Katrina struck in 2005.

The University has been nationally recognized for its service-learning efforts, earning Carnegie Community Engagement Classification and a regular spot on the President's Higher Education Community Service Honor Roll when it existed.
 Barbara Christianson '17 works in a trailer clinic set up by Nursing students.
ESRM students do restoration work in New Orleans.
Psychology student Martina Ortouste presents research to the Oxnard City Council.
Students help restore sat'wiwa in 2019.
Volunteers gather for a photo during the CSUCI Veterans Day of Service.
---
CSUCI's role as a community partner is in its DNA. Developing the University with the help of many public-private partnerships, its leaders reached out to the County of Ventura, its cities, Naval Base Ventura County and others before it even opened, recalled Oxnard Mayor John Zaragoza, who has served 14 years on the City Council and 12 years on the Ventura County Board of Supervisors.
"Since its inception two decades ago, CSUCI has consistently developed and maintained relationships across the entire educational continuum, from early childhood education through college and careers," said Stan Mantooth, who served as Ventura County Superintendent of Schools for 13 years and is now a Ventura Community College District trustee. "Beyond academia, CSUCI has also built enduring partnerships with local government, municipalities, nonprofit agencies and the military."
The University's support of nonprofits and other community organizations has been particularly valuable, said Irene Pinkard. For example, CSUCI partners with the Oxnard-based Pinkard Youth Institute to present the week-long African American Enrichment Program for high school students on campus.
"The fact that CSUCI has partnered with the Pinkard Youth Institute and other nonprofits and local organizations over the past 20 years exemplifies the institution's desire to be a part of the fabric of the community," Pinkard said. "It is invaluable to have an institution in your own backyard that can be accessed by a phone call or a 10-minute drive."
Anderson thinks CSUCI's service-learning tradition has become more intentional and structured through the years.
"Initially, they were pretty haphazard. … We sort of did everything under the sun," said Anderson, who joined the faculty in 2005. "It was like, `Oh, hey, we could do something like this.' Or, `We could do that.'"
The Center for Community Engagement has provided support for faculty, leading more to participate.
"Having the Center for Community Engagement really helps onboard more people into service-learning, and thus invites more diverse voices," Anderson said.
Faculty members work with nonprofits to develop a wide range of service-learning courses where students use what they have learned to solve real-world problems. Anderson said most projects now support social justice.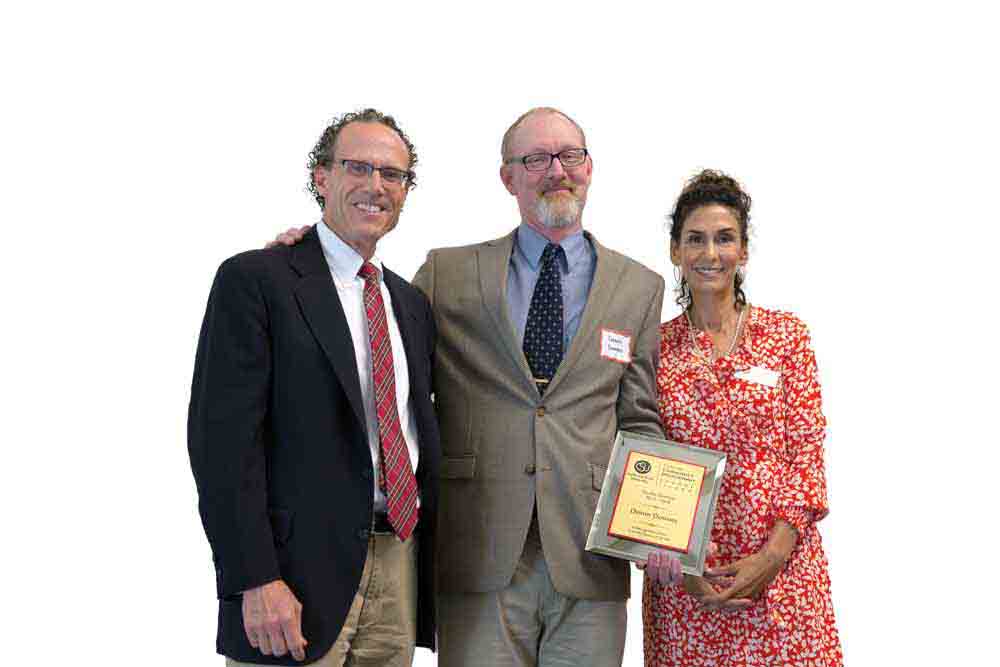 Dennis Downey, center, poses with Professor of History Jim Meriwether and Pilar Pacheco after receiving an award for his service as Faculty Director of the Center for Community Engagement in 2018.
Students have tutored and mentored incarcerated youth and young adults, recommended ways to meet the needs of foster youth transitioning from high school to college and helped those needing access to library resources. They have researched the child care needs of Ventura County farmworkers, developed at-home science and math activities for families, and documented oral histories of the multi-ethnic community in Oxnard's former Wagon Wheel neighborhood. During the Spring semester, the center's Faculty Director, Georgina Guzman, helped coordinate several public-serving projects tied to the Dolores Huerta Smithsonian exhibition on campus (see page 4). Students also have written grant applications, drafted business plans and provided economic data for nonprofits.
The center also coordinates paid community-service internships for students at nonprofits throughout Ventura and Santa Barbara counties and service days where students and staff volunteer in the region.
Anderson said one of CSUCI's specialties is helping government agencies and nonprofits in the early stages of a project. An organization's leaders may see a need, but they don't have the staff or money to address it. A team from the University will do the early work of conducting research or collecting data needed for the organization to justify funding and staffing for the project to move forward.
For instance, four of Professor of Sociology Dennis Downey's students compiled a report examining gender-based inequality in the area for the Ventura County Commission for Women. The commission used the report to procure $20,000 to conduct a second phase of the study. Other times, students have conducted research that nonprofits are required to do after receiving grants.
Downey, who joined the faculty in 2007, has engaged his students in dozens of community-based research projects like these over the last decade. He helped others do the same for many years as the former Faculty Director of the Center for Community Engagement.
"These projects usually help an organization be more efficient and effective in serving the community and are generally doing something they don't have the expertise or the capacity to do on their own," Downey said. "We are helping our partners do more and better."
Two of Downey's former students, who were both foster youths, conducted research to develop a plan to get volunteers at Casa Pacifica Centers for Children & Families more engaged in mentoring foster youth. Staff then drew from the report to revamp training practices.
Christina Cabral '11, B.A. Sociology & History, conducted research for Ventura-based Project Understanding, which empowers at-risk populations to live independently, for her capstone project. As a case manager at Project Understanding a few years later, she worked with a group of CSUCI students to interview clients who were homeless.
"Service-project work can really help organizations and nonprofits better understand the community they serve. It may also bring awareness to services that might not be offered yet," said Cabral, now a social worker for the County of Ventura Homeless Services Program.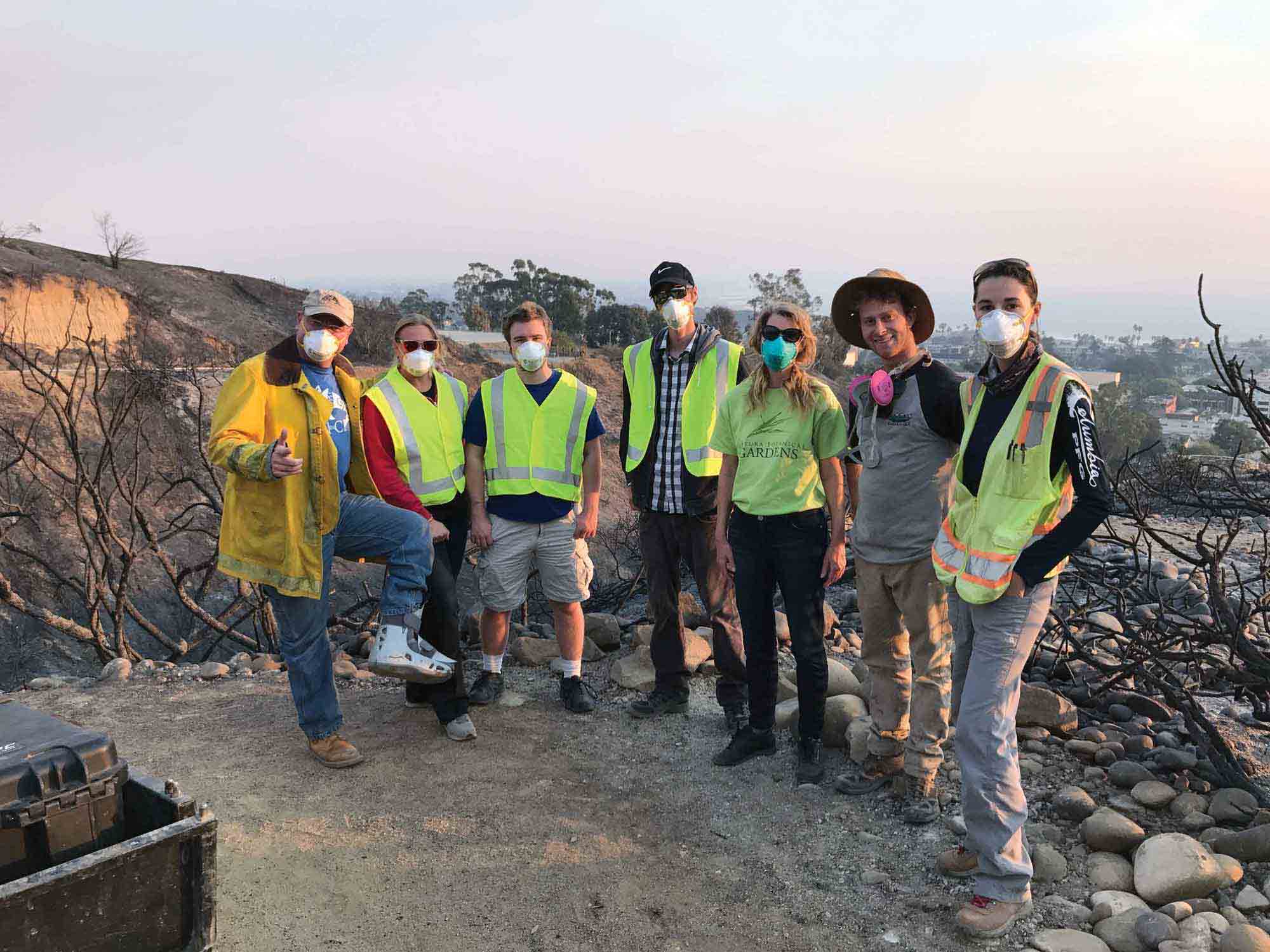 An Environmental Science & Resource Management capstone class spent a year monitoring oil and gas seeps after the 2017 Thomas Fire at the request of Climate First: Replacing Oil & Gas.
Collaborations often grow over time. An Environmental Science & Resource Management capstone class spent a year monitoring oil and gas seeps after the 2017 Thomas Fire at the request of Climate First: Replacing Oil & Gas. Students are now working with the organization, the Port of Hueneme and others to monitor air quality in Ventura County to improve understanding of the pollution being generated, its impact on people and the effects of mitigation measures.
Through the years, CSUCI also has forged formal alliances with multiple government and industry partners that serve community needs while providing valuable experiences to students. CSUCI works with the National Park Service to run the Santa Rosa Island Research Station. The University launched the Channel Islands Boating Center with the help of several partners. And a partnership with Santa Barbara Cottage Hospital provided the region's first practice-based bachelor's degree in Nursing.
"One of the greatest examples of CSUCI partnering with the business community was the establishment of the Nursing program," said Nancy Lindholm, president of the West Ventura County Business Alliance. "The medical industry was experiencing extreme challenges finding qualified employees, so they met with Dr. Richard Rush and established the curriculum to meet the needs of our local hospitals and medical practices. This was prior to COVID-19. Can you imagine what our health care system would have been like during the pandemic had the CSUCI leadership not had the insight to address the problem when they did?"