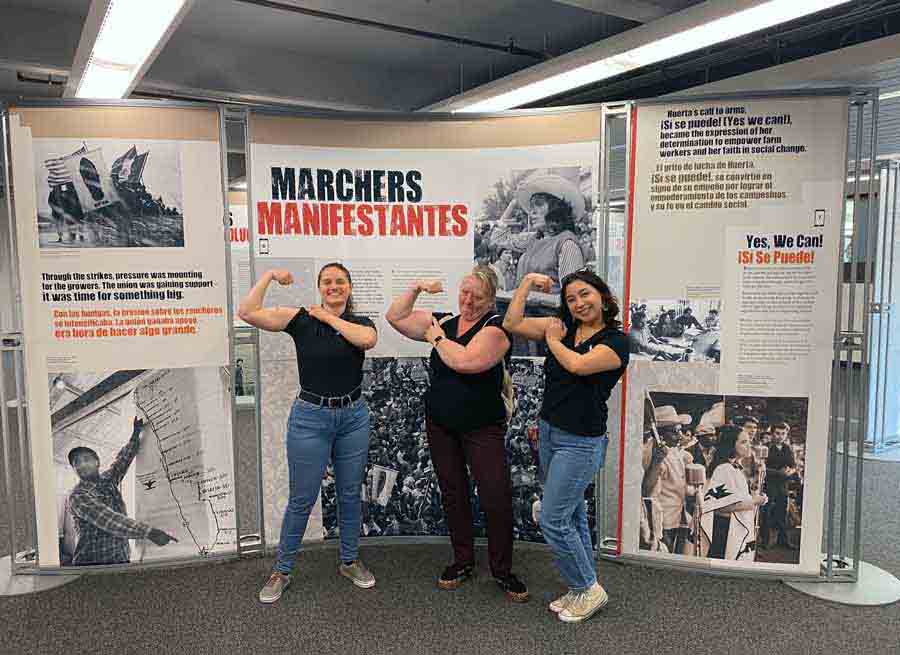 Hannah Lovett, Rebecca Hyde Gonzales and Catherine Cervantes pose in front of the exhibit that they helped install.By Karin Grennan

Walking through the Smithsonian exhibition "Dolores Huerta: Revolution in the Fields/Revolución en los Campos" at CSUCI during spring semester was an educational experience in and of itself. But that was just one part of it for many students.

"We wanted to offer hands-on, high-impact learning opportunities to CSUCI students — opportunities that help bridge what they are learning in the classroom in a real-life context," said Georgina Guzman, Faculty Director for the Center for Community Engagement. "Students got to install the exhibit. Students got to write the biography of Dolores Huerta and tell her story. Students got to give tours to elementary and high school students. Students got to create art projects inspired by Dolores' activism."

A large percentage of students already felt a connection to Huerta's work advocating for farmworkers. Many have family members who are farmworkers; some have worked in fields themselves. With CSUCI nearly surrounded by farms, everyone drives past farmworkers enroute to campus.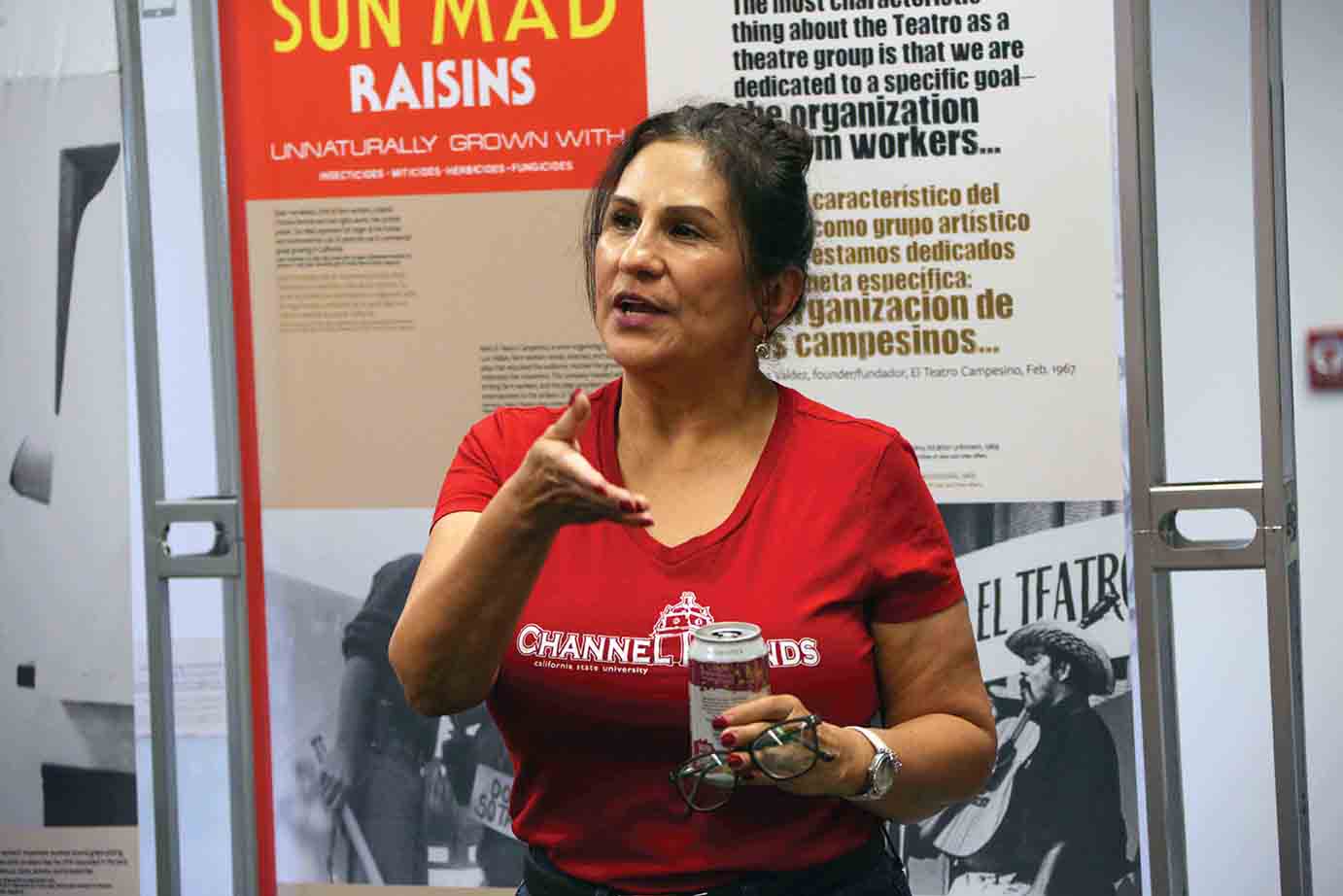 Student Lisa Marie Ruiz speaks during a tour of the exhibit.
The father of Cristian Trujillo, a member of the Chicana/o Studies capstone class that organized a student bus tour of murals in Oxnard and Ventura in conjunction with the exhibit, was a farmworker in Mexico before he came to the United States.
"I don't really have the full story of it, though," the San Jose native said. "My dad is pretty quiet and doesn't like to talk much. But over the years, I would often ask him questions about his life before meeting my mom and before coming to the U.S., and he would share with me his experiences about working in the fields and how he never really had a chance to get an education like me because he was basically forced out of it to work the fields." 
---
"The lasting impact this project had on me is that I look to the arts to understand more perspectives regarding the injustices that occur in this world."
—Nathan Ramos Rodriguez
---
In Guzman's Chicana/o literature class, 10 of the 16 students had farmworker backgrounds. So, when she asked them to gather testimonies on farmworker conditions today and the impact of gains made by Huerta and others with United Farm Workers (UFW), most didn't need to go far.
"My students interviewed their parents and grandparents and included their testimonies alongside Dolores' story," the Assistant Professor of English said. 
They also read and watched everything they could find on Huerta to write a 20-page handbook for exhibit docents and visitors. The goal was to tell stories that show Ventura County residents why Huerta's story should matter to them.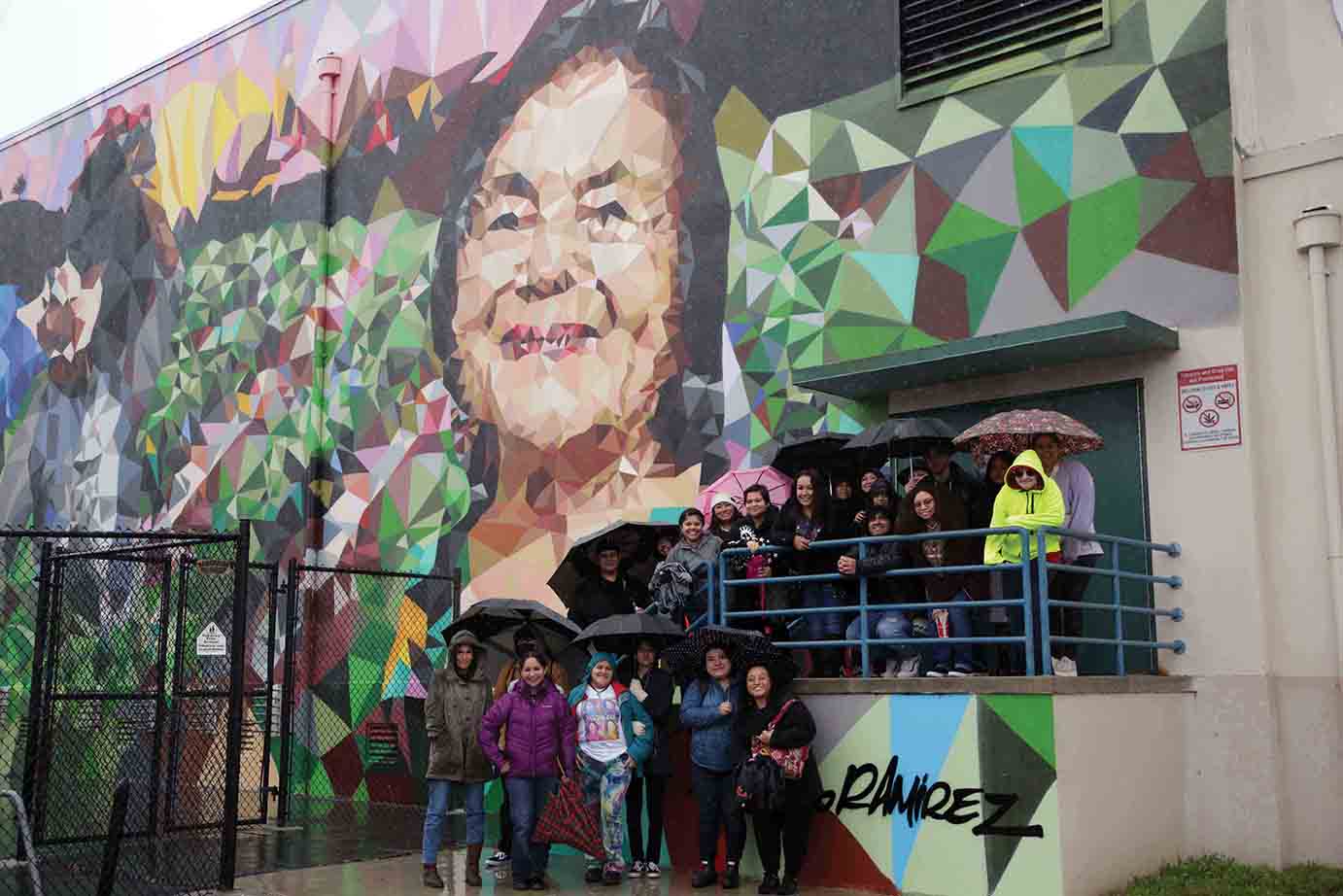 A student-organized bus tour included a stop at a Dolores Huerta mural in Ventura
"They learned to see that in her life lies the untold story of their mothers, grandmothers and great-grandmothers — women whose life stories were never told and whose achievements were never recognized. Students were able to connect to the women and farmworkers in their family and value their stories and lives in a way they had not done so before," Guzman said.
The grandparents of Lisa Marie Ruiz of Oxnard picked crops, and she did the same during summers. She knew a lot about Huerta before she started preparing to lead tours of the exhibit. A Chicana/o Studies and Psychology major, Ruiz is a Co-Chair of MEChA de CI, and she calls Huerta one of her "all-time idols." But she learned personal stories she didn't know that motivated her.
---

Left: a screenprint designed by student Jose Galvan Martinez dries;
Right: Galvan Martinez shows Jesica Carranza how to print the image.
---
"I've gained more insight regarding Dolores Huerta's activism and legacy and how important it is to stand up for what is right, even when it means immense personal sacrifice," said Ruiz, a grandmother who is preparing for a second career as a federal attorney specializing in employment discrimination.
Trujillo and Nathan Ramos Rodriguez both learned Ventura County history they didn't know while organizing the mural tour. For Ramos Rodriguez, a Santa Paula High School graduate whose father is a seasonal farmworker, researching the art also opened his eyes to new points of view.
"The lasting impact this project had on me is that I look to the arts to understand more perspectives regarding the injustices that occur in this world," Ramos Rodriquez said.
Screenprinting students were asked to create two-color works inspired by Huerta's life and work. After Art major Jose Galvan Martinez toured the exhibit and heard about Huerta, the Oxnard resident felt inspired to convey the vibrancy and impact of the protest movements. Ripples on Huerta's shirt and the protest sign she is holding in his design illustrate how social movements grow. Repetitions of "Viva la causa!" surrounding her image call to mind the chanting of protestors. Liking the Native American and pre-Hispanic patterns he saw in the triangular UFW logo, he turned it into a diamond shape that runs along the border.
"This assignment was quite impactful for me because I feel I have a further appreciation for farmworkers," Galvan Martinez said. "I also feel that while not having a direct connection to a specific narrative, there are always multiple layers to every issue, and we can all find a common ground that we can all find relatable."