A past and future rooted in community engagement
I'll never forget attending a United Way of Ventura County banquet honoring people for their service soon after I started working at CSUCI in 2018. Looking around the room, I could see how strong the community was that I had just moved into from Las Vegas, where I felt valued after investing almost 25 years of service. At that banquet, I was surrounded by people who had long demonstrated their commitment to making this area a better place. I felt like I didn't belong, and that I would have to earn my spot on this remarkable team.
There are no shortcuts to becoming a valuable community partner. You must be engaged. You have to continually look for ways to serve and then show up, solve problems and overcome challenges. Luckily for me, I was working, first as Vice President for Student Affairs and then as President, for an organization with a track record of community engagement. From its beginning 20 years ago, CSUCI worked with organizations and companies to develop academic programs that meet workforce needs and to provide service-learning, research and internship opportunities for students that benefit the community.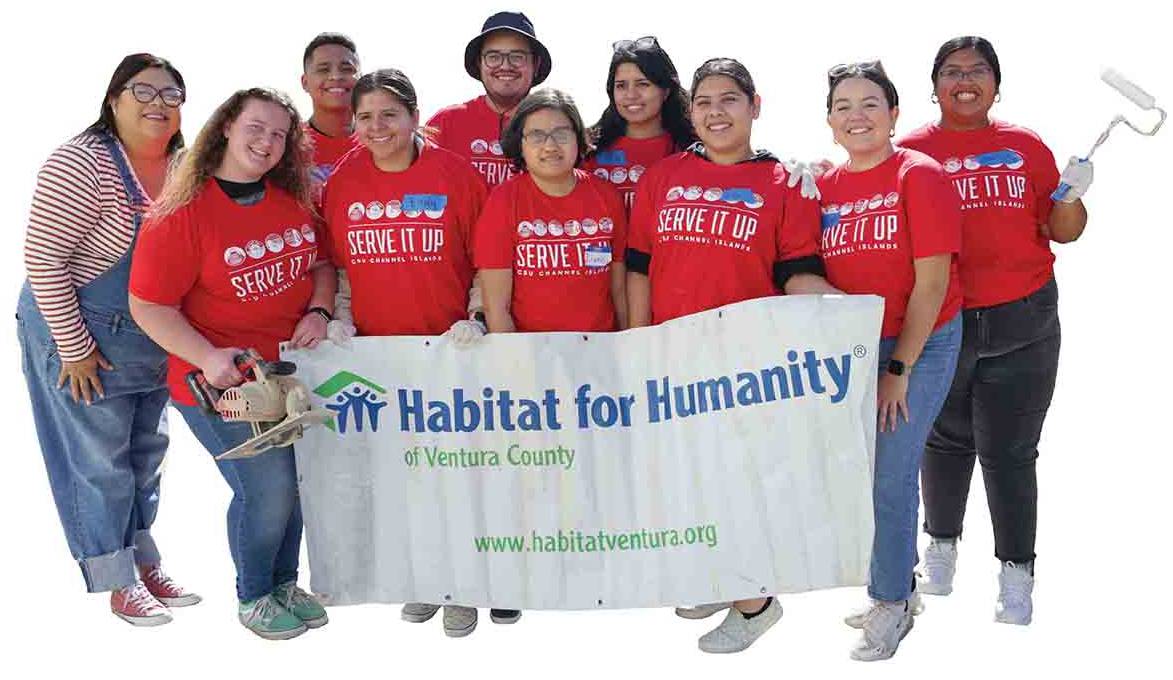 CSUCI students volunteer to build housing.
We continue to engage in the important issues facing this region, as many of the stories in this issue of Channel demonstrate. The Farmworker Immersion Project enables students to learn firsthand about the challenges faced by agricultural workers who care for the fields surrounding our campus. An effort to save an endangered fish involving federal, state and local agencies relied on in-depth ecological studies conducted by our Environmental Science & Resource Management students. And a new partnership will enable the Santa Barbara Zoo to build a needed wildlife conservation center on campus and provide valuable learning experiences for students in many majors.
I want to strengthen existing partnerships and cultivate new ones over the next decade. While our mission always will remain rooted in service to the region, how we put that into action will change as we move forward. The community's needs 20 years ago differ from those today, and the problems to solve will be different in another 20 years. New challenges emerge, and best practices evolve. So, CSUCI needs to continually reassess the region's needs and the ways we address them while projecting what they might be a decade from now. It is a tall order, but one I feel confident we can achieve together, in collaboration with our community partners.
Sincerely,

Richard Yao, Ph.D.
President