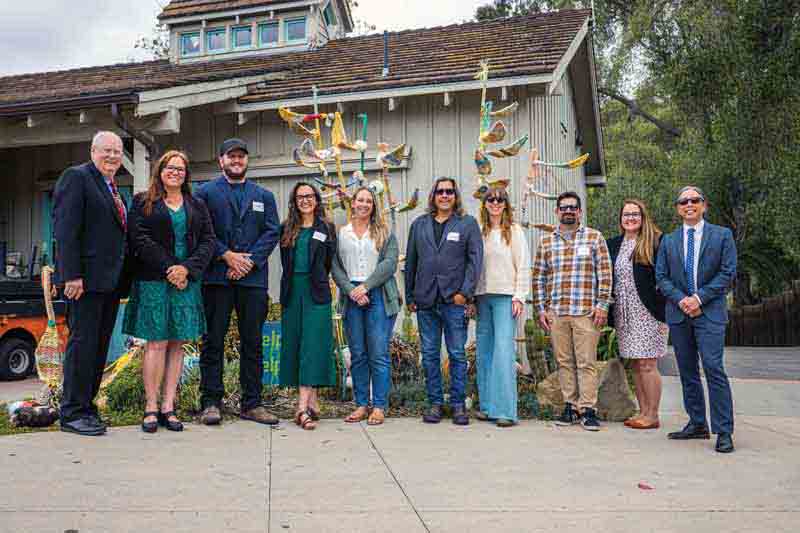 From left to right in front of the Santa Barbara Zoo "Help the Kelp" marine debris art exhibit created by CSUCI students: Zoo President Richard Block; Jennifer Perry, Executive Director of Regional Educational Partnerships at CSUCI; Joe Forrest, CSUCI Santa Rosa Island Research Center Coordinator; Christy Kehoe, National Oceanic and Atmospheric Administration Marine Debris Program Mid-Atlantic regional coordinator; Michaela Miller '16, B.S. Environmental Science & Resource Management, National Marine Sanctuary Foundation conservation manager; CSUCI Professor of Art Matthew Furmanski; Karly Kennedy '23, B.A. Art; Kenny Neal '23, B.A. Art; Zoo Director of Education JJ McLeod; CSUCI President Richard Yao.By Marya Barlow

A new partnership between CSUCI and the Santa Barbara Zoo will enrich academic opportunities for students and enhance wildlife conservation, education and research throughout the region.

President Richard Yao and zoo President and CEO Richard Block signed a memorandum of understanding in April, paving the way for future collaboration and a zoo-owned- and-managed conservation center on the CSUCI campus.

"By partnering with a world-class zoo right here in our backyard, we are strengthening our commitment to be a 'conservation campus' on the Central Coast," said Yao. "We are excited about the opportunities for our students to work side by side with zoo personnel and CSUCI faculty to protect and reestablish threatened species in our region and to develop vital skills in conservation education and management. It is our hope that students and faculty from all disciplines and majors will have a chance to make an impact through our partnership with the zoo."

"We are excited to partner with CSUCI to establish the first zoo-owned-and-managed facility accredited by the Association of Zoos and Aquariums on a university campus," Block said. "Through this alliance, we look forward to expanding our zoo conservation programs and providing a learning laboratory where students can assist in the important work of wildlife conservation, education, zoo management and marketing, animal husbandry, guest services, and more. The opportunities to align our programs and resources with CSUCI are limitless."

The partnership resolves the zoo's need for more space in which to expand its wildlife conservation efforts. At its 28-acre Santa Barbara site, the zoo is running out of room to house a growing collection of threatened and endangered species, including Western snowy plovers, California red-legged frogs, California condors, and Western pond turtles, which it hopes to shift to the CSUCI conservation center.

Work for the conservation center will begin later this year on a 60,000-square-foot site on the western edge of the campus near Modoc Hall. In the meantime, collaborations between the zoo and CSUCI's varied disciplines are being explored. The Performing Arts program is working with the zoo on live performances for visitors. Students in a Spanish capstone course are translating the zoo's educational materials into Spanish. And CSUCI is teaming up with the zoo's Early Explorers Preschool to bring its bachelor's degree in Early Childhood Studies to Santa Barbara County in Fall 2023.