34 employees from the founding of CSUCI
Front Row, Left to Right Nancy Covarrubias Gill, Toni DeBoni, Martha Reyes, Evelyn Taylor, Irina Costache, Rosario Cuevas, Frank Barajas, Diana Enos, Jeanne Grier, Anthony Mestas, and Gustavo P. Gonzalez. Middle Row, Left to Right Loren Fleming, Maria Elena Zendejas, Wendy Olson, Leticia Romero, David Carlson, Tim Berndston, Jesse Lucero, and Jon Brooks. Back Row, Left to Right Dale Velador, Martin Tapia, Dawn Smith, Phil Hampton, Hai Le, Judilyn Le, Tim Allen, Tom Emens, and Robert Inglis. Not Pictured Nancy Mozingo, Scott Shubb, and Kevin Volkan.
Milestone met by 'Honoring Our Past — Building The Future'
By Karin Grennan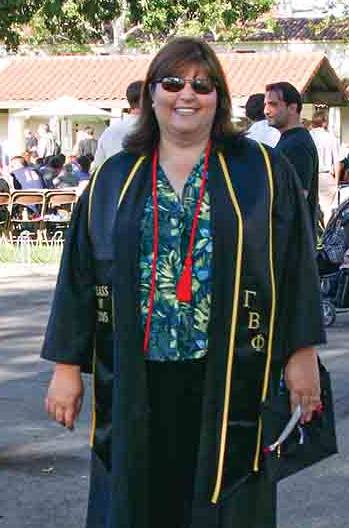 Growing up in Oxnard with very traditional Hispanic parents who wouldn't let her move away to attend college, Nancy Covarrubias Gill kept hoping that a public university would open in Ventura County. Then, in 1999, when she had a family of her own, she read a story about the work J. Handel Evans and others were doing to make it happen. Inspired, Gill applied for a job on the small team. 
"I'll never forget that at the end of the interview President Evans said that he wanted to hire me, but I would need to make one promise to him — to earn my bachelor's degree. On that day, I made a promise to President Evans and to myself," Gill said. 
Over the next 23 years, she attended all the biggest events in CSU Channel Islands history and organized many of them including the opening ceremony, the first presidential inauguration and Commencement ceremonies, and several President's Dinners. But one stands high above the rest for her — 2005 Commencement, the day she graduated with her bachelor's degree.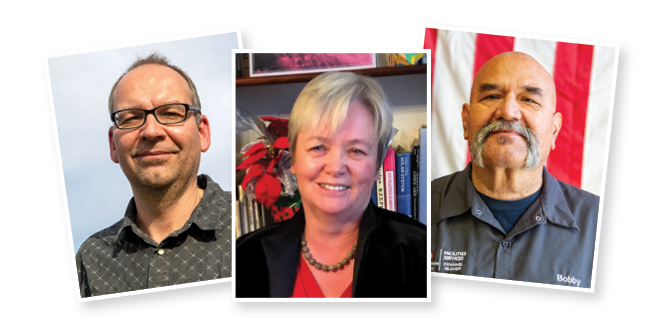 Employees from the founding of CSUCI
Rainer Buschmann, Ivona Grzegorczyk, and Bobby Perez
"I tear up with prideful emotion thinking about that day and having President Emeritus Evans, who was seated on the stage, greet and congratulate me as I crossed," said Gill, M.P.A., now CSUCI's Associate Vice President for Communication & Public Relations. "I'm sure this same emotional feeling is experienced by many first-generation students from this region who may not have an opportunity to leave their home to attend a college or university but can now earn a bachelor's degree at a public university in Ventura County."
Charged with serving students from this previously underserved region, CSUCI officially came to life during an opening ceremony on Aug. 16, 2002. Twenty years later, the University celebrates its 20th anniversary under the banner of "Honoring Our Past — Building The Future."
An ongoing highlight for the year-long commemoration is an exhibit in the John Spoor Broome Library. There are yearbooks and magazines, a display tracking the evolution of Ekho the Dolphin, and a list of movies filmed on campus. Representative items from the library's expansive Archives & Special Collections are displayed. Faculty research and creative activities fill several shelves.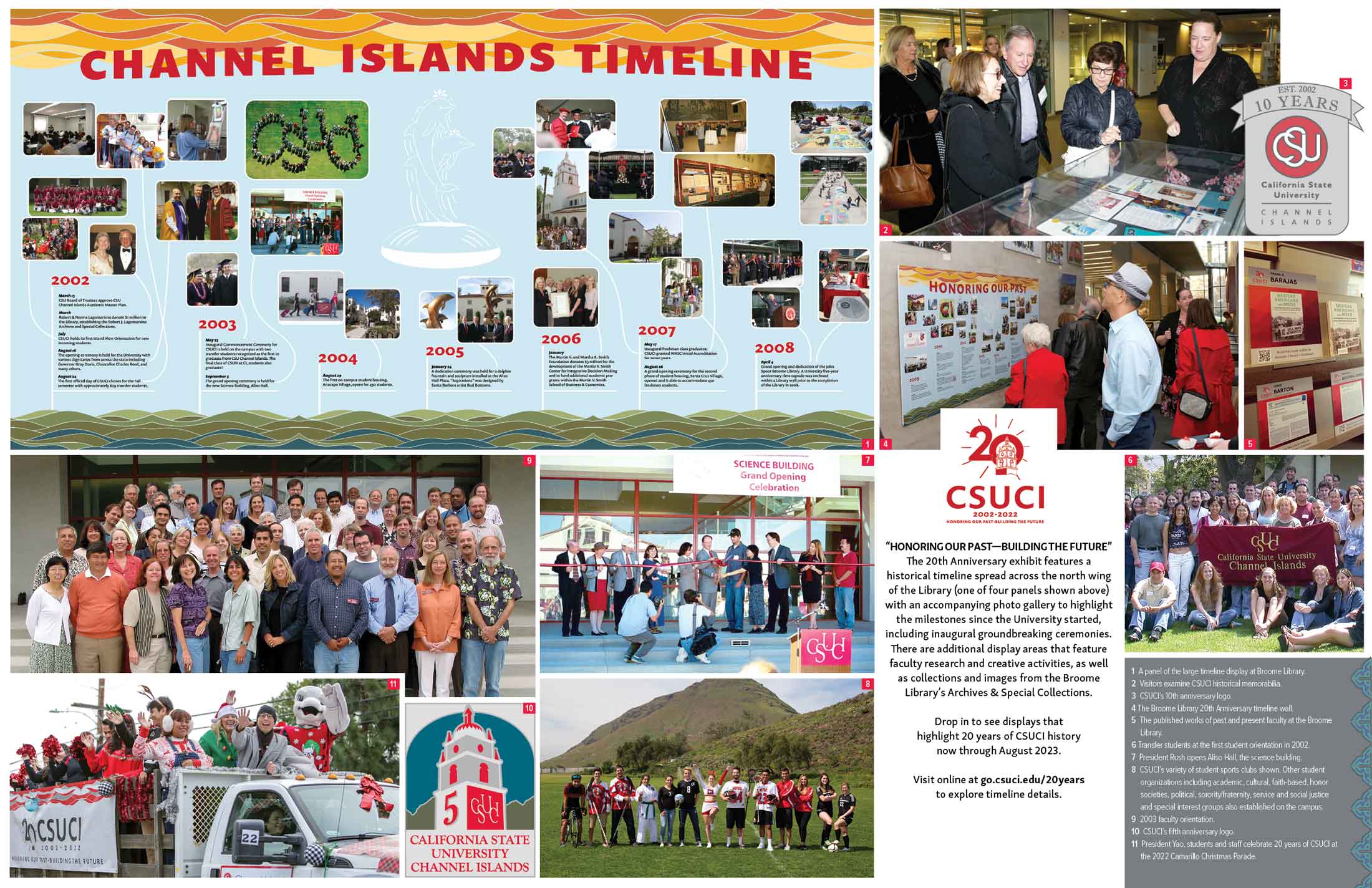 Head of Access Services Librarian Janet Pinkley worked with people from across campus to bring the exhibit to fruition.
---
"The teamwork, collaboration and commitment to the project
reminded me of what makes CSUCI so special."
— Janet Pinkley
---
"The teamwork, collaboration and commitment to the project reminded me of what makes CSUCI so special," said Pinkley, who joined the University in 2007. "There was a culture cultivated from the beginning that we were building a university together. The entire campus embraced this idea and believed in it. We still do."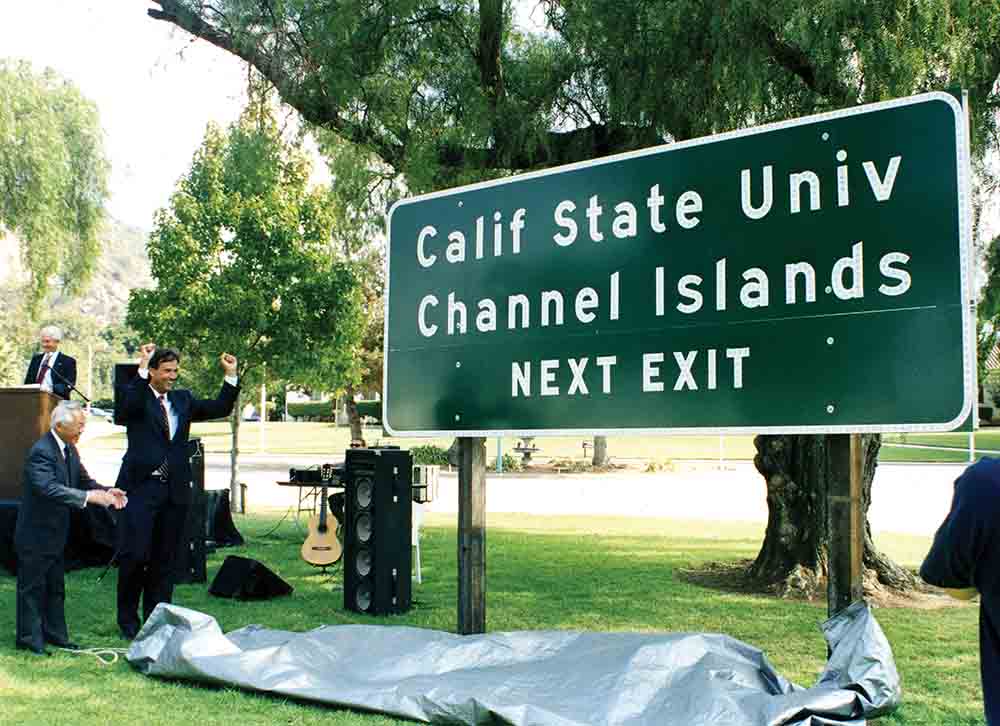 A University highway sign is unveiled in 1999 by then President J. Handel Evans,
State Assemblymember Nao Takasugi, and State Senator Jack O' Connell.
Weaving throughout the displays is a photo-packed timeline showing the development of the University from 1965, when a state bill calling for the establishment of a four-year college in Ventura County was drafted, through 2022, when Richard Yao became the fourth president.
One of the most significant points on the timeline is Aug. 24, 2002, the day the first CSUCI students began classes. By that time, Dale Velador had been part of the nascent University's Information Technology Services team for almost three years. On his way to interview for the job in 1999 he thought he had taken a wrong turn because it seemed like he was in the middle of nowhere. Now there were students and new faculty and staff members in the buildings he had helped wire.
"Before that, it was an idea," Velador said. "Watching it actually happen was great. … It was exciting."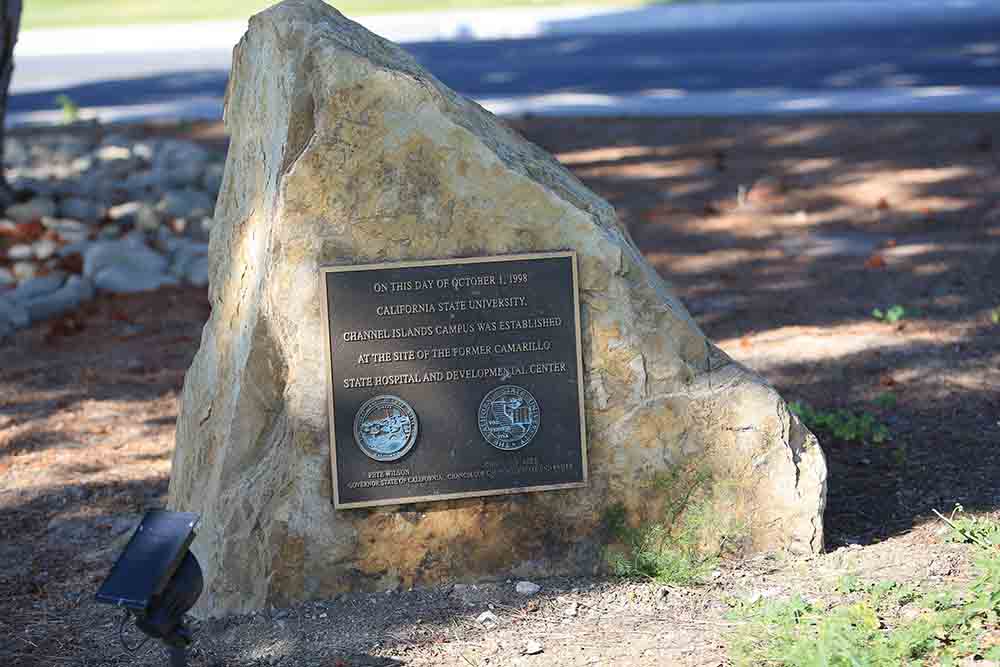 A large rock provided by the Broome family commemorates the Conveyance ceremony in October 1998 transferring the property from Camarillo State Hospital to the California State University.
May 17, 2007, is another day of great joy featured on the timeline. That is when CSUCI received its accreditation from the Western Association of Schools and Colleges (WASC) on the earliest possible date — and on the very day that the first class of first-year, full-time students graduated. Becoming WASC-accredited signaled to prospective students and their families, graduate schools, employers, and others the high quality and integrity of CSUCI's programs and services.
"Many students will go through their entire college experience and never encounter the word accreditation or the significance of it, but for students who were some of the first to complete their degrees at CSUCI, that designation meant a lot," said Toni DeBoni, J.D., who like Gill and Velador is among 34 current employees who have been working at the University since 2002 or before.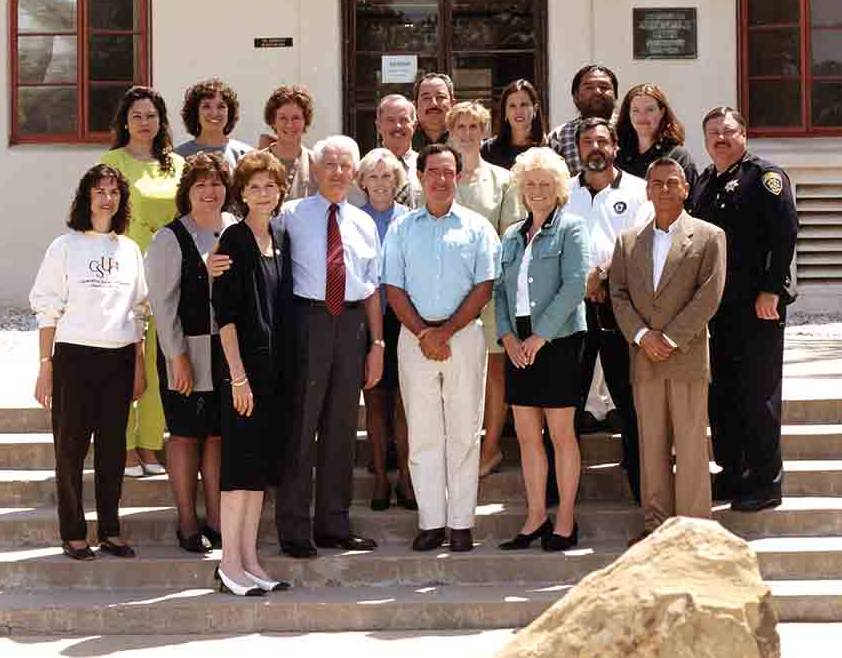 The first group of CSUCI administrators from Fall 1999.
"It was truly an all-campus achievement with extensive participation from all University divisions," said Dennis Muraoka, Ph.D., who chaired the campus's first WASC committee. Muraoka was one of the original 13 planning faculty members who arrived in 2001, four of whom are still at CSUCI — Frank Barajas, Ph.D., Professor of History; Ivona Grzegorczyk, Ph.D., Professor of Math; Phil Hampton,  Ph.D., Associate Dean of Arts & Sciences; and Kevin Volkan, Ph.D., Professor of Psychology.
Rosali Banola of Camarillo was a member of the inaugural class that graduated the day CSUCI earned accreditation. Her strongest memory from those years is how much CSUCI felt like home, even though she had never set foot on the campus before enrolling.
"It was a small community that felt like a second family. I had the most incredible professors who invested so much to ensure I learned the material and succeeded as a student," said Banola, who majored in Cell and Molecular Biology and minored in Chemistry. She returned to earn an MBA and a Master of Science in Biotechnology and Bioinformatics from CSUCI. "Pursuing a degree in science is challenging, and the ability to have access to our professors and small classroom sizes was a key differentiator and what enabled my success as a science student. As years have passed and I meet my colleagues who went to other universities, I realize the experience I had was really unique."
DeBoni, who was hired as the Coordinator of Orientation & Student Development and went on to serve in multiple Student Affairs roles over the next 20 years, said strong bonds formed within majors the first few years, creating opportunities for students and faculty to join forces in events like the Battle of the Majors.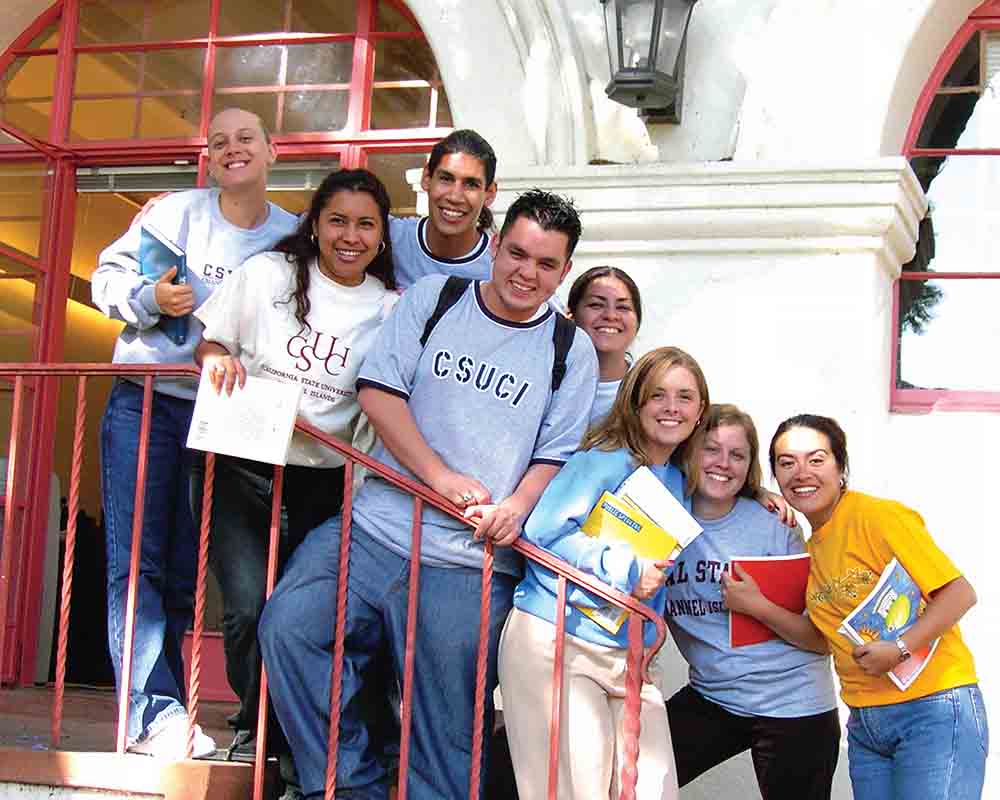 Students and staff formed a tight-knit community in 2002.
"Finding ways to build community and add fun to their experiences was essential," said DeBoni, now Associate Vice President for Organizational Effectiveness and Special Assistant to the President. "A sense of belonging has remained an important value."
Staff, students and faculty collaborated in the beginning to host events, some of which — like the Welcome Celebration and Women's History Recognition Ceremony — have become signature events that continue to this day.
Maria Elena Zendejas, who began working at the campus in 1998, recalls everyone wearing a lot of hats and performing many functions in the early years.
"Without formal structure, it allowed individuals to share their innovative skills. It forced people out of their comfort zones," said Zendejas, now Assistant Director of Financial Aid & Scholarships. "Seeing what was started and where it is now is incredible."
April 2010 was another pivotal moment, when the U.S. Department of Education designated CSUCI a Hispanic-Serving Institution. This designation was achieved because at least 25% of the University's students at that time were Hispanic and at least half qualified for federal Pell Grants based on exceptional financial need. This made CSUCI eligible to compete for grants to help it better serve students. To date, the University has received $42 million in competitive HSI grants. This funding has enabled the campus to implement programs including initiatives to support a college-going culture in Ventura County, peer and faculty mentorship to help students graduate and development activities to improve teaching and learning practices and foster relationships with community-college partners.
"These funds have been a significant investment in our institution, which propelled CSUCI to be a regional and national leader for student success and to cultivate best practices in teaching and learning," said Michelle Hasendonckx, Ed.D. '19, Assistant Vice President for Student Academic Success & Equity Initiatives.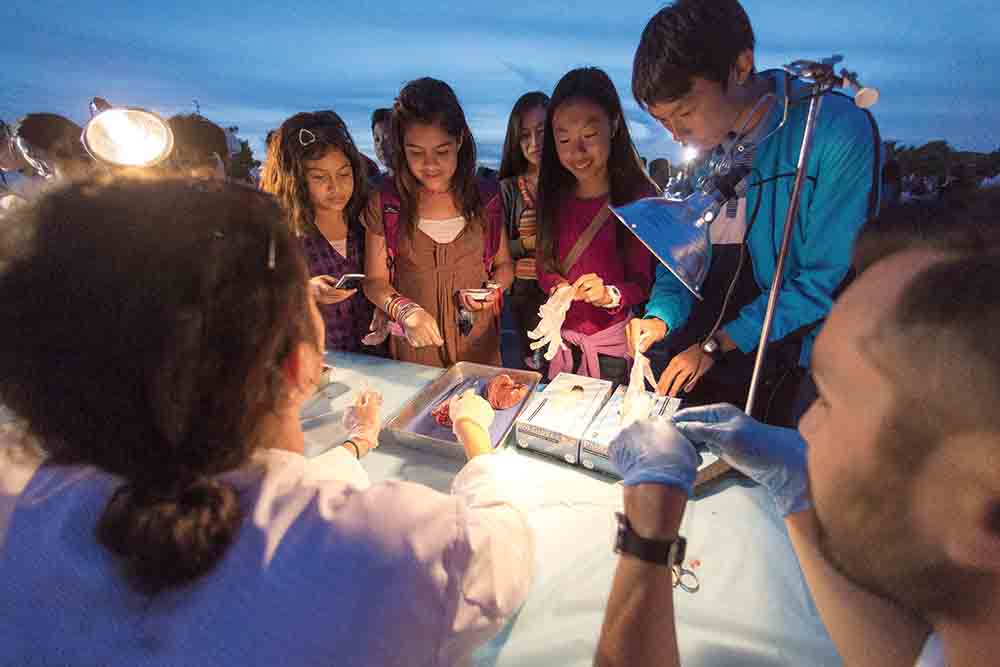 Student volunteers show off a Biology experiment to curious onlookers at CSUCI's Science Carnival.
In 2019, CSUCI became the first institution of higher education in California to earn the Seal of Excelencia, signifying a high level of commitment and effort to serve Latina/o students. The University earned recertification in Fall 2022.
In 2021, CSUCI received $15 million from philanthropist MacKenzie Scott in recognition of the University's commitment to the social mobility of students, equity and inclusion, and the greater good of the region and nation. That ended up being the year of large gifts. Six months later, the Martin V. & Martha K. Smith Foundation became the single largest donor in CSUCI's history by giving $10.5 million, bringing the family's total donations since 1999 to more than $19 million. 
Students themselves have played an integral role in expanding services. They advocated for what in 2017 became known as the Multicultural Dream Center, DeBoni said. The MDC brought Underrepresented Student Initiatives and Intercultural Services together in the Bell Tower and provided a popular gathering spot.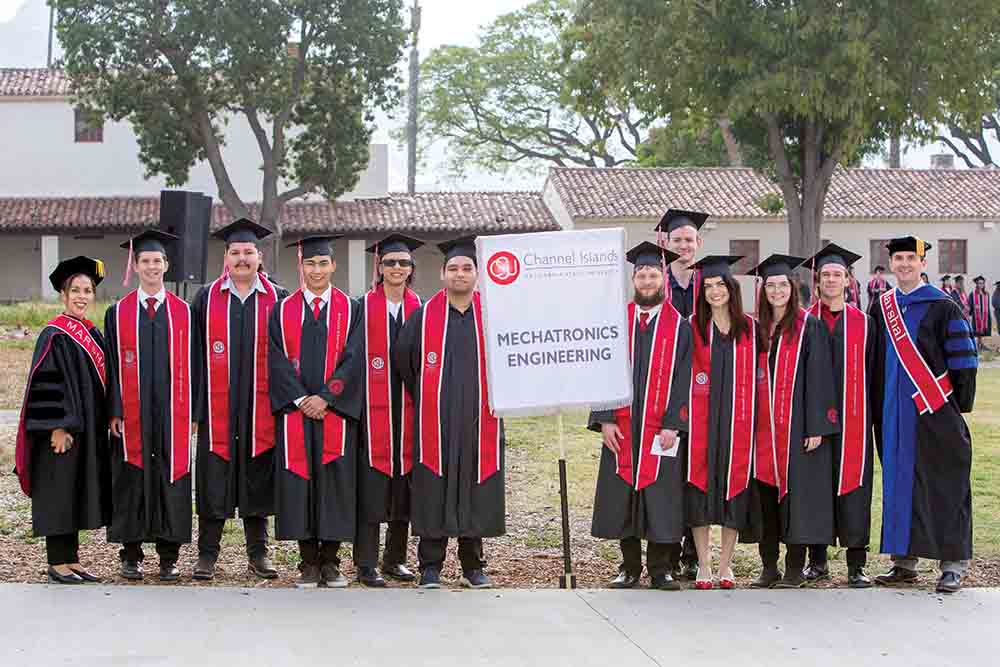 Mechatronics became an offered bachelors of science degree in 2018
And, in 2018, thanks to several attempts and persistent student leadership, CSUCI's Basic Needs Program began providing food, clothing and emergency housing assistance to those in need.
Student interest and regional workforce needs have shaped curriculum development through the years. Early innovations included the award-winning Master of Science in Biotechnology and MBA dual-degree program. CSUCI added bachelor's degrees in Health Science in 2014, Global Studies in 2016, and Dance Studies in 2022. Mechatronics Engineering, which launched in 2018, is now an impacted program along with Nursing — meaning that there are more student applications to these programs than there is room available. CSUCI began offering a master's degree in Nursing in 2020.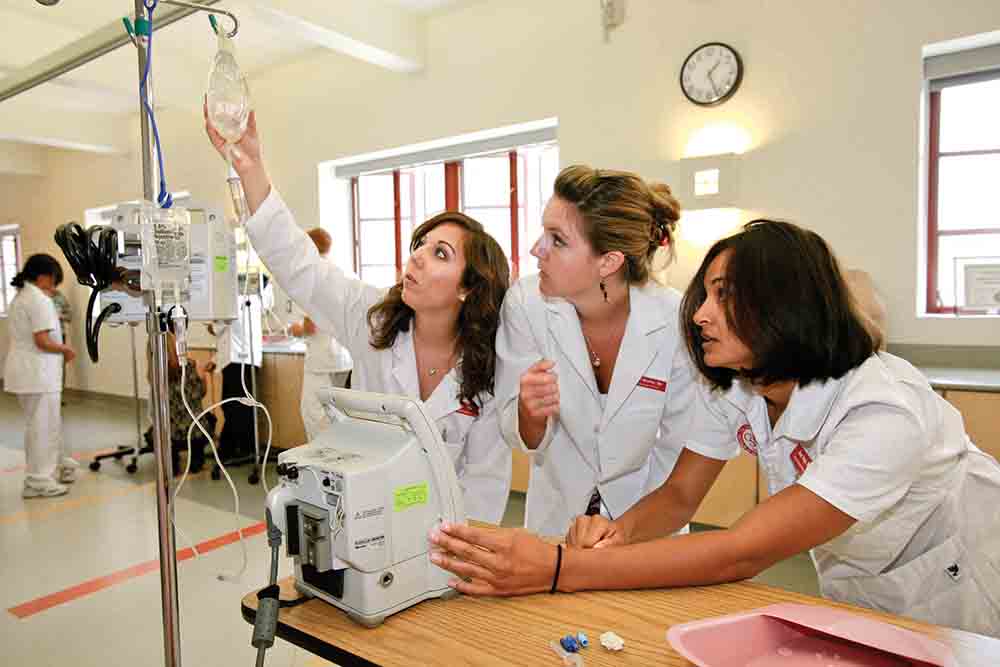 Nursing students work with a saline drip. 
Government and community partnerships forged throughout the years supported the development of new programs as well as other valuable and unique opportunities for students. In 2012, CSUCI partnered with the National Park Service to open the Santa Rosa Island Research Station, where students and faculty from many programs and disciplines have engaged in cultural and natural research and education. The next year, CSUCI launched the Channel Islands Boating Center in Oxnard with the help of several public and private partners to provide educational and recreational opportunities for students and the community. 
---
"CSUCI has grown so much over the past 20 years and has 
continued to place students at the center of everything. "
— Rosali Banola
---
A signature community event that Associate Dean of Arts & Sciences Phil Hampton launched, the Science Carnival, reconnected Biology graduate Banola with her former organic chemistry professor and alma mater in 2017. A senior manager at Amgen, she took science experiments Hampton had developed into middle and high schools and helped recruit co-workers to participate in the annual crowd-drawing fair. 
"CSUCI has become an integral part of our community in Ventura County and will continue to make a significant impact on our students and their future," Banola said. "CSUCI has grown so much over the past 20 years and has continued to place students at the center of everything."
Kim Lamb Gregory contributed to this story.
Return to the Table of Contents
© Winter 2023 / Volume 27 / Number 2 / Biannual