Ceremony highlights diversity and the importance of connections
By Karin Grennan

Student Government President Ilien Tolteca took the podium during President Richard Yao's Investiture and described having met him as a first-year student. Yao, then Vice President for Student Affairs, encouraged Tolteca's pursuit of a double major. He expressed his confidence, provided his business card, and said to contact him if ever the need arose.

"This moment has stayed with me since then, and I believe it is reflective of who President Yao is as an individual — someone who is willing to connect with the CI student body and who goes above and beyond for the CI community," Tolteca said.

While the September 23 ceremony's purpose was for the California State University Board of Trustees to formally invest in Yao the authority of his position, the broader idea of connections took center stage throughout the event. Chumash leaders tethered the ceremony to the land on which it took place, their ancestral home in this region. The participation of CSU Channel Islands' three former presidents and video messages from previous student government leaders bridged the past with the present. The attendance of CSUCI Foundation Board members, elected officials and community members underscored the University's ties with and service to the region. And multiple speakers remarked on Yao's efforts to connect with people.

Members of the Oxnard High School Air Force Junior ROTC provide the Presentation of Colors;
The People's Trio (Ben Yao, Gabriel Kline and Jackson Roberg) provides pre-ceremony music;
Doll A$$ign was among the alumni who performed.
Interim CSU Chancellor Jolene Koester, Ph.D., said Yao often starts his day with a pre-dawn run through campus, stopping to chat with groundskeepers and express appreciation for their important work in positively impacting the entire CSUCI community. Koester told the story of how Yao introduced himself as the Interim President to a boat crewmember on a return trip from the University's Santa Rosa Island Research Station after he learned the young man had left CSUCI before graduating. Yao listened to his story, offered support and invited him to meet again so that Yao could help him find a way to complete his degree.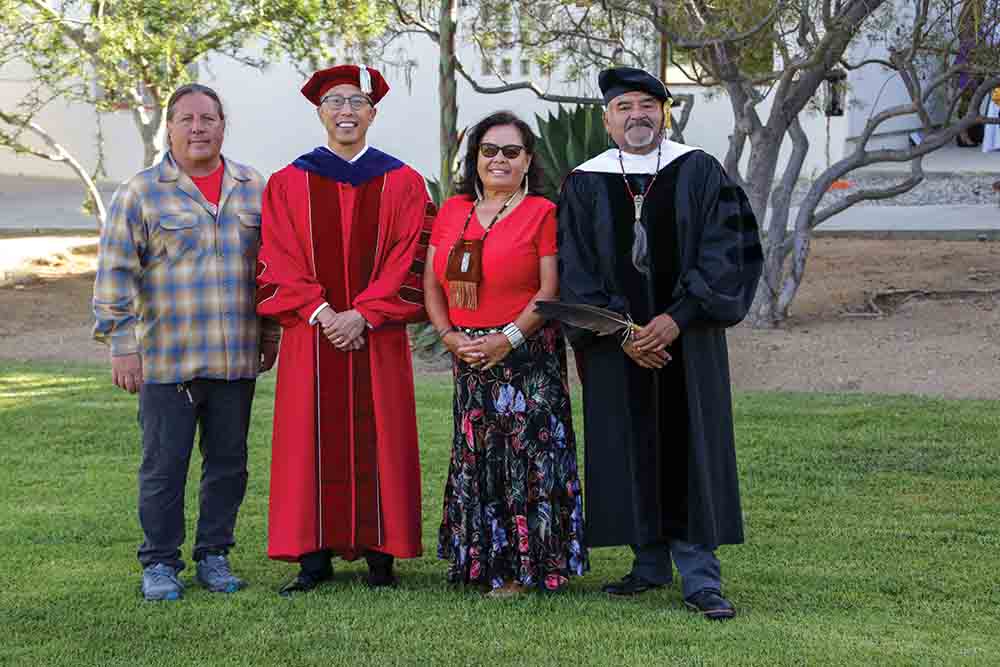 President Yao poses with Chumash representatives Matthew Vestuto, Eleanor Fishburn
and Raudel J. Bañuelos Jr.
"Making meaningful personal connections isn't just part of Rich's daily work," Koester said. "He's imbued the practice into the campus culture. He challenges faculty and staff to make a difference every day by showing that they care about Channel Islands students, care about them as human beings, so that students feel welcomed, valued, respected and inspired to successes that they might never have imagined possible."
Wenda Fong, Chair of the CSU Board of Trustees and the presidential search committee that led to Yao's permanent appointment, said, "He stood alone as the best fit for Channel Islands — the right person at the right time." 
Speakers noted Yao's commitment to giving everyone a voice through shared governance. Annie Block-Weiss, chair of the CI Staff Council and Associated Students Inc. (ASI) Programs Coordinator, recalled Yao contacting her during his first day as Interim President. 
"In already the short time that (he) has been our president, the voice of staff has not only been amplified, but truly listened to," Block-Weiss said.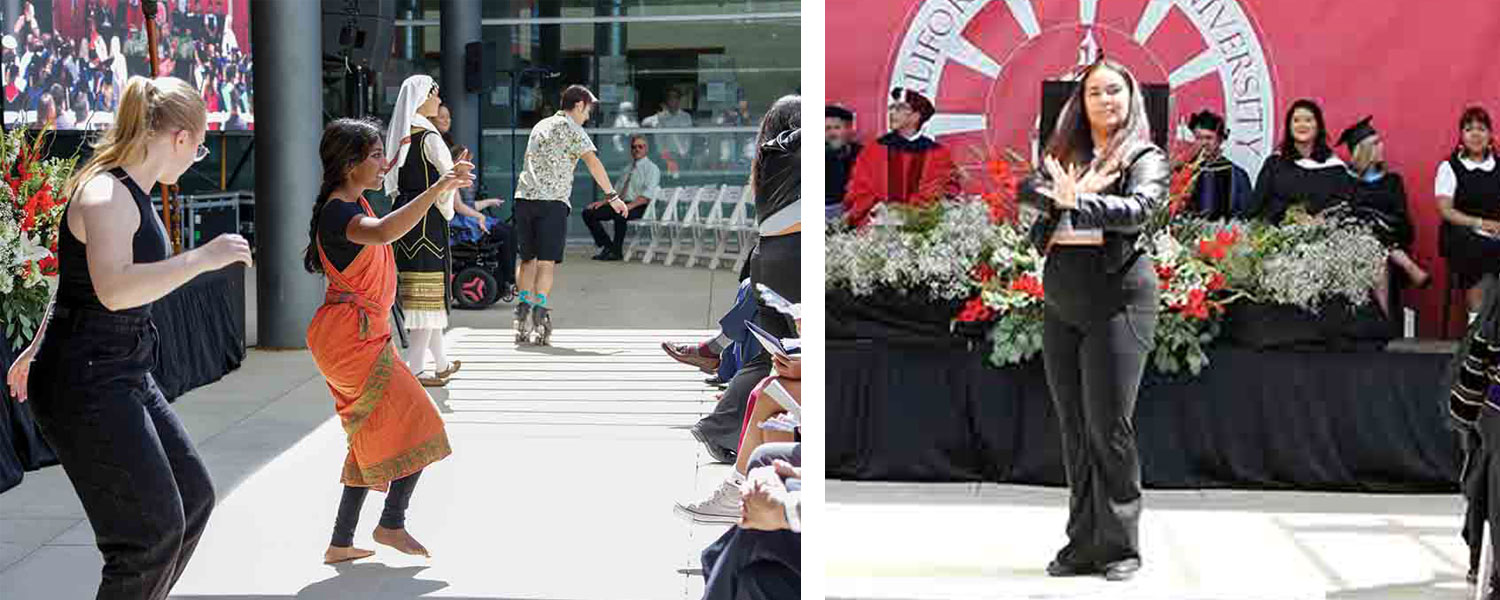 Students Maddy Hitchcock and Avantika Kannan participate in the "Tapestry of Dance"
and student Kortni Godsey dances solo.
CSUCI's diversity of voices, identities and cultures was highlighted throughout the ceremony in music, dance and spoken word performances featuring students, alumni and community members. A video featured welcome messages from Grounds Worker Guillermo Gallegos Lopez in Spanish; Lecturer Silvia Ventura Luna in Mixteco; Assistant Professor of Mathematics Alona Kryschenko, Ph.D., in Ukrainian; Academic Programs and Planning Analyst Andrea Skinner, J.D., in Portuguese; Director of International Programs Mayumi Kowta in Japanese; Lecturer in Sociology Sunghee Nam, Ph.D., in Korean; Professor of Education and Political Science Tiina Itkonen, Ph.D., in Finnish; Yao's father, George Yao, M.D., in Chinese; Yao's mother, Concepción DyReyes Yao, M.D., in Tagalog; and CSUCI alumnus and President of the Black Alumni Chapter Jeffery Alexander Jr. '09, Ed.D., speaking in English. 
Yao thanked those who shared their cultures during the ceremony and called on everyone to unite around the goal of student success. He asked that people value dissent, let data guide decisions, remain open to change, and continually reevaluate practices.
"We need to be forward-looking, working now to be the CSUCI that we envision for those who will be learning and working here in 2042," he said.
Return to the Table of Contents
© Winter 2023 / Volume 27 / Number 2 / Biannual