By Kim Lamb Gregory

As one of the first to take advantage of the Dance Studies major that launched in Fall 2022 at CSUCI, Kortni Godsey has so far been thrilled with her choice.

The semester included guest lecturers such as pioneering break dancer Ken Swift, choreographers, a talent agent, and Navajo dancer Little Hawk. They also saw a live taping of ABC's "Dancing with the Stars."

"It was so fun," Godsey said. "To see the show live — it was crazy to see all the cameras. The dance was definitely more emotional than I thought it would be."

CSUCI's program is not your typical college Dance Studies major, according to Associate Professor of Performing Arts Heather Castillo, M.F.A., who has been a champion for the program along with Performing Arts/Dance Lecturers MiRi Park and Bonnie Lavin-Hughes. 

"The degree is a global look at dance and how dance has always been a way to communicate and pass down our culture from generation to generation with the stories in our bodies," Castillo said. 

The Dance Studies major will provide students with the athletic training and technique necessary for dance performance but will also provide a broader look at how dance is integral to the human experience.  

"The dances we want to honor in our program all have developed in North America," Castillo said. "For example, we have jazz because of the African people forced to migrate here. When you look at forced migration along with the oppression of First Nations people through the lens of dance, it creates an embodied connection to our history."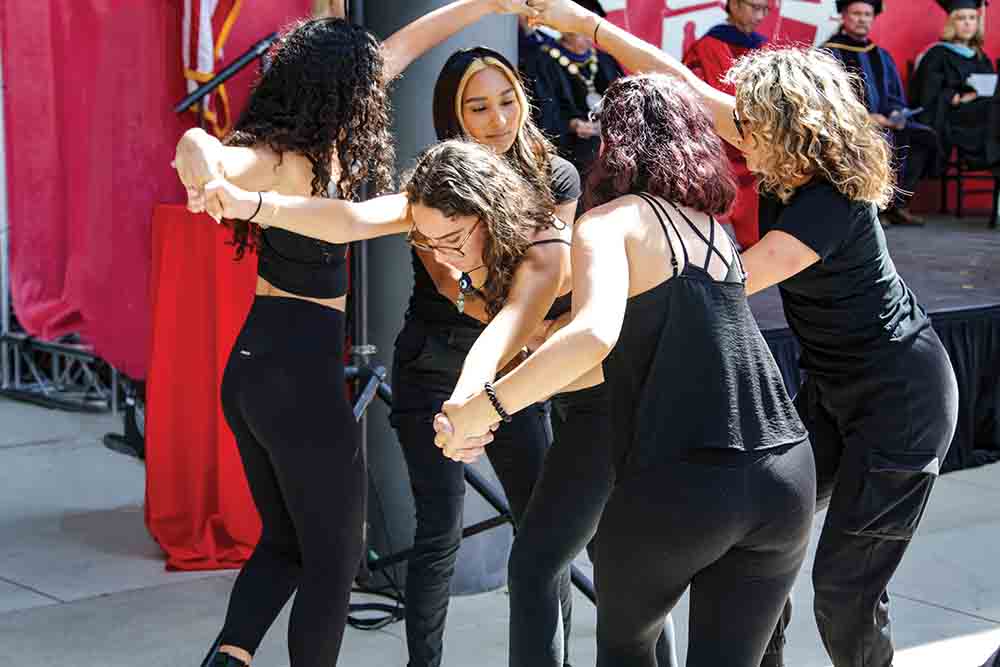 Through Park's connections in the New York hip-hop community, she was able to get Swift to guest lecture. Swift is widely considered "the epitome of the B-Boy," pioneering movements and terminology for the dance form that is now recognized worldwide.
"I have a background as a B-Girl and a hip-hop dancer," Park said. "I learned for free in the park in Brooklyn. It's just as vigorous as any other dance style, and it has shifted my perspective from 'you got to pay to play' to 'if you want to get in it, you gotta get down'." 
Castillo said the "Dancing with the Stars" experience was to expose the students to "commercial" dancing, where dance is used as part of the product or used to sell a product such as a reality show. 
"We exposed them to live commercial dance with all the bodies and the energy and the wild number of 15 cameras," Castillo said. "These sorts of things you just can't get when watching it on TV."
Students are also being introduced to other career options open to those with a degree in dance by hearing from CSUCI alumni. For example, Alyssa Zepeda '12 uses dance in her social work. Miesha Goetz '14 is a dance agent at Clear Talent Agency. Also, students are learning from choreographers like Alison Faulk, who is touring with the Broadway production of "Magic Mike," and the associate choreographer for "Moulin Rouge," Camden Gonzales.
"Most people enter into a dance degree believing it is limited to being a dancer," Castillo said. "But you can do so much with this degree."
Return to the Table of Contents
© Winter 2023 / Volume 27 / Number 2 / Biannual