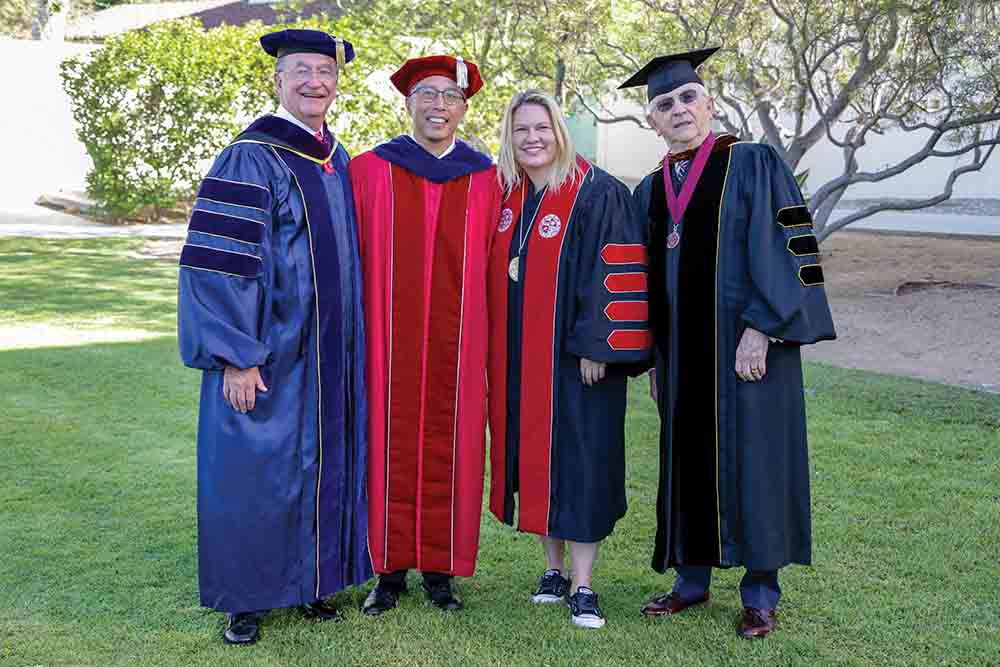 Richard R. Rush, Richard Yao, Erika D. Beck, and J. Handel Evans
Together, the four presidents who have led CSU Channel Islands have a great vantage point from which to view the entire history of the University. Here are their takes on the significant challenges and successes the University has faced through the years, as well as smaller moments they will never forget.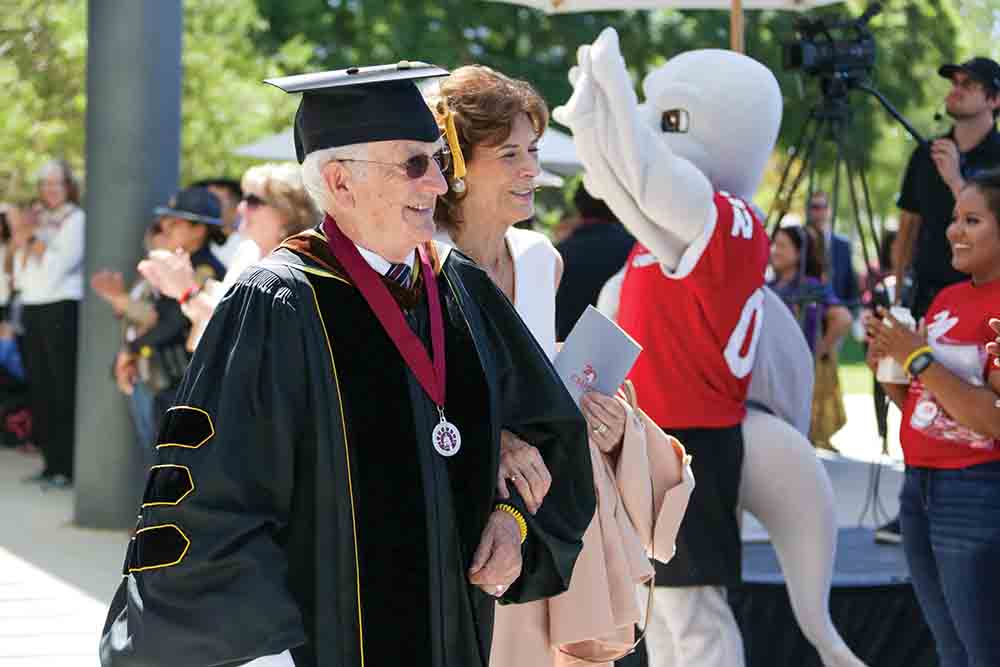 President Emeritus J. Handel Evans and Carol Evans attend President Yao's Investiture ceremony.
J. Handel Evans
Planning President 1996-2001
What are you most proud of from your time as Planning President?
I am most proud of the fact that the University even exists. With the work of a small but devoted team, the planning and construction of a new university in Ventura County (the "Ventura Project") began with a public announcement by the CSU Chancellor on Jan. 19, 1996. Approximately five years later our students were attending classes.
What were the biggest challenges you faced as President, and how did you address them?
A CSU campus in Ventura County was often in doubt. Sites were chosen, but a lack of funding to develop them resulted repeatedly, creating community disbelief it would ever happen. Making that a trusted reality was always a most important focus for me.
What was community support needed for during your tenure? What was your approach to getting that support?
Growing out of the checkered history of the "CSU Ventura Project" with its many setbacks and false promises, the CSU and the state were faced with an enormous credibility gap. Closing this gap became essential to our survival. Subsequently, avenues were established allowing joint participation by many diverse parties interested in our development. Typical of these were The Site Authority with membership drawn from the CSU, cities and the county that oversaw development of the total property, specifically the private housing program including impacts such as transportation. A University Foundation with membership from the business community and other local supporters accepted contributions and later sponsored academic initiatives. In addition, a most important Advisory Board with membership from the community chosen according to their interests and University needs was formed. All this cooperation resulted in our campus becoming one of the top private fundraisers in the CSU system, in retrospect a remarkable reflection of community goodwill considering it was done without benefit of students, faculty and an established academic program. 
What is your favorite memory from your presidency?
Occasionally, we had some light relief in our working day. We had been warned on occupying the site that the facility was in many respects comparable to a prison in that every door had the probability of being lockable, most from both sides thereby needing two distinct keys. On arrival we began to explore our environs, especially our Director of Facilities, who spent much of his "free time" wandering the facility with his cell phone and notebook. One day I was informed that he had gone missing in the proximity of the hospital, now the library. At first, we were not alarmed, but we started search parties just in case. Over two hours later the mystery was solved, and he was found locked in a hospital lab without the correct keys in an area we discovered could not receive radio or cell messages. From then on, the directions were to take appropriate keys and at least two people. We didn't lose anyone after that!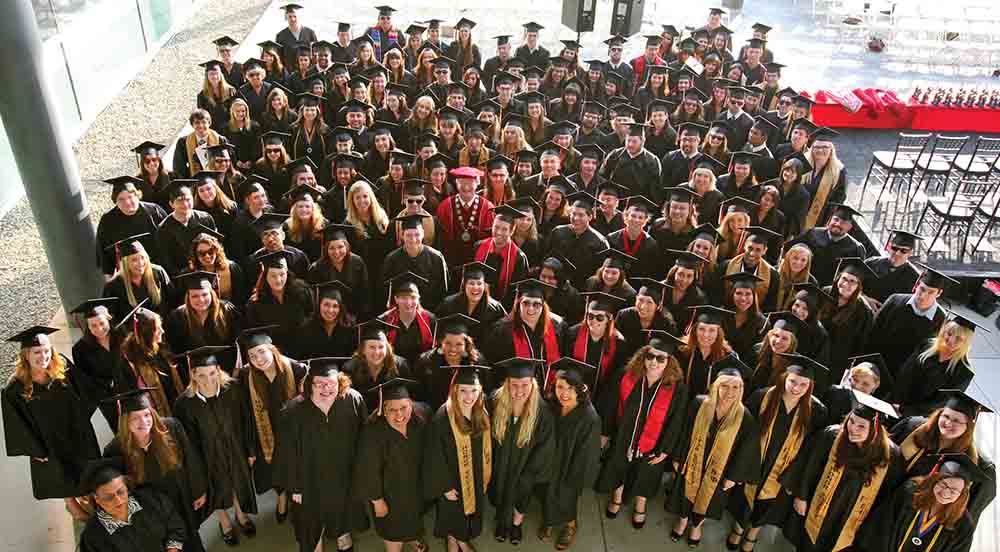 President Richard Rush is surrounded by students at Honors Convocation in 2011.
Richard R. Rush
President 2001-2016
What are you most proud of from your time as President?
There are so many things to be proud of: commencements at which the dream of Ventura County was made tangible in the graduates' success (I never made it through with dry eyes); the faculty and staff, particularly those who came at or near the creation because of the risks they took and the tremendous achievements they brought forth; and the enthusiastic response from the community, which embraced the campus as their own. These stand out, but there is a myriad more.
What were the biggest challenges you faced as President, and how did you address them?
The biggest challenges we faced pertained to funding. We were always underfunded. I was given the directive that CSUCI had to help pay its own way because there was reluctance among those who held the purse strings to invest in another campus (even though Ventura County had the largest underserved population in the state) or to reduce funding from other campuses to establish CSUCI. So, we turned directly to public-private partnerships as a significant method to bring the campus to life.
What was community support needed for during your tenure? What was your approach to getting that support? 
Community support initially took different approaches. Because we had so little funding and less than a year to open for students, we focused resources on developing the academic programs so they would be intact when students arrived. Then we turned to the community to assist us in developing the campus. Over time, the response was incredibly gratifying. Some community members came to campus to plant gardens and courtyards. Others funded the creation of new areas. One industrious person brought a Bobcat, drove it down the halls of the administration building into the interior garden and cleaned it out. Labor unions sent journeymen and apprentices to work on hardscape and irrigation. A contractor who was working on a road project sent his crew to dig up the crumbling Central Mall pavement and establish pathways. Another community member built the fountain in the mall, and so on. How did we get that support? We asked for it! In some cases, it was a win-win arrangement. In others, it was simply a generous response to a request.
What is your favorite memory from your presidency? 
I have too many favorite memories to cite one. However, the tears in some students' eyes when they realized they had achieved a university degree after often insuperable odds and even decades of trying stand out. One woman nearly tackled me as she collapsed into my arms sobbing in her joy.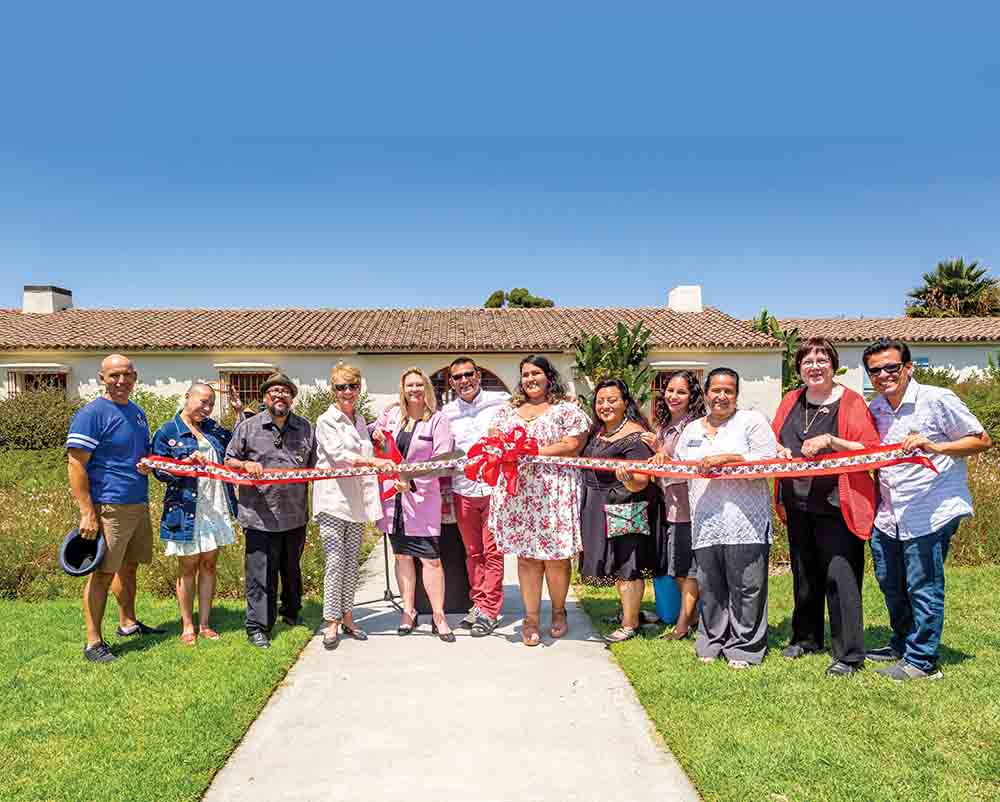 In 2019, President Erika Beck cuts the ribbon for the Michele Serros Collection located in Richard R. Rush Hall.
Erika D. Beck, Ph.D.
President 2016-2021
What are you most proud of from your time as President? 
It was an incredible honor to serve alongside such an inspiring and talented community of scholars and educators dedicated to equity, inclusion and the advancement of knowledge in service of the public good. Together, we became the first university in California to earn the Seal of Excelencia for our success in authentically serving Latinx students, we launched the Road to Restoring Sat'wiwa, created the President's Advisory Council on Inclusive Excellence, and we created a seven-point framework for realizing racial justice.  
What were the biggest challenges you faced as President, and how did you address them? 
During my time as a Dolphin, we faced a series of devastating physical life and safety emergencies from wildfires and mudslides, the unfathomable mass shooting at Borderline Grill where more than 50 of our students were present, and a once-in-a-lifetime global pandemic that transformed our campus into a virtual university almost overnight. While each was painfully challenging, our campus community responded to each crisis with compassion, innovation and resilience that still inspires me today.
What was community support needed for during your tenure? What was your approach to getting that support? 
Ventura County is a wonderfully welcoming and gracious community that invested three decades into establishing Cal State Channel Islands and serves as an unwavering source of support for the future of the campus and the students it so proudly serves. From elected officials to business, industry and community leaders, there is a Dolphin champion in every corner of the county. I was incredibly grateful for the commitment and support of the Foundation Board and the Advancement team who garnered tremendous enthusiasm and record fundraising by expanding awareness of the University's positive impact on not just Ventura County but also Santa Barbara and other communities along the California coast. 
What is your favorite memory from your presidency?
My favorite memories are all rooted in CSUCI's intentionality around equity and inclusion. One is the ribbon-cutting for the mural I commissioned in honor of the late Ventura County native Michele Serros, a nationally renowned Chicana writer, poet, and social commentator. Another is of the deeply meaningful gift I received from the Chumash elders — a necklace to hold the presidential medallion, signifying the enduring bond between the University and the Chumash people. And, of course, the pride and joy of every graduate who crossed the commencement stage to a life that is forever transformed as they become the leaders we need to realize a brighter and more equitable future for us all.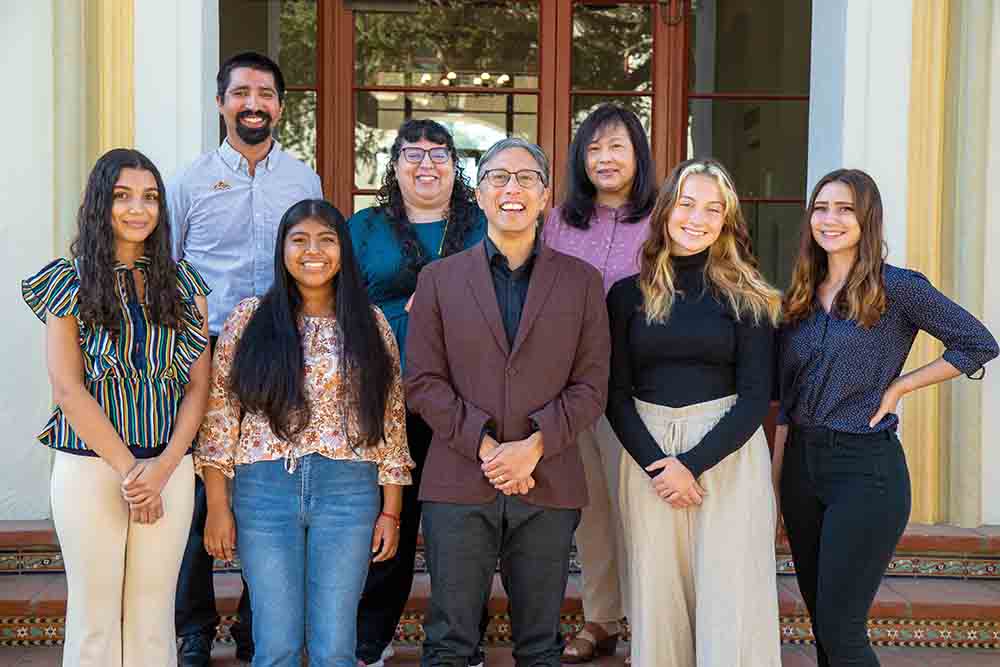 Front Row President Yao, center, with (left to right) President's Scholars Caleigh Tupy, Martha Maldonado-Arias, Addy Piper, and Sheradyn Ruef. Back Row Faculty Advisor Luis Sánchez, Advisor Sunshine Garcia, and Faculty Advisor Kimmy Kee-Rose.
Richard Yao
Interim President 2021-2022; President 2022-present
What are you most proud of from your time as President? 
I am very proud of our ability to safely navigate the effects of the pandemic on our campus and to transition back from primarily virtual to primarily in-person learning. The logistical and psychological challenges of that physical repopulation of the campus were enormous. Difficult decisions had to be made while ensuring that transparency was included in the decision-making process. My team and I worked hard at informing everyone about how we came to decisions, and how data, safety, the well-being of our community members, and their input were always considered.
What are the biggest challenges you have faced as President, and how did you address them?
Facing a pandemic has been one of the greatest challenges of my career, and in tandem with this are the effects we are now facing because of the pandemic — namely, enrollment decline, social instability, students' social, emotional, mental, and financial well-being, and people debating the value of a college degree. What keeps me grounded always, though, is to utilize good data effectively, especially during challenging times. In these times, the data are overwhelmingly convincing that a bachelor's degree remains the primary driving force that promotes social mobility — and we know that it has transformative power at individual, collective and societal levels. I am confident in our mission of serving our student body, most of whom come from underrepresented and underserved groups and are the first in their family to attend college. At CSUCI, we do this in ways that facilitate academic and psychosocial development that will provide the foundation for success before and after graduation, when our students will serve as leaders in their communities and careers. 
What has community support been needed for during your tenure? What was your approach to getting that support?
The support has truly been overwhelming, and connecting with so many elected officials, community leaders, educational partners, and other friends of CSUCI has been one of the aspects I've enjoyed most. During arguably the most challenging time in our University's history, the confidence and support from all aspects of our community were never greater, as evidenced by record-breaking philanthropy in 2021 and again in 2022. This has reinforced our collaborative efforts in meeting our regional needs on varying levels. 
What is your favorite memory from your presidency?
One is the outpouring of support I experienced during my investiture. I am grateful to everyone who worked so hard to make it so beautiful and meaningful. I was fortunate to celebrate that day with my family, students, faculty, staff, community leaders, and colleagues from across the CSU and beyond. With all the challenges that life is sure to bring us, I always say we must make a point to truly celebrate the special moments. This was a beautiful reminder to me of how important it is for us to come together as a community, to celebrate, and to express our gratitude for one another and the region we serve.
Return to the Table of Contents
© Winter 2023 / Volume 27 / Number 2 / Biannual