By Karin Grennan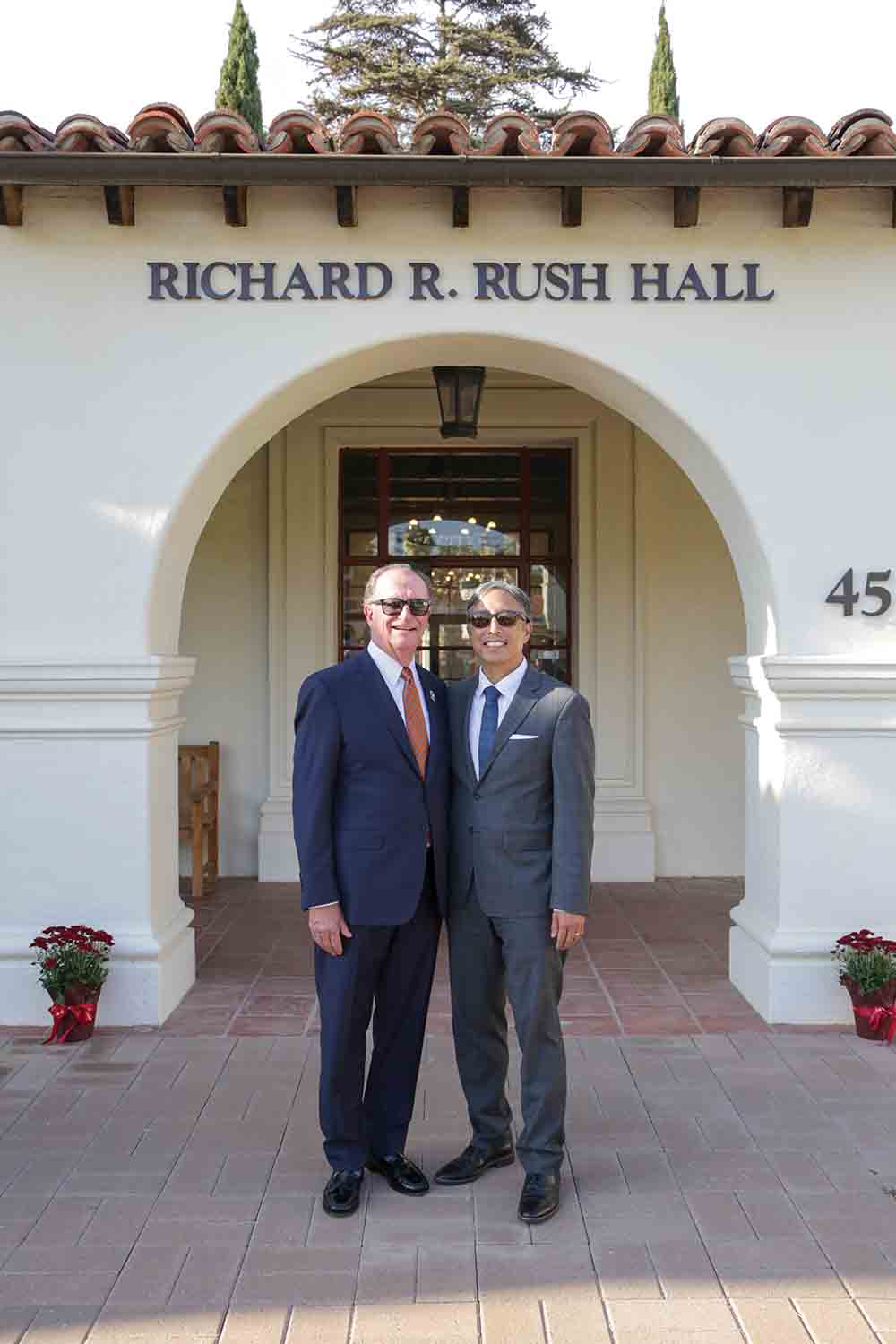 CSUCI's administration building containing the Office of the President now bears the name of the person who led the University for 15 years of its existence. 
"I hope this testament to all you have accomplished will remain a symbol of our appreciation for all you have done for our campus here at CSU Channel Islands and the broader community," CSUCI President Richard Yao said during the dedication of Richard R. Rush Hall on Oct. 12. "I look forward to working every day in a building commemorating your work."
President Emeritus Rush, who began serving one year before the first students arrived, insisted that everyone who worked with him, particularly during the early years, deserved to share in the honor of a renamed University Hall.
"I accept this recognition in the name of all the faculty, the staff, the students, and indeed the broader community who have linked arms to make this dream a reality," Rush said. "This is your University. This name represents you, not me."
Speakers at the renaming ceremony explained that the building of those partnerships that moved the University forward, whether with public officials or private donors, was one of Rush's most valuable contributions. State Assemblywoman Jacqui Irwin recalled Rush finding a way to fund the retrofitting of the campus' 1930s-era buildings during the Great Recession and launching the effort to add the Mechatronics Engineering program when a regional survey showed great need for it.
"I found a great, great partner in Dr. Rush," said U.S. Rep. Julia Brownley. "His efforts were critical in bringing an educational epicenter to Ventura County."
Rush hired more than 800 employees, led efforts to achieve initial accreditation and re-accreditation, and developed long-term strategic, academic and physical plans. He helped launch innovative programs, including the Santa Rosa Island Research Station operated in collaboration with Channel Islands National Park. In addition, he generously donated to support student scholarships, the renovation of the campus' Central Mall and other needs.
"Dr. Richard Rush dreams big, but more important than that, he delivers even bigger," said Bill Kearney, a member of the University's Foundation Board of Directors since 2003.
The renaming, which was supported by $1 million in donations, is not a signal that Rush's work for the University is done.
"It's just a small token of our gratitude and appreciation for the work and partnership ahead," Yao said. "He continues to be an inspiring leader who leads with a passion for our mission."
Return to the Table of Contents
© Winter 2023 / Volume 27 / Number 2 / Biannual