Exhibition photographs include Robert Kennedy applauding Ella Fitzgerald,
Olympic Champion Jesse Owens, and the Mexican Centennial.

By Karin Grennan

When Carrick DeHart steps outside his office, he is surrounded by diverse faces of the struggle for equity and inclusion in the United States. Photos of a Navajo man at a Senate hearing, transgender activist Christine Jorgensen, and feminist anthropologist Margaret Mead line one side of the hallway. Olympic champion Jesse Owens and the Rev. Jesse Jackson are on the other.

"I love it because it's a mixture. I look at it like a palette of colors, just a palette of people who make us unique," said DeHart, Director of Major Gifts and Co-Chair of CSUCI's Black Faculty & Staff Association. "It represents the possible."

"The Long Struggles for Diversity, Equity, and Inclusion: Icons, Moments, and Voices" features the work of acclaimed photojournalist Santi Visalli. It is the inaugural exhibition of the President's Gallery, established by President Richard Yao in celebration of the University's 20th Anniversary and located in Richard R. Rush Hall. 

"I want the President's Gallery to showcase the University's many collections in ways that promote reflection and discussion on the historical, physical, social, and cultural realities of the world," Yao said.

The exhibit of Visalli's black-and-white photographs opened Sept. 19 with a series of receptions and continues through June. 

Professor of Art History Irina D. Costache, Ph.D., curated the 27 images. She worked with Monica Pereira, Head of Collections & Resource Management in the John Spoor Broome Library, to select them from almost 190,000 negatives that the 90-year-old photographer donated to CSUCI. 

Visalli, a Santa Barbara resident whose career spanned more than six decades, took most of the exhibition's photos in the 1960s and 1970s. Prominent figures including Martin Luther King Jr., Robert Kennedy, and Ella Fitzgerald fill the "Icons" section in the lobby. Down one hallway is the "Voices" section, with additional political and cultural figures who helped advance racial and social justice. The "Moments" wing features unsung heroes during important moments including celebrations and protests.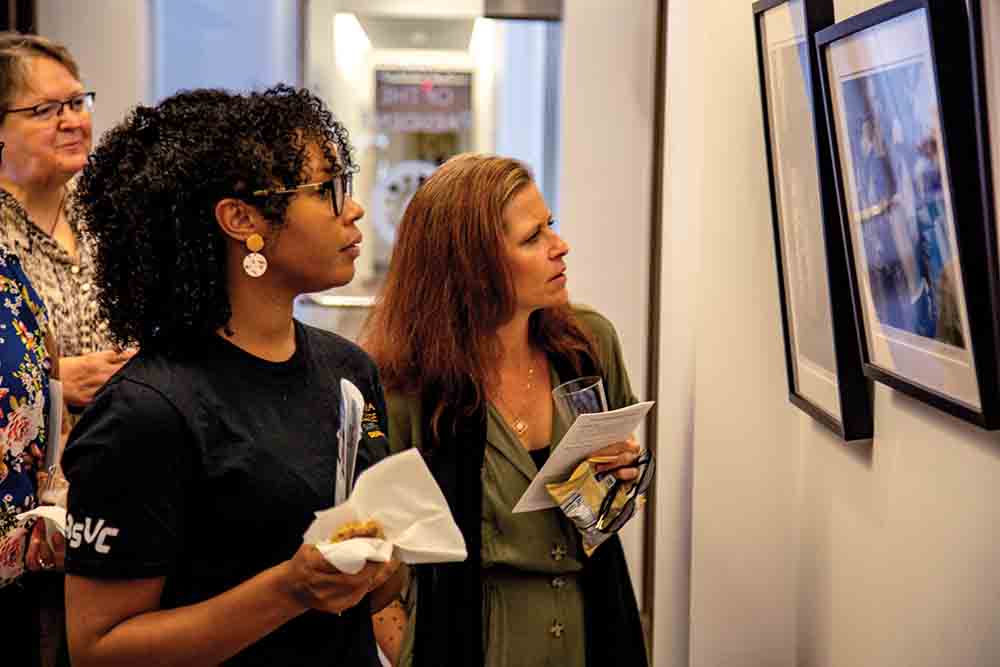 Staff and faculty examine photos during an opening reception.
The pictures "are a solemn reminder and powerful commemoration of seen and unseen events, silent and loud voices, and known and unknown heroes of the period," Costache wrote in the exhibition program. 
Art History major Oscar Rios, who heard Visalli speak in one of his classes at CSUCI, spent part of the Fall 2022 semester creating the digital archive for the exhibition and researching the events depicted as part of his capstone project under the guidance of Costache and Art Professor Matthew Furmanski, M.F.A. Knowing the story behind the photos of a 1969 Mexican Centennial celebration, he was particularly drawn to them. They feature a Guanajuato student group that typically performed in the streets to raise money for college. That day, the group performed by invitation.
"They are showcasing their culture, my culture, in New York," said Rios, who was born in Mexico and came to the U.S. in 2006. "It's pretty powerful."
Return to the Table of Contents
© Winter 2023 / Volume 27 / Number 2 / Biannual