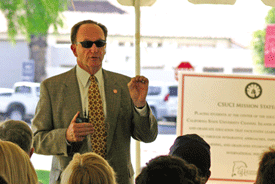 How CSUCI Spent the Summer
You'll recall that each fall when you returned to grade school, the teacher would get the class settled in, and then he or she would go around the class asking students how they spent their summer vacation.
Each child would regale classmates with various exploits—summer camp, a trip to Disneyland, or fun-filled days at the beach. For them, summer was a time to relax and "kick back" from the day-to-day pace of the school year.
When it comes to how our young University spent its "summer break," nothing could be further from the truth. While I encouraged the faculty and staff to take some well deserved time off, to refresh and rejuvenate, all areas of the campus were abuzz with activity and accomplishment.
In this edition of Current, you'll read many examples of the steady pace of activity across the campus, including: the hiring of additional outstanding faculty; holding special events; continuing construction; and embarking on new international journeys for our students who visited Europe to study famous artists first-hand. In addition, for the first time, the University opened its doors to visitors from abroad who attended conferences and stayed in student housing on campus.
So, while many of the classrooms were empty, the University remained at a busy and productive pace. Now, with more than 3,100 students back with us, there is added excitement and enthusiasm each day.
This will be a year when exciting firsts continue – the most notable perhaps will be the graduation of our first four-year student class, meaning students who began at CSUCI as freshmen and will now receive their degree this coming May.
It will also be a year of challenges. We must continue to rapidly build up the curriculum and build out the campus to accommodate the growing student body. We have the determination, drive, and passion to work year-round to make this University all it can be. And we will continue to strive for the resources to do so.
Sincerely Yours,

Richard R. Rush President