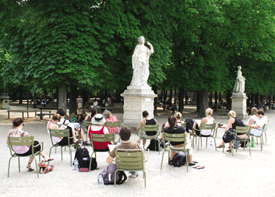 Thirteen CSUCI students enjoyed a once-in-a-lifetime experience, spending July in Paris, soaking up culture and art and learning to paint and draw amid the environs that inspired some of the greatest artists in the world.
Jack Reilly, professor and chair of the CSUCI Art Program, established an arrangement with the Paris American Academy, which provided students with apartments, and tours of many of the city's most famous museums, including the Louvre and the Musee d'Orsay. The students took painting and drawing classes conducted by Reilly and Liz King, assistant professor of art. Each student received three units of course credit.
Painting and drawing sessions were held in the studios of the Paris American Academy and on location at famous monuments and statues throughout Paris and surrounding areas, such as the Luxembourg Gardens and the Palace at Versailles. On weekends, students took excursions to other European countries.
"This Paris trip actually changed the lives of some of these students," Reilly said. "It was learning and experiencing art but it was also being exposed to the world, even to independent living for some of them. It was so amazing for them to see great works of art at so many great museums. We wanted to give them an international experience, which is part of our mission."
"We were able to gain access to the gardens of Giverny where Monet painted many of his masterpieces," King said. "Our students were able to paint and draw the same scenes as Monet."
Diana Reyes, a senior art major, said the trip was inspiring. "We saw the art of all the famous painters we had studied, only this time we were seeing it in person. It was so much more dramatic, just breathtaking. It was wonderful to be in Paris, to be surrounded by an atmosphere of art everywhere."
Reilly, who said the trip was made more affordable by an Instructionally Related Activities grant, hopes to make the Paris trip an annual summer program.