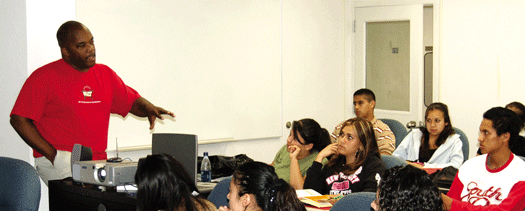 Virgil Adams recalls the moment that made a difference in his life. A student at Fresno State University, he was walking down a hallway, knocking on doors, looking for a faculty member who would sponsor him for a summer psychology research project that would enhance his chances of acceptance into a graduate school.
"I was down to the last faculty office," said Adams, now a CSUCI associate professor of psychology. "My hand was shaking as I knocked on the door. I asked the professor, whom I had never met before, if he would sponsor me. He looked at me and said, 'I don't know you, and I'm not familiar with the program, but why not, let's give this a shot.' "
That moment still resonates in Adams' mind as he reflects on his path to the University. "Since I was a young boy I had an interest in psychology and a passion for teaching. I knew I had the dedication, but I was at a point where I needed some help to fulfill my goals. So just like that Fresno State professor helped me, I'm here to help our students find their way to their careers."
Adams' success as a teacher has come from hard work. His high-energy efforts put him on a fast-track from undergraduate to graduate, to post-doctoral work, then to his first appointment as an assistant professor of psychology and assistant research scientist of gerontology at the University of Kansas, where he won the university's prestigious Kemper Teaching Award.
His passion for teaching led him to CSUCI. "This has been like home ever since I arrived," he says. "We have a very strong, close-knit campus. We have an opportunity to create a new university, a place where teaching excellence is valued. I couldn't be happier."
In addition to his interest in psychology, Adams researches and writes about such fascinating topics as quality of life, housing, and hope. He is currently involving CSUCI students in an ongoing research and training program that annually administers surveys to adults who live in various communities of the region. This project measures ?and evaluates individuals' perceptions and expectations on these subjects.
"People have new thoughts and feelings about the concepts of quality of life, housing, and hope," Adams says. "In this context, hope is defined as a goal achievement mechanism. Adults today seem to be taking new routes to their goals as well as redefining what goals they will seek. This research will become very important, very useful in terms of understanding how people feel about their lives."
One of the students participating on a research team is Brian McAleney, a senior psychology major who views Adams as a role model, both personally and professionally. "Dr. Adams gives new definition to the title of professor by engaging his students' thought processes with his passion for psychology," he says.  "He pushes his students to be better than the best while providing unconditional support and intellect that keeps you constantly thinking. He's demanding and challenging, yet kind and charismatic."
For Adams, such student comments go to the heart of what he is trying to achieve at CSUCI. "I'm here at this special time, this special place," he says. "I'm here to inspire and teach. I genuinely believe in enjoying education but students also know I'm tough, that I believe in high standards of excellence. I want them trained to do their best, to be the best. I want them to become respected professionals who will, in turn, make a difference in people's lives."