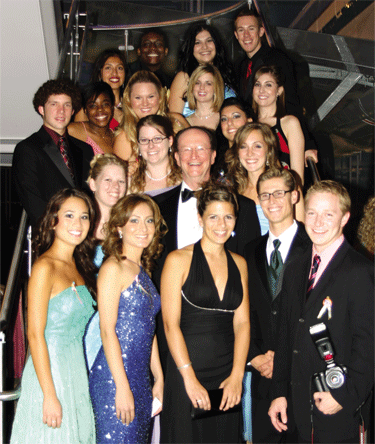 It was appropriately presidential. The 7th annual CSUCI President's Dinner was held at the Ronald Reagan Presidential Library, amid the former president's Air Force One plane, limousine, and helicopter.
The theme of the festive event, called "Dance in Confetti and Light," featured bright lights and bright attire by the more than 500 guests who came to support and celebrate the growth and accomplishments of the University.
The attendance of the dinner has, in fact, grown so dramatically that the Reagan Library's Air Force One Pavilion was chosen because of its spaciousness and ability to accommodate larger crowds.
President Richard Rush, introduced by University Foundation board chair Wayne Davey and his wife Barbara, thanked the many individuals and organizations who made the evening possible, including title sponsor Bank of America. He also recognized past and present members of the President's Advisory Board and the University Foundation Board, as well as the planning president of CSUCI, Handel Evans and his wife Carol, and Robert Linsheid, CSU trustee.
As always, President Rush acknowledged the outstanding students of CSUCI who aspire to greatness, as well as an exceptional and caring faculty who ensure their success. One of the highlights of the evening was the annual presentation of the Robert J. Lagomarsino Award to an individual who has contributed to and supported higher education. After recognizing the Lagomarsinos, who were in attendance, President Rush presented the award to Linda Dullam, who has chaired the President's Dinner for four consecutive years and has served on the University's Development Committee, CSUCI Foundation Board, Landscape & Courtyard Restoration Sub-Committee, and is a member of the President's Circle.
Another highlight was announcing the raffle winner of a 2007 red Chevrolet Corvette donated by Santa Paula Chevrolet. The winner was Beverly Rush of Kurt Rush Construction (no relation to President Rush). An auction was again held, featuring dinners, whale and dolphin watching, arts and entertainment tickets, a vacation to Calgary, Canada, entry into next year's Dolphin Classic golf tournament, and "Hearts On Fire®" diamond hoop earrings.