Undeterred by a devastating injury, Andrew Skinner ('04) rebounds and sets new goals.
Everything was perfect. Andrew Skinner had just graduated from California State University Channel Islands in May 2004 with a business degree. He had landed a great job. He had found the love of his life, Kirsten Hatchel, also a 2004 graduate of the University.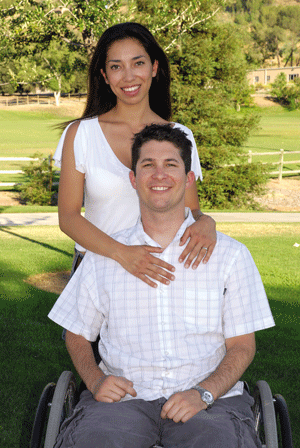 "I was on top of the world," Andrew says. "Kirsten and I were celebrating Thanksgiving weekend in Lake Arrowhead. While playing in the snow I fell and landed hard, breaking several vertebra in my neck and suffering a spinal cord injury. I was paralyzed instantly."
Such an injury would devastate most people but through courage, determination, and the love and support from Kirsten and his family, Andrew has rebounded without a trace of bitterness or defeat. He has progressed from virtual paralysis to regaining the use of some of the muscles in his body.
"My accident left me as a new-born person," Andrew says. "I've had to relearn how to do everything. But it's not a matter of if I am going to walk again, but when, whether it's through a medical breakthrough or pure determination. My mind is my most powerful muscle. I have invested so much into it, and it is still very much intact and stronger than ever."
Undaunted, Andrew went back to work as soon as possible, starting a real estate investment firm, Legacy Investment Group, with his brother Matt. He is also planning to open a gym designed for people with disabilities.
"I really use my business degree," he says. "One of the best things about CSUCI is that faculty come from all different backgrounds and most have had a lot of experience both in the real world applying the skills they teach and in the world of academia."
While the business and their home are currently in Santa Clarita, Andrew and Kirsten plan to relocate soon.
"We love our alma mater," Andrew says. "Kirsten and I will be married next summer. We hope to move back to Ventura to be closer to the friends we have made at the University and get involved again with campus life and with alumni and friends.
"Life is good," he says. "It's not how you fall, it's how you land."