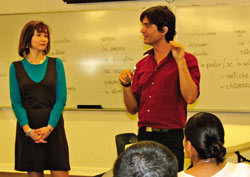 Learning a language is too often a matter of memorization and repetition of vocabulary and phrases.
But not at CSUCI where the Spanish program focuses on communicative language used in the context of culture and careers. Students talk to real people in real situations, say Terry Ballman, professor of Spanish and chair of the Academic Senate, and Antonio Jiménez-Jiménez, assistant professor of Spanish.
The program is innovative, practical, and enriching, and it attracts students from a variety of disciplines who seek a double major. "We want students to learn about Hispanic cultures and civilizations, not just here in the United States and Latin America, but throughout the world," says Ballman. "And the traditional teaching of Spanish does not always integrate the needs of the marketplace, locally, nationally, or internationally. We want our students to learn Spanish as a tool for a variety of career choices. And we want them to have fun doing all this."
Jiménez-Jiménez says that the Spanish program at CSUCI was created with a great deal of thought. "Students need to learn grammar but they also need to understand meanings and messages. Language is part of a person's perspective. Language is part of life, part of culture." In addition to culture and language, students can choose course work in literature, linguistics, and translation.
One of the creative ways Spanish is taught here is through cross-campus interviews students conduct with faculty, staff, and administrators who speak Spanish. Students must converse with interviewees in Spanish, asking them questions about their lives. "This allows students to get out of the classroom and use Spanish in a very real way," Ballman says.
In an interdisciplinary class, Spanish students provide bilingual content for Web pages and computer animations designed by art students. "This requires Spanish students to understand the messages as well as the cultural context," Jiménez-Jiménez says. "They research the impact issues such as racism, human rights, domestic violence, globalization, and deforestation have in Spanish-speaking countries. This helps students to be socially responsible."
In other projects, Spanish students take a movie clip without sound and create a new script and then dub the dialogue in their own voices. With audio-visual materials, they'll translate and produce on-screen sub-titles. Last year, students researched, wrote, and produced a short Spanish-speaking promotional film about CSUCI, featuring University President Richard Rush.
Spanish students also assist in community service projects. They have collaborated in an interdisciplinary course, "Narratives of the Working Class," serving as language interpreters for monolingual English-speaking students who interviewed Spanish-speaking farm worker families. "Interpreting is very difficult but also very engaging," Jiménez-Jiménez says. "It's a great way to understand language through culture."
A new course, called Spanish for Careers and Professions, focuses on the special vocabulary of different professions, such as business, education, and legal and social services. "Students worked on the content and tailored the course to their needs," said Jiménez-Jiménez.
All of these innovative courses and programs are designed to make language come alive and to make it useful and meaningful. The composition of the program's faculty reflects the Spanish-speaking world, including U.S. Latinos. And the program is already sending students abroad to study in Cuernavaca, Mexico and the University of Granada in Spain. "We want our students to feel empowered," says Ballman. "We want them to become better people through an understanding of the language and culture of the 450 million people who speak Spanish. We want them to know their place in this world."
Jiménez-Jiménez agrees. "Aquí se habla español --sí-- de una forma muy especial."
"Spanish is spoken here --yes-- in a very special way."