Political Science, Performing Arts Programs To Begin in Fall; Others to Follow by 2010
The University's recently approved Academic Plan provides for two new programs, political science and performing arts, that will be launched this fall, as well as a number of other programs that have been approved by the CSU and are awaiting development for introduction in succeeding academic years.
At Channel Islands, academic planning is a continuous process. The University reviews its plan each year, updating it to reflect the needs of the campus and region. It is then submitted for approval by the CSU Board of Trustees.
The new political science major will be a small-unit major, requiring 39 units, that can serve as a component of a double major. It will focus on international relations, comparative government, and multiculturalism. A unique feature will be its emphasis on politics as it relates to ethnicity and race.
In addition, the program will be interdisciplinary, require a civic engagement component, and the capstone (final senior) project will require students to work with local government or community groups. The program will also focus on skills for different kinds of jobs, not just in government or politics. It will teach students how to think critically and communicate effectively.
The performing arts program will also be interdisciplinary in nature, focusing on musical theater, which integrates acting, music, and dance. The centerpiece of the program will be musical theater, which combines all three areas. In time, students will present an annual musical theater performance for audiences throughout our area.
Another facet of the program will be classes on the theory of performance, how it affects audiences as well as actors. Instruction will be eventually offered for related fields such as directing, playwriting, and set design in coordination with the CSUCI art department.
Several other new CSUCI degree programs have also been approved by the CSU. They are scheduled to be offered in the future and are currently being developed by the University.
Here is the schedule: 2007: B.A., communication; B.A., early childhood studies; and B.S., nursing. 2008: B.A. and B.S., applied physics; B.A., Chicano/Chicana Studies; B.A., criminal justice; B.A. and B.S., kinesiology; and an M.A., English. 2009: B.A., anthropology; B.A., philosophy; and an M.S., biology. 2010: B.A., multicultural studies; B.A., social work; M.A., history; and an Ed.D., education. 2011: B.A., geography and urban studies. 2012: B.S., computer engineering, and an M.P.A. (master's in public administration). 2013: M.S., nursing.
Power Repairs, Upgrades Will Require University Summer Shutdowns
The University is planning a $940,000 electrical upgrade project this summer, requiring the shut down of electric services to the campus over three successive weeks: Thursday, July 20, at 6 p.m., through Sunday, July 23, at 6 p.m.; Friday, July 28, at 6 p.m., through Sunday, July 30, at 6 p.m.; and Friday, August 4, at 11 p.m., through Sunday, August 6, at 6 p.m.
The shutdowns will affect the entire campus except for the Information Technology Center and the Public Safety Building. To avoid potential safety issues, all other buildings will be off limits to faculty, staff, students, as well as the general community. The shut down will not affect events held on campus for the Camarillo Art & Jazz Festival.
CSUCI Develops Business Continuity Plan In Response to Potential Disasters
A campus-wide committee has been formed to ensure the maintenance of critical University operations when confronted with adverse events such as natural disasters, technology failures, human errors, or terrorism, including the potential of future pandemics such as the Avian (bird) Influenza.
The Business Continuity Planning Committee, under the leadership of Joanne Coville, vice president for Finance and Administration, was formed as a result of a directive from the CSU Chancellor's Office.
The University also presented a Poe Symposium on "Invaders of the Human Body," which focused on the dangers of infectious diseases such as AIDS, the West Nile Virus, and the Avian Flu. One of the speakers, Tom Scott, associate director, Center for Conservation Biology, University of California, Riverside, said that the Avian Flu is contracted primarily through close contact with infected birds, mostly chickens and geese. The danger, he said, is that the disease could mutate and be transmitted from person to person. At this point, Scott said, experts are watching for its arrival in Africa, which would signal that it is following the pattern of similar, past viral infections.
Harvard Professor Discusses Immigration Policies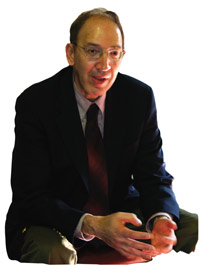 Harvard economist George Borjas provided timely comments on the controversial issue of immigration, attracting a large audience at a recent event held on campus. The speaker, the Robert W. Scrivner Professor of Economics and Social Policy at Harvard's John F. Kennedy School of Government, has researched and written extensively on labor market issues and has published a book, Heaven's Door, which focuses on America's immigration policy as it relates to the country's economy.
Borjas said that current immigration laws allow a large flow of unskilled workers to enter the country and drive down wages in businesses that are already at the low-pay end of the scale. He argued that the United States must stop illegal immigration before addressing undocumented individuals who are already living here. The event was sponsored by the University's Instructional Related Activities, the dean of the faculty, and the Business Advisory Council.