Student Research Competition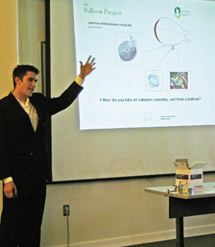 This spring, the University hosted the prestigious 20th Annual CSU Student Research Competition (SRC) that features academic projects presented by students from all of the 23 CSU campuses. Approximately 300 people, including faculty, jurors, and moderators, participated in the event.
Nick Hann, a CSUCI mathematics student, received a first place award in the physical and mathematical sciences undergraduate category. Kosta Grammatis, left, a CSUCI liberal studies student, is shown presenting his project. Grammatis received a runner-up award in the engineering and computer science undergraduate category.
Digging In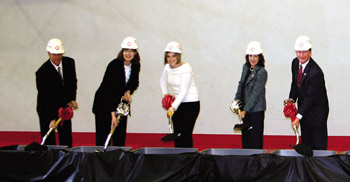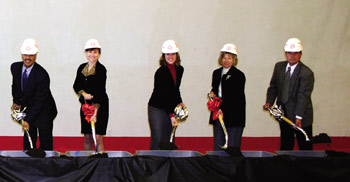 The second phase for student housing, Santa Cruz Village, began with a groundbreaking ceremony in February. Participating in the event, held indoors due to predicted rain, were, from left, top photo - Conrad Sick, senior vice president, Valeo Companies; Deborah Wylie, associate vice president, Operations, Planning and Construction; Anneka Busse, CSUCI Student Government president; Debra Farar, CSU trustee; President Richard Rush; from left, bottom photo - Wm. Gregory Sawyer, vice president, Student Affairs; Terry Ballman, professor of Spanish and chair of the Academic Senate; Sarah Hawkins, resident director, Housing and Residential Education; Joanne Coville, vice president, Finance and Administration; and David Hight, president, HMH Construction. The new housing will have approximately 130,000 square feet of space and provide 450 beds. It will feature study rooms, a game room, a multipurpose room, lounges, a computer lab, and patio space. Santa Cruz Village is expected to be completed in time for student occupancy for the fall semester of 2007.
Novelist T.C. Boyle To Be Featured At Fall Campus Reading Celebration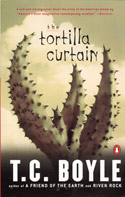 Novelist T. Coraghessan Boyle of Santa Barbara will be the featured speaker at the next Campus Reading Celebration event scheduled for November 14, 2006 on campus. Members of the campus community are encouraged to read Boyle's novel, The Tortilla Curtain. The campus will engage in University-wide discussions about the book both in and outside of the classrooms. The book is timely as it focuses on relevant themes of immigration, economics, and environment in Southern California. The University's Foundation Board has once again provided funding to purchase the books for members of the campus community free of charge.
Speakers Address Nuclear Issue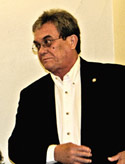 In the University's efforts to provide timely and topical issues, a two-day event, called "Waking Up in the Nuclear Age: Becoming a Global Citizen," was held on campus, featuring international speakers. Addressing major issues were Janet Bloomfield of England, convenor of the international Abolition Now campaign, citizen partner of Mayors for Peace; Pamela Meidel, director of the Atomic Mirror organization and event moderator; Shigeko Sasamori, survivor of the atomic bombing of Hiroshima, Japan; and the Honorable Tony de Brum, former foreign minister of the Republic of the Marshall Islands, who spoke about nuclear testing on the Islands and the effects on its citizens.