Athletic Advisory Committee Develops Strategies,Announces Golf Tournament as Fund-raiser
Cedric Dempsey, the former president of the National Collegiate Athletic Association and now an athletics program consultant to the University, recently updated members of the campus on the progress of the CSUCI Athletic Advisory Committee.
Dempsey said that an athletics program would be based on a student-scholar and university wellness model, and that the University would offer activities that ranged from informal recreational activities to structured sports and competition, probably at the Division II level, beginning with sports such as golf, cross country, soccer, and softball.
Funding for a competitive athletics program would come from student fees, the general fund of the University, and from outside sources.

One of the first major events to raise money for a CSUCI athletics program was the first annual Dolphin Classic, "A Million Dollar Shootout," golf tournament at the Spanish Hills Country Club and the Saticoy Country Club. The event featured top prizes, including a million-dollar hole-in-one shot, as well as an auction and barbecue. Proceeds from the event will be earmarked for the establishment of a CSUCI Intercollegiate athletics program. Chairing the Dolphin Classic was Cindy Wolfsohn, member of the University Foundation Board. Title sponsor of the event was BMW of North America.
Reading Along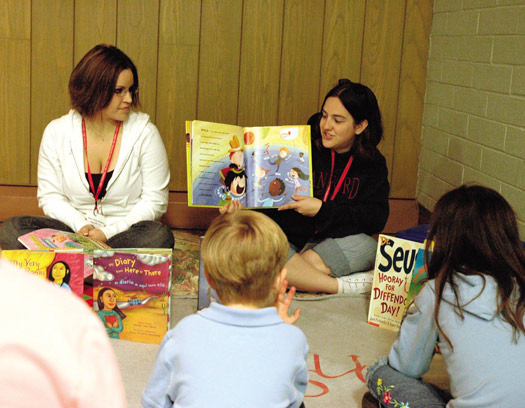 The University Library partnered with the Ventura County Reading Association to host approximately 200 participants from the campus community at a recent Children's Reading Celebration and Young Author's Fair on campus. The inaugural event provided a number of entertaining activities for children and parents alike, including presentations by well-known children's authors Barbara J. Hicks and R. L. LaFevers, an interactive art project by artist Peter Tigler, story-telling and create-your-own-book stations. A book fair, as well as a display of hundreds of books created by students throughout the Ventura County area were also featured.
Campus, Community Women Honored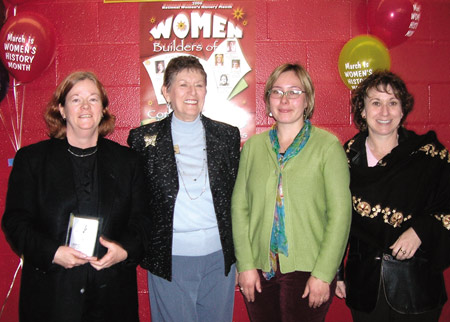 Four women from the campus and community were honored at a recent Women's History Month event on campus. Receiving awards for their leadership and work were, from left, Renny Christopher, professor of English, faculty award; Joyce Taylor, representing Ventura County Supervisor Kathy Long, community award; Amanda Vogelbaum, student award; and Terri Goldstein, coordinator of Disability Accommodations Services, staff award.
2006 Honors Convocation Presents Academic, Mission-Based Awards
The University recognized its most academically outstanding students at the annual Honors Convocation ceremony. Receiving summa cum laude (3.90 - 4.00 grade point average) awards were Adria Bass, Krystal Drake, Kathryn Hardison, Evelyn Lelonek, Joseph Nozzolillo, Jadwiga Otto, Darlene Plant, Lou-Ellen Purdy, Kristen Reardon, Susan Rodriquez, Debra-lee Sawyer, and Marla Vogeley.
In addition, 22 students were accorded magna cum laude (3.75 - 3.89 grade point average) and 59 students cum laude (3.50 - 3.74 grade point average) honors.
The first annual Mission-Based Awards were presented to Jennifer Eaton, Outstanding Experiential and Service Learning Award; Evelyn Lelonek, Outstanding Multicultural Perspectives Award; and Lance Nolde, Outstanding International Perspectives Award.